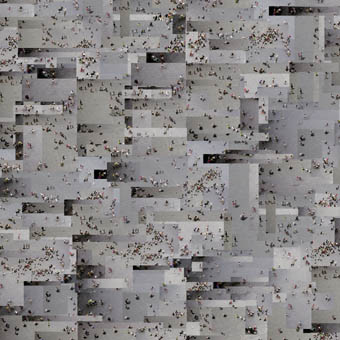 courtesy the artist
Nicola Loder, Piazza della Signoria 1 – Florence
Nicola Loder's solo show wild thing appeared at Melbourne's Centre for Contemporary Photography April 10-May 10. Her work has featured in several local and international exhibitions including Telling Tales, the Child in Contemporary Photography at the Monash University Gallery in 2000, Strangely Familiar at the Australian Centre for Photography and Orbital at Lux Gallery London. She has also curated several shows, received project grants from Cinemedia/Experimenta and has lectured in media arts and photography at several Melbourne universities.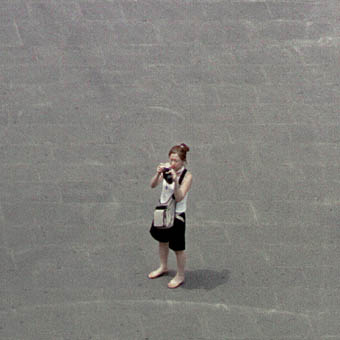 Nicola Loder, Piazza (detail)
"…The movement of crowds across these spaces resemble the meandering of desire lines of sheep across a paddock. Indeed, these are images of tourists 'flocking' to the attractions of London, Sienna, Florence and Venice, corralled like sheep toward one prominent site or another. Contrariwise, a field full of sheep is reworked into an exclusive, loving portrait of only two newly clipped merinos, caught frolicking in a soft clear light. So while tourists pay homage, grazing the rich cultural pastures of Western civilisation, another introduced species makes itself at home on the cleared plains of a new land….

courtesy the artist
Nicola Loder, Sheep, the road to Maryborough (detail)
"Not surprisingly, Loder's images were first conceived a few years ago at the height of debate over genetic engineering, and in particular the cloning of the first living thing, a sheep called Dolly. The interrelation of key terms in her work bears this out: crowds, sheep, species, digital manipulation. And let's recap the benefits of new media technology too: co-extensiveness in time and space (or omnipresence); manipulability and mutability; infinite reproduction and refinement. Photoshop is not just a useful tool but also a terrifying premonition of things to come, after war, at the end of the world. To judge by Loder's virtual scenarios, public space, as it turns out, is a cul de sac and the ideal paddock is where the real sheep plays happily with its identical copy."
Stuart Koop, catalogue essay, wild thing
wild thing, Nicola Loder, Centre for Contemporary Photography, Melbourne, April 10-May 1. Photographs and text reproduced with permission.
RealTime issue #55 June-July 2003 pg. 13
© RealTime ; for permission to reproduce apply to realtime@realtimearts.net