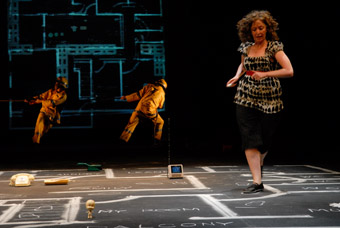 photo Heidrun Löhr
Louis Fitzpatrick, David Buckley,
Deborah Pollard, Blue Print
FOR FRENCH PHILOSOPHER GASTON BACHELARD, THE CHILDHOOD HOUSE REPRESENTS THE SHAPE OF THE HUMAN PSYCHE: A MEMORY CONTAINER STACKED WITH DELICATE OR DANGEROUS TRACES OF THE PAST. STAIRWAYS, LINEAR AND ANGULAR; OPEN-PLANNED SPACES LEADING INTO LIGHT AND SHADE; UNDERGROUND CELLARS THAT REPLAY THE DARKER RECESSES OF THE MIND. THESE ARE THE CAVITIES AND GEOMETRIES IN WHICH WE GROW ACROSS TIME. WE EMBODY THESE SHAPES AS THEY SHAPE US. THINGS GET STORED IN SUCH SPACES: OUR OBJECTS (A BROTHER'S LOUD'N'DUSTY LED ZEPPELIN COLLECTION) AND OUR MEMORIES (ANGER, GRIEF, RAGE…A PETRIFYING AND ANGUISHED SCREAM ACROSS THE TELEPHONE…).
Deborah Pollard's personal reflection on the loss of her childhood home in Blue Print is a reverie in response to the devastation of the 2003 Canberra bushfires. "After a firestorm", the opening projections explain, "there is silence…no lawnmowers…no trees." These bushfires are remembered for their absolute destruction, swallowing two thirds of the region in flames, gutting 501 houses and killing four people. For Pollard, it is the 501st house that offers a statistic of humanity amidst such mammoth anonymity. She likes to think of the oddly numbered house as her house; the one uniquely singled out amidst those many others.
A phone sits centre stage, ominous symbol of events to unfold. Around this, Pollard paces out the plan of her childhood house, using a linemarker to chalk the floor with rhythmic precision to reveal stairways and doorframes. Her poise is strong and calm but her actions (obsessively precise) tell a different story. In her act of both retrieval and grief, we watch the house emerge from muddied beginnings into a vision of its former glory. Recorded interviews are cut against Pollard's action, and we hear relatives recollecting the moments leading up to what is now (we know) predestined destruction. Anecdotes, memories—the minute administrivia of everyday families in the thick of everyday life—crackle across the audio sphere. At times emotive, at times teetering unnervingly towards the feel of Australian Story reportage, voices fill the space with an empty, nostalgic echo.
Sentiment in words and action is undercut by the presence of three anonymous firefighters. Like bright yellow stock characters, they sprint across the space, pull ropes, or convalesce, blackened and exhausted, against a smoking Christmas tree. These are the uniformed tricksters who animate Pollard's backstage psyche. They have moments of partytime, exhaustingly head-banging to Led Zeppelin's Dazed and Confused (a comment on the dubious commitment of ACT authorities to the prevention of the fires?). They also have to deal with staggering grimness, pulling a heavy, life-sized dead horse—inanimate, flopping and falling across the space. The horse is rendered in a lifeless darkish purple, making it a metaphor for all the loss that this scene has witnessed. It is pathetic, ironic, tragic, disgusting: a striking image against the mundane simplicity of Pollard's home world.
Sound (Gail Priest) and video (Samuel James) also introduce curious signifiers into the space. A door frame seemingly grows and retracts like a worm on the upstage projection screen. The door bleeds into visions of a burnt-out, trunk-laden landscape against the searing horizon sun: that archetypal image of an Australian bush summer, holding smells of Christmas and heat and soggy roast chicken in its iconography. Sound evokes an ambient melancholy, occasionally mimicking the gentle crackle of fire, but often gestures emotively, underlining stage action and story.
Blue Print is less about smoke and fire than the innate trauma of time passing: of losing the touchstone of what is most familiar and known. And yet, amidst such potency, there is an aura of stasis in Pollard's theatre of recollection. We watch the performer looking at her leftovers—the psychic residue of her childhood home—without much hope of revelation. Memory is like this too. Cyclic and unrelenting, it can make inertia out of the very catharsis that it would rather seek. The poetic transcendence that theatre brings to stories of trauma can elevate the personal into a shared sense of insight and healing. In Blue Print I was strangely unmoved by the scenescape of recuperated bits and pieces. I couldn't help thinking that all childhood houses disappear in one way or another—it's how their corners and geometries have shaped us that counts.
Blue Print, devisor, performer Deborah Pollard, performers David Buckley, Daniel Fenech, Louis Fitzpatrick, dramaturg John Baylis, video design Samuel James, horse design erth, sound Gail Priest; Performance Space, CarriagWorks, Sydney, Oct 26–Nov 4
RealTime issue #82 Dec-Jan 2007 pg. 39
© Bryoni Trezise; for permission to reproduce apply to realtime@realtimearts.net