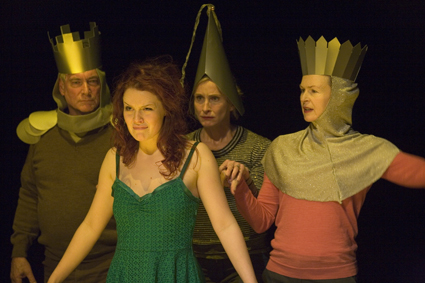 photo Ponch Hawkes
Madeleine
I'VE EXPERIENCED JENNY KEMP'S WORKS AS MORE AKIN TO CONTEMPORARY PERFORMANCE THAN CONVENTIONAL THEATRE IN THAT THEY DON'T CONFORM TO THE CONSTRAINTS OF PLAYWRITING (WHICH CAN AND DO GENERATE GREAT DIVERSITY OF FORM), INSTEAD THEY REALISE AND EXPLORE, WITH GREAT ACUITY AND INTENSITY, STATES OF BEING THAT DISSOLVE TIME AND PLACE WHILE MULTIPLYING AND OVERLAYING PERSONALITIES. IT'S PERHAPS NOT SURPRISING THEN THAT KEMP HAS MOVED ON TO ENGAGING WITH SPECIFIC PATHOLOGIES—BI-POLARITY IN KITTEN AND SCHIZOPHRENIA IN HER LATEST WORK, MADELEINE, FOR MELBOURNE'S ARTS HOUSE AT THE NORTH MELBOURNE TOWN HALL.
madeleine
Of all of Kemp's creations (save Kitten which I didn't see; I'm told the extreme state it generated was apparently overwhelming for some), Madeleine is the one that appears to come closest to conventional play making. It unfolds a linear narrative that moves resolutely to a climax, its characters are briskly delineated and their motivations transparent. The dialogue is spare and direct, and largely stripped of Kemp's usual poetry except at certain key moments of schizophrenic revelation. But, no less than her previous works, Madeleine compels us to enter an unfamiliar state of consciousness. This is achieved with a lean, fable like narrative, stark shifts between two worlds (the real and a schizophrenic's fantasy), the distressful overlapping of these, a breathtaking central performance and, not least, Kemp and her designers' scenographic virtuosity.
Kemp, Ben Cobham and Bluebottle create an immersive, light-sculpted, closed circuit of a world governed by a young woman's fragile state of mind. It's like looking into a black hole (no-one does black better than Bluebottle). From this emerges a square of light not quite of a standard colour, eerily misty on the edges. Here the woman encounters her family as themselves and then, gliding out of the dark in golden crowns, as a tyrannical royal family. In this, her otherworld, she also hears the voice of a Minister who relentlessly, if unemotionally, tests and instructs her. Before long he speaks to her while she's with her family, throwing real world conversation even further out of kilter.
The sense of immersion is heightened by 19 year-old Madeleine's construction of her consuming reality, fusing childhood and adolescent images that draw on fairy tales (a pin prick, a royal family), Through the Looking Glass ("Off with her head!"), mental arithmetic tests (built around the 28 days of the menstrual cycle) and the alphabet (she is planting a real world garden based on the first letters of plant names). But it is religion that makes her world cohere—the Pope, the Bible, the drive to become a Bride of Christ and to create a second Garden of Eden. The fragility of this construction is threatened all too easily—the birthday gift of a purple cardigan cannot be accepted (only the Pope can wear purple) and panic ensues when her father removes blackberry bushes to improve the garden, thus eliminating B.
What is frightening is the insistent way in which Madeleines takes up elements of her family life and weaves it into her fantasy—why is her mother's name, Madelaine, the same as hers; why does she have her grandmother's hands—and not her own; how did her two year-old twin drown, is her mother a murderer; why was she born backwards; is her sister Charley the real princess and she an imposter? Unanswered, these questions leave her "just black inside." Either there is no way they can logically be answered or the subject is off-limits. Denial, in fact, is central to the psychodrama: both parents refuse to acknowledge the seriousness of Madeleine's condition, the mother ignoring it in favour of her business ambitions, the religious father sheltering his daughter, inadvertently reinforcing the fantasy. The sister, Charley, returned home after three years, has no way of breaking through her sister's resistance or long-induced parent-child patterns of repression. Only Madeleine moves through and beyond these binds, with terrible consequences, completing herself, re-named with a G as Magdalene, in her Garden of Eden.
Jenny Kemp's Madeleine is an undidactic attempt to help us understand a mental state, a version of schizophrenia (not a condition reducible to any universal). She achieves this by revealing the inexorable logic of the girl's fantasising and its result when brutally, but innocently, applied to the real world. Visually the work correspondingly verges on the claustrophobic as we watch Madeleine quiver in the near dark, orgasming to become a Bride of Christ, or later writhing and shuddering, screaming with fear. Nikki Shiels' Madeleine rapidly alternates between oblivious innocence, tunnel vision determination, hard logic, delirium, panic and fear, all encased in child-like vulnerability and, after all her tests and suffering, certainty. It's a remarkable performance from an actor in her early 20s.
As the other family members, Ian Scott (father/king), Margaret Mills (mother/queen) and Natasha Herbert (sister/princess) capture the denial and helplessness that is their characters' sorry lot. Kemp's warning is that Madeleine's fantasy world cannot be undone while the family's world is just another such closed circuit. At the end of the front row, his back to us, Richard Murphet, quietly intones the insistent words of the Minister, his placement implicating the audience as fellow administrators of Madeleine's world, which is not to forget that the Minister is 'really' only ever the agent for Madeleine's unconscious ventriloquism. The totality of conception and the potent imagery of its realisation make Jenny Kemp's account of the power of a deeply thwarted and flawed imagination chillingly memorable. It should be seen more widely.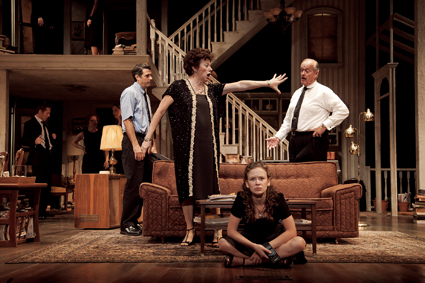 photo Grant Sparkes-Carroll
August: Osage County, The Steppenwolf Theatre Company
august: osage county
Back in Sydney, another family drama, inevitably familiar, such is family life, but with more hours and words and characters to express every possible aspect of the social form compared with Kemp's focus on a single if complex state of being. The Steppenwolf Theatre Company from Chicago performed the Tony Award-winning, much travelled August: Osage County (written by company member Tracy Letts) with enormous ease, verve and conviction on a set—a rural family home—you could live in. In terms of performance alone, it was a rivetting experience to see an American ensemble at full stretch, and to admire the sheer dexterity of Letts' writing. (The plot is too elaborate to spell out here: you can read a precis on Wikipedia.) The surprise was that the play is so funny, especially coming hard on the heels of the STC production of A Long Day's Journey into Night with which it, and a host of American family dramas, shares a number of characteristics. Ingredients include a central, problematic mother figure, a family reunion to trigger the drama, madness, drugs, an unravelling marriage or two, an almost real time unfolding of events (preferably overnight), a 'buried child' or variation on same, and other secrets usually uncovered by the play's end. The prevailing mood is dark and many home truths are spoken. This replaying of the family in crisis has almost become ritual in its predictability. What Letts does is pretty well include most tropes and add a few more—sexual abuse of a minor, incest and, in an outsider role, a Native American.
It's the humour, from the mother's acid wit to her daughters' constant quipping and the conscious and unconscious comedy of other characters that makes the play different from its predecessors. When it's undercut or suddenly emptied out it's as if a safety net has been taken away. But the downside of the writer's comic impulse is that the play too often, especially in the second act, mutates into something like a sporting match, the audience taking sides, applauding the best jibes and wildly cheering the trouncing of the mother.
The laughter does fade, however, towards the play's end, when the addicted mother rejects any assistance (she is unwilling to ask for it), her elder daughter leaves and the Native American helper stays on in the now otherwise empty house—having declared she's only doing the job for herself. It's a grim account of contemporary America—drugged, divorced, secretive, divided; only a couple of characters seem likely to achieve happiness. But it's a good old-fashioned play full of sharp-edged wit with contemporary touches and audiences around the world are mightily cheered by it. Competing critics have argued for and against it as either a great play or a grand entertainment, none denying the writer's skill or the excellence of the performances. With a large cast and several hours of stage time, Letts manages to balance brisk, sometimes furious pace, akin to sitcom, with passages of sustained emotional engagement reminiscent of O'Neill and Williams. It's an uneasy mix, satisfying but not, and maybe it's a metaphor for modern America without going near anything directly political, despite the academics and literati among its characters and the largely symbolic role of the Native American.
our town
I was mindful of the dark ending of August: Osage County when I saw Iain Sinclair's production of Thornton Wilder's Our Town for the Sydney Theatre Company, faithfully presented on an empty stage, our imaginations worked with words and a mountain of sometimes taxing mime. The lightness and folksiness of the first two acts are unnervingly inverted by the writer into something almost Strindbergian—hopes undone, a failed marriage, lives mourned, a sense of the vastness of the universe making the everyday almost nothing as the dead wait "for the eternal part to come out clear."
Emily Webb's painful discovery that she cannot turn back time is the high point of Maeve Dermody's fine account of the character. Darren Gilshenan as the Stage Manager narrates engagingly, though when the audience laughed at the early line, "Nice town, y'know what I mean?", which he delivered without irony, my partner recalled Spalding Gray's account in Monster in a Box (1991) his savagely criticised performance of the same role. He was astonished to be charged with being "snide, flip and condescending." One critic wrote, "This just goes to prove avant garde actors can't act." The rest of his account of what proved to be an enjoyable season is well worth reading. The tragically depressive Gray (subject of a forthcoming feature documentary by Stephen Soderbergh) found the play uplifting. I'm still assimilating its strange vision, but am very pleased to have finally encountered it on stage.
Madeleine, writer, director Jenny Kemp, performers Margaret Mills, Natasha Herbert, Nikki Sheils, Ian Scott, Richard Murphet, dramaturg Richard Murphet, set, lighting design, Bluebottle, Ben Cobham, ArtsHouse & Black Sequin Productions; ArtsHouse, North Melbourne Town Hall, Aug 3-8; Sydney Theatre Company: Steppenwolf Theatre Company, August: Osage County, writer Tracy Letts, director Ann D Shapiro, Sydney Theatre, opened Aug 17; Sydney Theatre Company, Our Town, writer Thornton Wilder, director Iain Sinclair, Drama Theatre, Sydney Opera House, opened Sept 18
RealTime issue #99 Oct-Nov 2010 pg. 46
© Keith Gallasch; for permission to reproduce apply to realtime@realtimearts.net