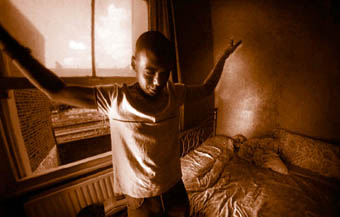 Human Radio, director Miranda Pennell
If the first ReelDance international Dance on Screen festival in 2000 had an emphasis on experiment and the arty end of the spectrum, this year's event is more expansive, taking in social dance, ritual and traditional dance as well as popular forms such as music video.
For curator Erin Brannigan, this choice reflects trends evident in the major dance film festivals worldwide of which there are now around 12. "We've got everything from military drills performed in a deathly quiet country field, through a dance ritual set against a bombed out cityscape in Chechnya to the very best dance-theatre by Holland's Hans Hof Ensemble—in their work R.I.P performers give a physical rendering of adults coming to terms with the death of their parents. In Human Radio Miranda Pennell (UK) films ordinary people performing 'private' dances in their living rooms. David Hinton (UK) is best known for his work with DV8, Wendy Houstoun and Russell Maliphant. We'll be screening Birds, the film that won him the prestigious IMZ Dance Screen Award in 2000—a choreographic study of birds in flight."
This year Brannigan again teams with the One Extra Dance Company to present ReelDance and coming on board for the first time is The Studio at Sydney Opera House, the venue for the festival, as well as a number of state-based organisations (Dancehouse, ACMI, PICA and the Adelaide Festival Centre) as partners in a national tour
Other highlights of the program include Sean O'Brien's Sunrise at Midnight made with Melbourne choreographer Yumi Umiumare and inspired by an historic photograph of a troupe of Japanese female performers who toured outback towns at the turn of the century. There's a chance to see Canadian Laura Taler's multi award-winning short A Very Dangerous Pastime purported to "dispel the myth that dance is beyond comprehension for the lay person." And all in 14 minutes. There are also full length documentaries on 'bad girl' Sylvie Guillem and 'bad boy' Michael Clark who disappeared from the dance scene a few years ago to deal with his heroin addiction.
Dance aficionados of all stripes should get along to Saturday night's Legends of Tap and Jazz, a full evening of short and longer films from the Cinematheque de la Danse in Paris featuring rare footage of Josephine Baker, the Nicholas Brothers, Bill 'Bojangles' Robinson, Fred Astaire and all those others whose names are not so familiar (whatever became of Buck and Bubbles, Pops and Louie?). Nicolas Villodre from the Cinematheque is the special guest of the festival and will speak prior to the screenings at the free forum entitled Images and Dance: Struggle and Necessity. The forum's at 7, followed by screenings from 8.15 on.
Recent music videos featuring some of the more radical experiments with dance will also be celebrated. Think Spike Jonze' film of Fat Boy Slim's Weapon of Choice with Christopher Walken dancing up a storm or the mockumentary dance troop in his Praise You or Lisa Ffrench's choreography for Custard's Girls Like That. These and others featuring Nick Cave, Moby, Madonna, Daft Punk and Blur will be screened, followed by a video forum with directors, choreographers and musicians.
The festival culminates with the finalists in the ReelDance Competition for Australian and, this year, New Zealand dance film and video, followed by the presentation of the Digital Pictures Award and other prizes. This year 60 films were submitted, double last year's intake and according to the judges, showed an impressive degree of sophistication. The 11 selected for screening are: Arachne by Mathew Bergan and Narelle Benjamin and featuring the late Russell Page; in absentia by Margie Medlin and Sandra Parker (winners of the 2000 competition); No Surrender by Richard James Allen with performer/consultant Bernadette Walong; Sue Healey & Louise Curham's Niche; Kate McIntosh's The Gloaming; Tuula Roppola & Ian Moorhead's Blowfish; Shona McCullagh's Fly; Rosetta Cook's Frocks Off; Julie-Anne Long & Samuel James' Miss XL, Olase's Dance by Louise Taube and court.(caught) a work by students from the University of Otago's Dancelab.
ReelDance, The Studio, Sydney Opera House, Aug 2-4 August; Adelaide Festival Centre, Aug 6-7; Cinema Paradiso in association with PICA, Perth, Aug 10-11; Federation Hall, VCA Melbourne in association with Dancehouse & ACMI, Aug 14-17; Star Court Theatre, Lismore in association with Dance Action Northern Rivers, Sept 27.
RealTime issue #50 Aug-Sept 2002 pg. 32
© Virginia Baxter; for permission to reproduce apply to realtime@realtimearts.net