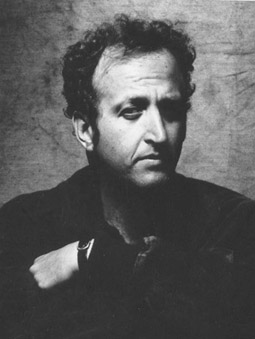 Mark Amerika
MARK AMERIKA'S BOOK META/DATA TURNS WRITING INTO VJ-ING AND VICE VERSA, SIGNALLING AS IT DOES HOW SOPHISTICATED DIGITAL CULTURE HAS BECOME. META/DATA'S SUCCESS LIES PARTLY IN AMERIKA'S ABILITY AS A WRITER AND THINKER, AND PARTLY IN THE FACT THAT HE HAS BEEN THERE FOR SO MUCH OF THE DEVELOPMENT OF A SOPHISTICATED DIGITAL CULTURE — NOT ONLY AS AN ARTIST, BUT ALSO AS AN ADVENTUROUS EDITOR, PUBLISHER, CURATOR, AND EDUCATOR.
Yet Meta/Data is not only theory or reflection. The theory is contaminated throughout—in the best possible way—by stories, as many here as there are "pseudoautobiographical" narrators. In one story, a homeless courier in New York—really an aspiring experimental novelist who loves Henry Miller and the avant-garde—reads Derrida in the library between jobs. He realises that the world is being changed by computers and networks. He works to live out the changes, give them substance, make something of them. He becomes Mark Amerika (first a conflation of Man Ray and Kafka's Amerika, then with Man changed to Mark, "mark" as in "ideas of signature and trace"). Other voices begin to inhabit "Amerika"—VJ Persona (later blogging as Professor VJ), Abe Golum, Faker/Maker, the Digital Thougtographer, even a certain "Not-Me" that is as much worked by new media worlds as working them. Amerika and company write arguably the first mega-hit of the hypertext world, Grammatron. It's not enough. At a certain point, "he wanted to become the human equivalent of a moving image filled with transient matter and memory."
For Amerika, becoming this human equivalent of a transient moving image does not diminish the beloved writing. Rather, possible frameworks for writing, reading, publishing and distribution have multiplied into a seeming infinity. It becomes possible to write, even more than the French New Wave with their cinema-pen, with images, sounds, text and code. More importantly, one can write with the bleeds between them. Writing itself expands to encompass the act of living in the new social networks, much in the way that Joseph Beuys expanded the concept of sculpture towards "social sculpture." Simply put, writing becomes "Extreme writing" (Eugene Thacker in conversation with Amerika). Extreme writing requires new grammars, and, above, all a new way of conceiving of the world. In describing and at the same time fulfilling the project of extreme writing, Meta/Data is a unique book in the history of new media.
The first essay, "Cyberpsychogeography (An Aimless Drift in Twenty Parts)" is really the major statement of the book, and a kind of manifesto. One part of the excitement here for me is the massive proliferation of concepts—"digital thoughtography", distributed or "artificial intelligensia", "playgiarism", "asynchronous realtime" (or "unrealtime"—perhaps RealTime could add a new section with this title), "theory looping", the "Not-Me Generation", "pseudo-autobiographical becoming", "surf-sample-manipulate", the "asexual workaholic." These concepts often have personalities that must be struggled with (as in "the intimidation tactics of the ever-leering philosophical void", or "Note to the field of neuroscience: You can't scan my radical subjectivity"). With this invention of concepts, Amerika claims not to be covering himself after the fact, but to be letting the reader in on "whatever happened to be floating through my mind…while I was making it up." If this sounds like it's going to be imprecise, it's not. Amerika is a brilliant and precise practitioner of improvisation across the huge horizon that writing becomes in his work.
Take his take on VJing, in which the VJ "loses awareness…to a state of active perception where the artist-medium is intermediating between the body, brain, and whatever digital apparatus is being used to transcribe the hyperimprovisational performance." Such ideas are the core of the book, and it is this complex series of material transactions that make up "metadata" in "asynchronous realtime." This is a time that both pre- and postcognitive are unable to be contained within the limitations of conscious thought. For Amerika, the "metadata" of the title is abstract in its closeness to the richness of the real, abstract only because of our inability to really begin to comprehend the richness of the reality we are immersed in. The metadata is the "raw, a priori, experiential" stuff, exponentially magnified by digital networking. The best digital art is therefore about "hyperimprovisation", working with "readiness potential", only really able to know that "what feels like a haptic reality, taking place in the present, is actually a distorted smudge of complex event processes that speedily pass us by."
Meta/Data thus embraces the indeterminate and the complex within the networked and the digital, but always folds it back into the analog (and the embodied, the thought) in a way that enriches all of them. We are a long way from the standard tale of the digital—an analog Kansas disrupted by digital computers that corrupt our lives with their technical wizardry. On the contrary, Amerika makes a strong series of claims not just for a digital poetics but for a "digital Life Style Practice" based on an ethic of ongoing reinvention. This ethic might "create an alternative form of survival" and develop "an Internetworked tribe of artist-nomads." Oz was Kansas all along. The avant-garde lives, if differently (Amerika declared the postmodern dead as early as 1993).
Amerika makes it clear throughout that such an "open source" "Life Style Practice" also has a social agenda. Crucially, for those involved in practice-led research (the book reworks this concept in dramatic and urgent terms), Amerika positions his digital poetics against the co-opting of concepts into the "preconceived agendas and methods of the academic research community as well as the corporate R&D divisions." This is echoed in the fiction section: "It was as if the undifferentiated Digital God of Endless Beings had approximated my need to tear off the grubby hands that were feeding me."
For all these reasons and many more, Meta/Data is compulsory reading for those who would free themselves from the compulsory.
Mark Amerika Meta/Data: A Digital Poetics, Cambridge, MA:MIT Press, 2007
ISBN-10:_0-262-01233-2
RealTime issue #80 Aug-Sept 2007 pg. 36
© Andrew Murphie; for permission to reproduce apply to realtime@realtimearts.net