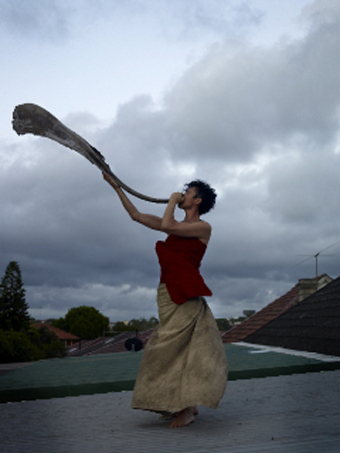 photo Manuel Vason
Victoria Hunt, Dancing the Dead, LiveWorks
PERFORMANCE SPACE, SYDNEY'S HOME TO INNOVATIVE PERFORMANCE AND VISUAL AND MEDIA ARTS, IS PRESENTING ITS SECOND LIVEWORKS FESTIVAL IN NOVEMBER. THE FIRST WAS HELD IN 2008 [RT88] REVEALING A POTENTIAL THAT MIGHT NOW BE MORE FULLY REALISED AS THE EVENT TAKES OVER THE WHOLE OF CARRIAGEWORKS.
The festival will, says Performance Space publicity, "animate" the venue's massive foyer and "confound the performance spaces." The success of the 2008 LiveWorks suggests that the 2010 version is bound to be a great live-in, four-day, value-for-money experience, a chance to engage with a series of challenging works.
Artistic director Daniel Brine tells me that hiring the whole building was prompted in part by Nightshifters, an exhibition of works from eight leading video and media artists and part of Performance Space's Live Live season as well as LiveWorks. Using all the CarriageWorks foyers, Nightshifters will address our sense of time and space by engaging magically with the twilight hour, as curator Bec Dean explains to Ella Mudie on page 51.
LiveWorks is promoted as "a fast and furious festival of new ideas" with over 20 artists and groups presenting experimental theatre, performance, live art, dance and installation alongside talks, debates, screenings and hands-on activities. Brine says that Performance Space put out a call for works from which they've programmed a mix of established and emerging innovators, including "artists we might not have otherwise encountered. It's exciting but risky and could be hit or miss," he says, "but that's part of the festival experience."
Brine also says that he and his team were keen "to encourage artists to think of other formats, to have a showing of ideas." Consequently there are a number of performative lectures of various kinds running alongside performances, experiential one-on-one works, talks and installations. Brine wants each audience member to "make their own experience," selecting from shows that run on the hour from 2pm each day. But he hopes too that they'll take breaks, meet artists and each other. He emphasises too that LiveWorks is a level playing field festival, no big star international acts—"it's about discovering the works for yourself."
The big line-up of artists includes performance art provocateurs Brown Council who'll restage A Comedy [RT98], an exercise in testing the limits of comedy, as well as appearing in Portrait of Brown Council by Brown Council, a session investigating the relationship between performance and work—"developing ideas for future work, debating the success of previous work and fielding questions from the audience." The discursive Malcolm Whittaker [p40] performs A Lover's Discourse—"a participatory art/love project in which strangers in Bristol and Sydney have conversed in handwritten love letters…It's about our ever-evolving world and how the earth can alternately feel too big, too small and sometimes… just right."
Nicola Gunn's "psychological detective story," At the Sans Hotel [RT96], entranced our Melbourne reviewer, John Bailey, with its enigmatic unfolding and its "brilliantly likeable performer." With minimal but effective theatrical means, Tayla Rubins will perform Of The Causes of Wonderful Things (also shown in the Brisbane Festival's Under the Radar program), investigating "what happens when something too dark to accept arrives on your doorstep. When five children disappear in a small town, the world of the dead begins to impact on the world of the living". In The Vorticist, Jason Maling, continues his mysterious consultations which will be revealed only if you arrange a date: www.thevorticist.com.
Victoria Hunt (often seen with De Quincey Co) and former Performance Space artistic director Fiona Winning present Dancing the Dead: A Performed Conversation, probing Hunt's Maori Heritage. Roarawar Feartata (Benjamin Cittadini, Brigid Jackson, Craig Peade and Georgie Read) will tackle notions of public space and performative identity in an engagement with outer Sydney suburb, the often-maligned Mt Druitt, in I Luv Amanda Crowe 4Eva. Georgie Read also appears in Paper People—"frivolous play with the particularity and peculiarity of some of the habits that make up human activity."
The Berlin-based but frequently nomadic and likewise very lateral Paul Gazzola offers If I Go Like You, "simultaneously an installation, performance and social gathering…an opportunity [for audiences] to transform their persona through the exchange of clothing." In another intriguing LiveWorks event, Sydney dancer, choreographer and dance curator at Campbelltown Arts Centre, Julie-Anne Long, presents The Invisibility Project, Now You See Her, which "follows a series of performance parties presented in private homes where the guests are both the audiences and participants…[T]his public intervention addresses the invisibility of middle-aged women in our society." Long's notable collaborators include choreographer Narelle Benjamin, Clare Britton (My Darling Patricia), artist activist Deborah Kelly and video artist Kate Murphy.
Curiously, Fondue Set member Jane Mckernan's latest work, Opening and Closing Ceremony, is a solo performance "inspired by mass group physical displays of communist Czechoslovakia, the history of gymnastics as a nationalist form, the Brisbane Commonwealth Games opening, and a family celebrating the Bicentenary in 1988". McKernan wonders "where the individual body intersects with notions of family, community and nation." Another idiosyncratic performance-maker, Karen Therese, presents The Comfort Zone: A Performance Lecture, combining "humour and humiliation to examine the meaning and impact of our need to feel comfortable". In another performative lecture, The Last Remaining Relative, Jiva Parthipan tackles the privilege of travel. Now that he's been granted Australian residency after leaving the UK, Parthipan, says Brine, "completes his story with this performance".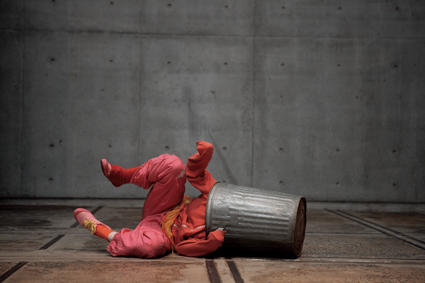 photo Mayu Kanamori
inda Luke, 3 Day Habitation, LiveWorks
Dancer Linda Luke (who also performs with De Quincey Co) and composer Vic McEwan present Thirteen: A 3-Day Habitation, "a series of performance installations reflecting upon teenage homelessness and exploring our relationship to home, borders and displacement".
If version1.0 have adapted forms like the parliamentary enquiry, press conference and TV interview in order to cast light on actual events, in This Is It, Team MESS (Dara Gill, Sime Knezevic, Frank Mainoo, Natalie Randall and Malcolm Whittaker) will "use the format of the film press conference to construct a completely speculative event." Spin doctor heaven? In Thrashing Without Looking, from Melbourne, Martyn Coutts, Tristan Meecham, Lara Thoms and Aphids artistic director Willoh S Weiland will fit you with video goggles for "a ride through the dirty gems of dance mania and metaworld."
Choreographer-filmmaker Sue Healey's [see Archive Highlight] Performance Lecture, Variant, looks at "diversity and variation within the human form," as part of her Curiosities series: "Each artist brings a different frame of reference to the body—physical 'disability', physical dexterity and extreme variations in practice".
For an intense one-on-one experience, extensively exhibited UK installation artist David Cross invites you to enter "an inflatable fun house…an artwork designed to test our fears of dark, tight spaces and our limits of trust." Also in CarriageWorks' largest theatre, LiveWorks will complete its reign of disorientation with NightTime Spotlight: Ladies and Gentlemen we are Floating in Space, with a multitude of inventive artists and a single spotlight "exploring suspended states, be they political, metaphorical or beyond our understanding."
A new initiative from Performance Space and Perth Institute of Contemporary Arts (PICA), P4 (Pilot), "addresses the experience and influence of live art in Australia and beyond." This could generate interesting discussion given that the term live art has gained limited traction in Australia and there have been few attempts to locate it theoretically or even descriptively in the Australian performance landscape. But it is being taken up slowly as a label, as in Next Wave, by artists who see themselves as working outside the parameters of performance art on the one hand and contemporary performance on the other.
As a key part of P4, UK artists FrenchMottershead will bring a work to Sydney and Perth that "invites people to question their relationship to the public realm." They ask people in the street to re-enact stories appearing in newspapers. They then rewrite the stories, publish them as newspapers and issue them in the streets. The process exemplifies P4 as "a series of live art projects framed by four simple creative parameters: practice, publish, participate and perform." The other participating artists from P4 in Sydney are David Wills (conducting a mass games night), Lily Hibberd (whose work will be realised though she won't be on hand) and Jason Sweeney (by remote communication). Artists working in Perth on P4 are Barbara Campbell, Makeshift (Karl Khoe, Tessa Zettel) and Hiromi Tango.
There'll be plenty to choose from in LiveWorks with season or day passes (no tickets on sale for individual sessions) and you'll doubtless soon accrue a sense of not just the trends in but also the immediacy and experiential intensity of contemporary performance, dance, live art and video installation. Daniel Brine's invitation to LiveWorks is to "come and build your own festival and be in it for the ride."
LiveWorks Festival, Performance Space, CarriageWorks, Sydney, Nov 11-14, www.performancespace.com.au; bookings www.ticketmaster.com.au
RealTime issue #99 Oct-Nov 2010 pg. 36
© Keith Gallasch; for permission to reproduce apply to realtime@realtimearts.net