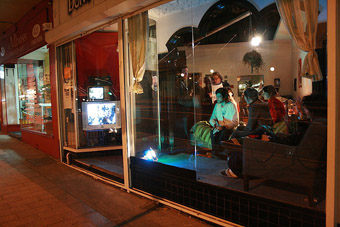 courtesy the artist
Dulwich Hill DayZZZe, Matt Rochford in residence
AS WITH MANY CITIES, SYDNEY HAS A DEMARCATED INNERCITY CULTURAL ZONE: YOU GO BEYOND THIS AT YOUR OWN PERIL, EXPOSING YOURSELF TO THE HIDEOUS POSSIBILITY OF ART STARVATION IN SUBURBIA. UNTIL RECENTLY, THE WESTERN EDGE OF THIS ZONE FINISHED OFF AROUND MARRICKVILLE (UNLESS YOU GO ALL THE WAY TO THE CULTURAL RICHES OF BLACKTOWN, CAMPBELLTOWN, CASULA AND PARRAMATTA), BUT AS MORE ARTISTS MOVE FURTHER OUT TO FIND AFFORDABLE HOUSING AND STUDIOS IT SEEMS THAT THE PRESSURE IS MOUNTING ON THIS PERCEIVED BORDER, AND WITH THE ARRIVAL OF DON'T LOOK GALLERY, PERHAPS THE TIME HAS COME TO REDRAW THE MAP AND INCLUDE THAT NEXT LITTLE SUBURB, DULWICH HILL.
Greg Shapley started Don't Look Gallery two and half years ago because he wanted to create a place for people, including himself, to exhibit that was inexpensive and accessible. A resident of Dulwich Hill, he realised that the commercial rents in the area were in fact reasonable, which has meant that he can keep the rates for artists reasonable too. What is perhaps most interesting about this venture is that Shapley designated the gallery to be specifically for new media work which he defines as "not just digital art…not just computer based art. It's really anything that's not defined as old media—so sculpture and painting are definitely out. Most photography would probably be out…Work that is not easily commodified would be my definition."
Shapley also encourages artists to use the space as an opportunity for creative development: "People think that their exhibitions have to be final products by the time they get to the gallery. And I think people judge exhibitions like that too…people want to see a polished product for some reason, and I think that's a shame. A work that has a way to go can get encouragement for artists from the viewers…We've had lots of people trying things out that they've taken elsewhere and worked on more and more. I think we've been a good starting point for artists."
In the two and half years of its existence the gallery has presented a diverse selection of exhibitions and activities including a silent film festival, the robotics of Wade Marynowsky, an interactive audiovisual installation by Jessica Tyrrell, :the braille box: (RT82), a creative development and presentation by dancer Eleanor Brickhill and video artist Anne Walton; a group exhibition from 16 international artists from a winter residence in Halifax, Nova Scotia; and a durational performance by Matt Rochford ('Rochy' from the reality TV show Nerds FC) who lived in the shop window for 3 weeks.
The gallery also provides a focus for many of the local artists in the area. There is even the 2203 collective (titled from the postcode of Dulwich Hill), made up of Alexis Armytage, David Urquhart, Frank Jones, Irit Pollak, Jacqueline Olivetti and Matt Rochford who have contributed a variety of exhibitions of their own work but also engagements with the community such as the Howdy Neighbor exhibition of sound and video recordings and photographs documenting some of the local identities of the area.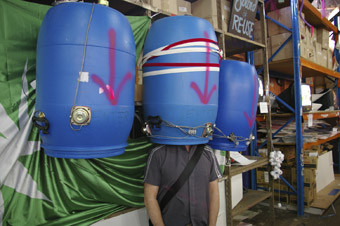 photo Neil Jenkins
Max must we use the cone of silence, I don't think its working properly, Ian Andrew's work in the Sound of Re-use, Reverse Garbage, as part ot The Sound of Failure
Another important contribution is Shapley's The Sound of Failure festival which began in 2007. By last year the event had already grown to a multi-sited event with installations not only at Don't Look but also at the Chrissie Cotter Gallery and Reverse Garbage and a major concert night at The Factory (all local-ish venues); a closing party at the Hollywood Hotel in Surry Hills; a workshop collaboration with UTS; and a sound picnic!
The curatorial premise of the festival is to explore "organised and indeterminate music/sound/noise as conceived and experienced in this, our post-digital era." This is a pretty broad ambit that could be used to describe any number of current events but it is perhaps the sense of inclusiveness that defines the event. Shapley says: "I would actually like to see the Sound of Failure taking on a broader genre…including instrumental experimental music and experimental sound." He's interested in breaking down the division between what might be perceived as the contemporary classical camp and the electronic and digital end of the experimental sound and music spectrum. He also sees the emphasis on presenting local artists and having an almost 50/50 split of performance and installation setting the Sound of Failure apart. The last two festivals have been primarily self-funded (with a little help from Marrickville Council), however Shapley is hoping for further funding to continue the event. Meanwhile, all the activities of the gallery to date have been self/artist funded.
A new addition to the 2009 program is a performance series on every second Sunday night. Shapley said that from the call for proposals for this year there was a strong interest in performance events, and the program is already filling up with local artists as well as international and interstate visitors such as Mike Cooper, Tom Hall and Jason Sweeney.
Greg Shapley is also an artist himself with a background in both music composition and visual arts and at the time of my chat with him his video work, David Lynch's Hands, was on exhibition. Across three monitors, Shapley has created a collage of the idiosyncratic hand movements of the famous director which, if you have watched the extras on any David Lynch DVD, you will not have been able to ignore. His hands take on a life of their own, fluttering, flicking, articulating…perhaps even more than the man himself. These play in a loop across the screens taking on different rhythms and mini-narratives. The video work is aptly accompanied by a soundscape of four Casiotones set to a selection of cheesy rhythm sections, each slightly out of sync, which Shapley hopes creates a kind of "phase minimalism." As you wander down busy New Canterbury Road, past the perfectly preserved old Greek barber shop (a very special sight in itself), the bleeps and buzzes emanating from a strange, darkened shopfront are a perfect invitation to the curious to check out just what is happening at Don't Look Gallery.
Don't Look Gallery, director, curator Greg Shapley, 419 New Canterbury Rd Dulwich Hill, Sydney, www.myspace.com/dontlookgallery
RealTime issue #90 April-May 2009 pg. 26
© Gail Priest; for permission to reproduce apply to realtime@realtimearts.net