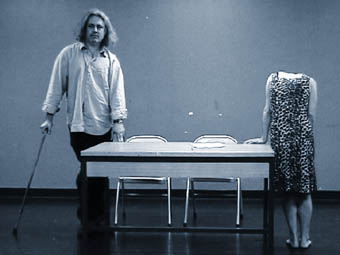 Ruark Lewis, Jutta Hell, Banalities
In the second half of 2003 Australian artists will be highly visible in Berlin in artsaustralia berlin 03 (following on from the premiere 2002 program) and in Ancient Future in Japan. These events manifest recognition of the need for long-term Australian programs that become part of the cultural lives of other countries. The way they've been put together indicates a maturing integrative and cooperative approach, not only between Australian arts bodies but also with their overseas equivalents.
In recent years the foray of Australian art into Europe seems to be growing from strength to strength with innovative performing arts practitioners now making a strong and consistent impact. The venture into Asia has been less certain, with moments of success but with some strong foundations, for example in the work of Asialink, and improved long-term planning.
The Asian market
Karilyn Brown, Executive Director of the Australia Council's Audience & Market Development Division reminds me that "for Asia in the early 90s there was a very strong focus on an almost quota system. Something like 50% of the Australia Council's international budget was to be spent in Asia. In recent years it's not been seen as the most appropriate way to go. There's always the issue of balance. How do you create developmental opportunities for the work you want to market and at the same time respond to demand from various parts of Asia, where there are market strengths in some areas and not others." To achieve this, Brown believes that partnerships play a key role, as does identifying potential demand.
Brown cites as a recent, successful example of a joint initiative between AMD, the Literature Board, the Tokyo Australian Embassy and the Australia-Japan Foundation in identifying a market and acting on it—the Bungei Shunju Australian Crime Fiction Project. 15,000 copies of a paperback with translated works by Shane Maloney, Peter Doyle and Marele Day were published by Bungei Shunju last December and a very effective publicity campaign mounted. "The project came out of the Visiting International Publishers Program," says Brown, "where we brought a Japanese publisher here a few years ago, creating the opportunity as well as responding to the interest…With Asialink we're looking at a broader strategy over 3 years, 2 countries per year, a real focus on contemporary Australian writing involving touring, workshops, reading presentations and establishing a very strong connection between publishing industries in Australia and Asia."
Brown explains that developing relationships with Asia, "is a long haul, something some of us have recognised for a while. But recognising and implementing it are 2 very different things, because it's not about 2 or 3 years, it's about 8 or 10 years. You have to be consistently present to sustain relationships." In consolidating its programs, AMD always has an eye on the bigger picture, on how to consistently make the best use of performing arts markets, art fairs, publishing groups and the expertise of presenting partners in Asia and Australian collaborators like Asialink, the Australian Film Commission, the Australian Tourist Commission and others, as well as key collaborators, the Federal Government's Department of Foreign Affairs and Trade (DFAT) and the Australian International Cultural Council (AICC).
Brown rates the Melbourne-based Asialink very highly for its pioneering work in brokering relationships, connecting Australian artists with Asia, opening up networks of opportunity and as a partner in the AMD's ventures. The Asialink program (partly funded by the Australia Council) also caters for arts managers and administrators, offering them experience with arts organisations in Asia where they can develop contacts. On the visual arts front, the Asialink Studio Program and the Australia Council's own (through the Visual Arts & Crafts Board) have been very productive and, as Brown points out, there has been a long history of touring exhibitions to Japan.
She also points to the importance of co-curation based on pairing galleries from each country. "Asialink sought proposals from Australian galleries and curators. They negotiated with Japanese galleries, building on the interest in and knowledge about our art. That's how you can tour works that are fully contemporary and fully embraced by the presenting partner—because they are involved in the selection, the promotion, and the financial risk. The program was set up in consultation and with substantial investment from the Australia-Japan Foundation—a major commitment to a 3 year, in-depth project and based on the very long term visual arts engagement with Japan through the VACB and Asialink. The array of artists is fantastic. These shows represent very important areas of contemporary practice and finally open some doors to really key museums and galleries around Japan that we've been trying to engage with for some time."
Japan
Ancient Future is based on strong Japanese interest in Australian art—contemporary and Indigenous. It's a 6 month program in the second half of 2003 managed by the Australian Embassy in Tokyo in close collaboration with AMD. It has a strong visual arts, craft and design focus, including the Spirit Country show after its Shanghai visit and, later this year, Patricia Piccinini's Venice Biennale work, "a breakthrough follow-on showing", declares Brown. The program also includes performance, music, film and literature. How did it come about? "AICC and DFAT were thinking about where we are going in the next 3 to 5 years and where that meshes with the Australia Council, AFC, the Tourist Commission etc. DFAT approached all its posts and the Australian Embassy in Tokyo came up with a very good proposal. We all identified Japan as a key target: it is dynamic and offers opportunities at the moment. This has meant that a number of players got together in Japan, primarily driven by staff at the Australian Embassy—Katherine Hunyo [Cultural Officer] and Cathy Gallagher [Counsellor, Public Policy]."
Many of the 20 events in Ancient Future were going to be taking place anyway, Brown explains, but together they will have a stronger impact, bringing together a range of partners and with a government imprimatur that helps open important doors in Japan. "There are new projects as well like an ACO concert and the Dinosaurs Design exhibition (originally shown at Sydney's Object Gallery) as part of the Tokyo Design Block which is a huge contemporary design event that was highly successful last year for an exhibition prepared by RMIT."
A major visual arts component in the program is the Echigo-Tsumari Art Triennial 2003 [July 20-Sept 7] in the 6 largely rural municipalities of the Echigo-Tsumari region. Of the 120 artists selected internationally, 5 are Australian: Janet Laurence, Nigel Helyer, Robyn Backen, Lauren Berkowitz and Anne Graham, curated by Sally Couacaud. Most of the works are to be permanent installations. Spirit Country will also appear at the triennial before its Tokyo showing. Touring exhibitions include Light Black from Adelaide's Jam Factory: works by Catherine Truman, Robin Best and Sue Lorraine exploring the links between art and science [Tokyo May 7-June 29; Kyoto Sept 8-Oct 13].
With Spirit Country at the centre of a program with individual and collective shows, there will be a series of accompanying lectures on Australian Indigenous art and a Japanese theatre company will perform Roger Bennett's riotous Up the Ladder, a play about what life in tent-show-boxing meant to Aboriginal people.
Berlin
A key component of the artsaustralia berlin 2003 is Australian participation in literaturWERKstatt berlin, a literary festival quite unlike any in Australia or, in fact, anywhere. It is focused on contemporary literature in its many manifestations in and well beyond the book. It is network-based, across Europe and with many other countries, includes the commissioning of international collaborations, often cross-artform, a superb online introduction to the words and voices of many poets (lyrikline.org) and numerous translation projects. Its large scale poetry event, the Weltklang Festival on Potzdamer Platz, attracts thousands; the festival can draw 100,000 visitors in all.
The director of the festival, Thomas Wohlfahrt, visited Australia and invited sound poet Amanda Stewart to literaturWERKstatt berlin as part of artsaustralia berlin 2002. This year he's invited her back not only to perform but also to curate a program of leading international sound poets including Henri Chopin. Wohlfahrt has commissioned collaborations between visual artist Ruark Lewis and the German dance duo, Rubato and between the dancer-choreographer Lucy Guerin and German sound poet Michael Lentz. UK-based Australian new media artist Simon Biggs is also in the program, as is Elision, the Brisbane-based new music ensemble already well known for their international collaborations and presenting here works inspired by poetry and myth, Eastern and Indigenous Australian. Australia is represented at every level of this festival under the banner, Australia 5th Dimension.
Ruark Lewis & Rubato
On a dour Good Friday afternoon, to the accompaniment of the footsteps of the Kings Cross congregation of the Church of St Canice negotiating the stations of the cross above us, I had the pleasure of watching a rehearsal performance of the literaturWERKstatt commission that Ruark Lewis and German dancers Rubato (Dieter Baumann, Jutta Hell), had been working on for 3 weeks before further rehearsal in Berlin. Rubato was formed in 1985. They have created 28 works, a number of them televised, and performed in many countries. Their recent work has often emerged from intercultural residencies: working with the Guandong Modern Dance Company; teaching at the Beijing Academy for Dance; choreographing for the Jin Xing Dance Theatre in Shanghai and the modern dance ensemble at the Ankara State Opera in Turkey.
Ruark Lewis is a visual artist with a substantial body of work, often "translating" the work of others (Rilke, Rimbaud, Beckett, Sarraute and a number of Indigenous Australian artists) by various means (tracings, palimpsests, lithographs) into other forms so that we read them afresh. In Raft, a work inspired by Carl Strehlow, the German missionary documenter of an Indigenous song cycle, Lewis collaborated with writer Paul Carter to create an acclaimed and widely exhibited sound sculpture with a dynamic interplay of text on timber and a soundtrack sourced from Central Australia.
With Rubato he is involved in a very different act of translation, between words and the body of a dancer. Hell is physically, almost violently, implicated into Lewis' delivery of his collation of found texts, Banalities, until a reversal occurs, transforming the speaker himself into physical performer in the very space he has verbally generated. It looked very good in rehearsal and should be even more powerful in Berlin.
There will much else Australian in Berlin over the rest of the year, one of the most exciting events being the exhibition of some 14 Australian artists at the magnificent Hamburger Bahnhoff gallery in Berlin. More later.
RealTime issue #55 June-July 2003 pg. 25
© Keith Gallasch; for permission to reproduce apply to realtime@realtimearts.net