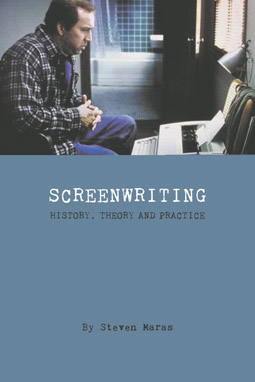 ROBERT MCKEE IS IN AUSTRALIA THIS MONTH, ON THE ROAD WITH HIS ALWAYS WELL-ATTENDED SEMINAR SERIES, PASSING DOWN FROM ON HIGH THE SO-CALLED PRINCIPLES OF THE WELL-WRITTEN SCREENPLAY. WHEN IT COMES TO CLASSICAL, WHITE BREAD STORYTELLING, MCKEE DOES INDEED KNOW HIS STUFF. BUT TO SAY THAT HE'S PASSING IT DOWN FROM ON HIGH IS NOT SO FAR FROM THE TRUTH.
Certainly, that is the way that McKee himself, along with fellow screenwriting gurus Syd Field and Christopher Vogler, tend to think about concepts such as three-act structure and central conflict theory: as theological tenets to be taken on faith, commandments chiselled in stone. When McKee touts himself on his website as "the world authority on Writing", complete with a capital "W", he is talking about writing as though it were some kind of Platonic absolute and his take on it the One True Way to enlightenment and a three-film studio deal. As Charlie Kaufman says to his brother Donald, a McKee devotee, in Adaptation, "You sound like you're in a cult."
It is perhaps no surprise that Kaufman, in the doughy form of Nicolas Cage, appears on the cover of Screenwriting: History, Theory and Practice, a new book by University of Sydney academic Steven Maras. Like Kaufman, Maras is highly sceptical of this strand of extreme fundamentalism in screenwriting, as he is of anyone who talks about the modern screenplay as though it were an ahistorical phenomenon. For Maras, such claims are not only historically incorrect, but loaded with political and strategic intent as well.
A much-debated form of writing, at once both technical and poetic in function, the screenplay is not something that emerged fully formed at the dawn of cinema's sound era. Nor is it the teleological endpoint of an evolution in screenwriting practice, a view that implicitly considers photoplays, continuity scripts and scenarios lesser forms of writing struggling to become screenplays. For Maras, the contemporary notion of screenwriting and the centrality of the modern screenplay form to the studio system and film financing have both emerged, to a large extent, out of language. They are the spoils of a battle fought in the pages of industry magazines and photoplay handbooks, theoretical tracts and studio records—not to mention in the pages of the modern screenwriting bibles—to construct the figure of the screenwriter as a creative professional and the author of a film, while installing his work, the screenplay, at the centre of the filmmaking process.
In Screenwriting, Maras sets himself the task of sketching out the borders of this battle, seeking to show how certain key ideas about screenwriting and the screenplay, far from being the eternal truths they are so often sold as, came to be normalised and institutionalised over many decades. Drawing on a meticulously researched range of sources from the 1910s to today, Maras does this through in-depth analysis of screenwriting discourse. He gives space to so many competing voices—critics, theorists, screenwriters and filmmakers—that the result is often cacophonous in its completism.
The book is not a chronological history, but a logically structured argument. From questions about the screenplay's literary status and how we might approach the form as readers, the book proceeds to wrestle with long-entrenched ideas about the screenplay as a blueprint for production and the notion of what it means to write for the screen. There is also a chapter on auteur theory and its antagonistic relationship with screenwriting, a brilliantly executed argument suggesting that both auteurist and screenwriting discourses alike developed in response to Hollywood's assembly line mentality, which separated writing from production, conception from execution, leaving everyone on either side feeling the need to assert their creative centrality.
By pulling the seemingly transcendental form of the screenplay back to earth and its historical context, Maras implicitly begins to open up a space in which other forms and practices of writing might be possible. Such alternatives are hinted at in the book's opening pages, where another type of 'screen writing'—that with the all-important space between the words—is first introduced. For the most part, this concept then disappears into the background of Maras's discussion, which is by its own admission primarily concerned with the discursive roots of our more dominant ideas about screenwriting. But the two-word version, screen writing, re-emerges in the book's conclusion, challenging us to think beyond normative standards. It is well worth the wait.
This is the screen writing of Alexandre Astruc's caméra-stylo and Agnès Varda's cinécriture, a writing, not merely for the screen, but on or with it. It is a writing less reliant on language than it is on the material of cinema, on images and sounds arranged in time. While some screenwriters might well argue that this is a loose, auteur-centric definition of writing, Maras suggests, in my view correctly, that by expanding that definition outwards to take in other forms of what he calls "scripting", we are opening up a greater field of possibilities for the creation of cinema itself. (While Maras's use of the word "scripting" occasionally seems somewhat redundant, identical in meaning to the rather more appealing "screen writing", one appreciates not having to double-check every mention in the book of its title for either the compound or two-word construction.)
Maras's conclusion thus points in new directions, both for the study of screenwriting and, perhaps more importantly, the practice itself. These new directions seem particularly relevant here in our Australian context, where normative standards of story and screenplay have become so central to the funding equation and cinematic ideas so marginal. While Robert McKee claims that an emphasis on story will help writers avoid so-called development hell, in the creative centres of this country an over-emphasis on story—or at least, an under-emphasis on cinema—has in fact become a circle of that hell. Speaking at the Brisbane International Film Festival in 2005, Adrian Martin summed up the situation succinctly. "To wait eight years between projects only to go into development hell refining the script is a very bad trend in Australian cinema", he said. "Everything gets loaded, gets invested, in the script. Scripts, of course, are very important, though they're not necessarily the most important thing in a movie. What's important in a movie is the movie. It's the cinema."
In the end, this is what Maras's book is really about. An important and long-overdue contribution to the historiography of screenwriting, it is also something more than that, as the very best criticism and scholarship always is. In attempting to broaden the horizons of screenwriting, Steven Maras also broadens those of the cinema. As Charlie Kaufman thinks to himself in the final moments of Adaptation: "Who cares what McKee thinks? This feels right."
Steven Maras, Screenwriting: History, Theory and Practice, Wallflower Press, London, 2009, 256 pages, 978-1-905674-81-7
RealTime issue #91 June-July 2009 pg. 28
© Oscar Michaels; for permission to reproduce apply to realtime@realtimearts.net