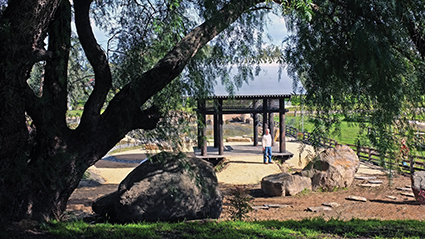 photo Lyndall Jones
Chinese Gardens
ABOUT HALF AN HOUR OUT OF AVOCA ON THE ROAD FROM BALLARAT YOU ENCOUNTER A PARTICULAR TREE-LINED STRETCH SUBTLY DIFFERENT FROM THE USUAL AUSTRALIAN COUNTRY ROAD. DIFFICULT TO IDENTIFY AT FIRST. WHAT MAKES IT SEEM UNCANNY IS THE REGULARITY OF THE TREES, PLANTED CAREFULLY TO MOMENTARILY HEIGHTEN THE PERSPECTIVE OF ROAD TRAVEL. THEY REMINDED ME OF NORTHERN ITALY.
Like the wineries and tiny steep-roofed chapel along the roadside, this intervention marks the agricultural enterprises and aesthetic expectation that continental European settlers brought here. Australian cities celebrate their multicultural heritage, yet too often the diverse cultural influences of rural Australia, of the various populations that have cultivated and re-imagined this land over the years, are subsumed into the homogenising voice of a predominantly English colonial history. There is a history of intertwining landscape aesthetics written into these surroundings that remains under-explored.
Almost entirely absent from Avoca and the surrounding landscape are obvious traces of the tens of thousands of Chinese miners who travelled to Victoria to create a future for themselves in the Gold Rush of the 1850s. Largely shunned by European populations at the time, the Chinese miners had a difficult experience on the gold fields and many returned to China, even posthumously, after the gold rush had run its course. Issues of singular and exploitative economies such as mining, along with the immigration, cultural exchange and xenophobia that accompany them, become questions that are historically specific for Avoca, yet still contentious for many parts of Australia.
Towns of the Victorian goldfields give us a glimpse beyond those heady days of dynamic economic possibility. Avoca was one of five very small towns in Victoria (with populations under 1500) awarded funding under the Small Town Transformations project instigated by Regional Arts Victoria (RAV), funded to commence in May 2013 and to be completed in October 2014. "This project is all about the creative power of art to make place. It invites you to be ambitious in imagining what transformation might mean for your town—now, and into the future" (http://smalltowns.rav.net.au). This project opens up space for an important dialogue about how communities struggling with the after-effects of structural economic change and the dwindling populations that accompany it might imagine their own transformation through art. The provocation by RAV is specifically to explore how art-as-infrastructure might contribute to creating resilience and longevity. In doing so it offers an alternative, and potentially a challenge, to more familiar forms of cultural intervention in rural Australia, such as travelling shows and/or transient or event-based community development projects.
The Garden of Fire and Water is Avoca's response to this question of transformation. A garden is an interesting spatial model to explore: artistic gardens have a unique historical position as places of pleasure that exist external to requirements of function, embodying opportunities for events and durational inhabitation as well as aesthetic and internal contemplation. "For the garden is both spectacle and stage, existing simultaneously as an artwork in itself and as the site of the representation, conjunction and synthesis of all the other arts." (Allen S. Weiss "Unnatural Horizons: Paradox and Contradiction in Landscape Architecture", Princeton Architectural Press, Jan 1998).
For Avoca, the opportunity for evolving curation, such as for Chinese New Year, will be an important aspect of its transformative impact. Due to a garden's unfinished qualities, requiring constant cultivation and attentiveness, the collaboration with the community also necessarily unfolds into the future. Within the space of the garden itself, the project therefore also invites the community to co-create its future unfolding. In deciding on a Chinese garden, the project throws out a further interesting challenge: to consider questions of identity, aesthetics, belonging and land in Victoria. Lindy Lee, a celebrated contemporary Australian artist, whose work explores questions of identity and authenticity, including her own Chinese-Australian heritage, led the project.
Lee worked on the project with Lyndal Jones (artistic director for the garden and associated events), Mel Ogden (designer and project manager) and Martin Wynne (soil expert) as well as a local residents' committee led by Jane Howe. Jones, who is Professor of Contemporary Art in the School of Media and Communications at RMIT University, bought the neighbouring Watford House around 10 years ago to create a durational art work The Avoca Project (http://www.avocaproject.org/). As she describes it, the prefabricated house imported from Hamburg in 1850, as were many structures during the Gold Rush, is itself an immigrant. Layer upon layer of intermeshed meaning and reference, as a deliberate blurring of situation and art, characterises her curation of the house; and now the Chinese Garden.
Alongside the launch of the garden, the Avoca Project hosts an exhibition exploring ideas of 'China' by a number of Australian artists, as well as serving as a sort of index to the garden project in its inclusion of drawings by Ogden and Jones' own work inspired by a journey to China in the 1980s. An ongoing collaborator, Ogden has designed courtyard spaces and verdant platforms around Jones' house that are also anticipated as spaces of unexpected performance and celebration. Wynne has also previously been involved with Jones at the Avoca Project, creating soil cocktails for a project called "XSpecies: Soiree of Earthly Delights." The entire team seem to share an attitude of duration and careful attention in their own practices: from Lee's Zen Buddhism, Wynne's soil cultivation, Ogden's landscape gardening to Jones' long term and inhabitable artwork.
The result of their collaboration occupies a simple rectangle of earth on a gentle slope tucked behind the main street and facing the Avoca River. The remnant frames of the old timber sale yard fences enclose it. A small public space along this section of the street connecting the pub down to the river flats was also created in the project. Monthly farmers' markets are held at this corner, spreading out along the riverside. Trees planted along the edge of Cambridge Street, once they grow taller, will contain the garden visually and provide much needed shade for the public space. Through circular metal garden gates, clear paths lead to a central pavilion: a shaded space to stop and contemplate, as well as framing a view that borrows from the bucolic river flood plain.
Lindy Lee's scorched metal sheets, that continue her long-term engagement with ideas of the element of fire, provide simple ornamentation to the pavilion structure that is also clearly influenced by the Australian shed. "I think what we're creating in this garden is a really beautiful and particular kind of Chinese-Australian vernacular" (http://vimeo.com/106165131). The garden's vegetation too is a combination of borrowed species, such as bamboo and cherry blossom, brought together with natives. Downhill from the pavilion you pass a small pond with water lilies and reeds. In keeping with the frugal sensibilities of a region used to making the most of scarce resources, the pond and tanks perform the double purpose of capturing and filtering storm water from Avoca's main street. At the very bottom is a stone garden, for which most of the rocks came from local farms. Nestled among them is another of Lee's contributions—a polished-metal scholar stone. Through its framing and borrowed referents this garden contributes a new layer to the complex and ongoing aesthetic dialogue written into this local context.
Yet the Chinese Garden in Avoca is not as exotic as it may at first appear. Architects and artists who travelled to China at the end of the 17th century returned home to Europe richly inspired by the irregular beauty of Chinese garden design. This exotic influence led to a shift away from the regularity of traditional European gardens marking a larger paradigm shift in the development of European landscape aesthetics, a process at its height when Australia was being first settled. This aesthetic arguably acted as a transformative filter, reflecting the cultural and economic desires of the settlers and inscribing them on the landscape. With their eyes looking for the picturesque interest of the European landscape, Paul Miller identifies regular references to monotony in settlers' written account of this unfamiliar land. "An utterly monotonous landscape bears no relation to the travellers' world, to their history or their culture, and that is to say that for a particular landscape to be or not to be a part of culture depends on whether that land is a priori part of the mind that experiences it" (Paul Millar, "Monotony and the Picturesque: Landscape in Three Australian Travel Narratives of the 1830s," Journal of the Association for the Study of Australian Literature, 1997).
It is worth pondering how Chinese garden aesthetics, or a straight row of trees along the side of a road, are more familiar to my narrowly trained eye than any signs of Indigenous culture and guardianship of the land. Looking across the river flat, where the new pavilion sits as a garden folly, Lyndal Jones remarks how unexpectedly the Chinese Garden sits far more comfortably in Avoca than at first anticipated.
Regional Arts Victoria, Small Town Transformations, Avoca Chinese Garden, Avoca, Victoria, opened 11 Oct; other projects are The Quarry Ephitheatre, Dookie; The Verj, Natimuk; Neerim Bower: Inspired by Birds, Neerim South; Mallee Up In Lights, Ouyen.
RealTime issue #124 Dec-Jan 2014 pg. 53
© Anna Tweeddale; for permission to reproduce apply to realtime@realtimearts.net