I'M SITTING IN THE BAR OF MELBOURNE'S CARLTON HOTEL, PONDERING A THREE METRE HIGH STUFFED OSTRICH AND THE DECAPITATED HEAD OF A BABY GIRAFFE HOVERING ABOVE PATRONS HUDDLED IN BOOTHS, SOME SIPPING COCKTAILS, OTHERS SMOKING CIGARS. MELBOURNE HAS ACQUIRED A NEW EXOTICISM: NO-ONE HERE REALLY GIVES A STUFF ABOUT GLOBAL HOMOGENEITY, OR THE DISSOLUTION OF GEOGRAPHICAL BORDERS IN A MEDIA MAD WORLD AND A RESULTING LOSS OF CULTURAL IDENTITY. BUT EVERYONE IS PRETENDING THEY DO…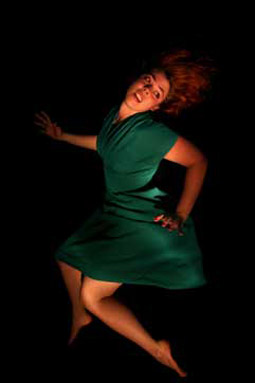 Image coutesy the Brown Council
Six Minute Soul Mate, 2008 Next Wave Festival
brown council: six minute soul mate
Thank Christ the woman dressed in a bear suit who leads me upstairs to Six Minute Soul Mate has a nod and a wink for her inductees. By getting closer together, we are moving further apart. This paradox is the central preoccupation of the Next Wave Festival. Consequently, Melbourne has become a city captivated by the strange and the bizarre. That bear bustles us into a small room, its rear wall adorned with a tropical sunset framed by a painted love heart. A young woman enters wearing a bad wig and blue sequined top, sits on a stool, and gushes over what it is she wants most from a relationship. Just as she's getting to the part about her previous boyfriend abandoning her on the Ghost Train at Luna Park, that bear interrupts. Carrying a portable CD player bleating out the ballad Take my Breath Away, the bear explains that our time is up. We are then corralled along a hallway toward a second room that is reminiscent of a trip through a massage parlour…This same performance framework is then repeated by four women playing three characters on nine occasions in three separate rooms, during a procession through different stages of each character's tragic life.
Six Minute Soul Mate is a sardonic dissection of the human need for companionship, and a backhander for any aspiring actors in the audience. Progressing from hopeful dreams to increasing desperation, each character enters a state of lonely psychosis—exemplified by the same young woman, now grown old, indulging in an autoerotic fantasy by submerging her head in a bucket of water and holding her breath until it hurts. Isolated and alone, the last vestige of the lonely is a sadomasochistic pleasure that devastates this small audience before that bear interrupts once again, and leads us back into the foyer to celebrate with unsettling flutes of cheap champagne.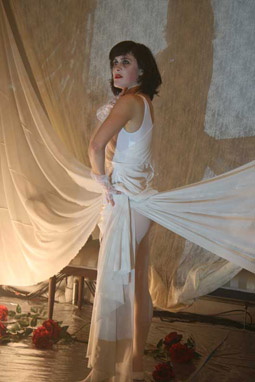 photo Gareth Hart
Serial Blogger, 2008 Next Wave Festival
x:machine: serial blogger
After a dangerous bicycle ride through Thursday night traffic, I arrive at the Meat Market. A palpable menace malingers above the heads of punters as we wait to gain access to Serial Blogger. One consequence of Melbourne's new exoticism, accentuated by the art world's adoption of values usually found on Wall St, this same menace infuses X:Machine's gothic interpretation of one person's face to face meeting with a serial killer. Straddling a line between performance and installation, there is much in the way of knife blades on sharpening steels, a video interface, men in white coats, and a tortured, spectral female guarding the entrance to this techno cave. But i'm outta that subterranean dungeon once a woman has her tongue cut out. Yet it does occur to me that the visceral extraction of an organ used for articulating speech is also a potent metaphor for cyberspace and its capacity for transforming sounds produced in the larynx into cold collections of algorithmic data. ash keating: 2020?
A day passes, and I find myself at a suburban football match watching a friend's son kick a ball emblazoned with a McDonald's logo around a drought stricken park. I then return to the Meat Market for the purpose of assessing 2020?, a multidisciplinary installation comprising discarded building material prior to its being deposited as landfill. Having glanced at the fully mounted work two nights earlier, its epic scale assemblage of plasterboard, milk crates, wooden slats, masonite and other monumental bits and pieces, all sculpted into a hulk of aesthetic junk moodily lit and punctuated by mysterious sounds emanating from within the installation's ribcage, I am surprised to discover that 2020? has since been dismantled. Up steps Ash Keating, coordinator of the event, and he's nervous about having to explain the reason behind 2020?'s non-appearance. But Keating need not worry, for I'm into the idea of an installation disappearing, then reappearing over time, and which has genuine collaboration as its impetus. Artists coming together without tearing each other apart; working through the difficulties proposed by the interdisciplinary, and the interpersonal. Without a McDonald's logo in sight 2020? is reminiscent of Francis Bacon's South Kensington artistic refuge, and the studio as work of art.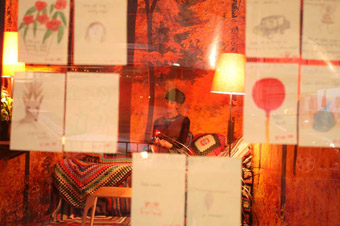 Photo Gareth Hart
The Telepathy Project, 2008 Next Wave Festival
peoples & kent: the telepathy project
Back on my bicycle I'm the recipient of a vicious high tackle when running head-on into a torrent of traffic oozing up and down Flinders St. A consequence of one AFL match ending at Telstra Dome and another beginning at the MCG, football, like art, has fast become a global juggernaut. Declarations of grassroots participation seem parched and downtrodden, replaced by the distant dementia of a global economy so grandiloquent it defies description. But this fact does not prevent artists from communicating across vast distances, even if this does mean illuminating the difficulties inherent in finding intimacy between two people separated by one wall and a couple of metres. The Telepathy Project is a humble work with much to say because the artists, Sean Peoples and Veronica Kent, perhaps free of funding constraints, have tripped into the abyss and returned with a genuine desire to express this experience. They sit in separate, yet similarly furnished rooms, poised in positions that emit great determination if not religious zeal. It's a foyer window belonging to the Forum cinema and we, consumptive patrons on the outside, are presented with messages on yellow stickies that have been attached there by the artists.
Nothing exceptional happens, apart from the pondering of passers by wondering what it all means…What soon becomes apparent is that Kent and Peoples are simply trying to communicate. Separated by the devastating distance of two metres, each has resorted to telepathy in an attempt to find genuine intimacy. And whether coordinated or not, Kent and Peoples rose at identical moments and began writing to one another messages of longing and love, that were then pasted on the foyer window for everyone to see. But by this time, most of the audience were bemused by the experience. Now heading toward the MCG and another hollow AFL spectacle, each had opted for the new exoticism that now characterises Melbourne, and the intimate distance proposed by its current global predicament.
Brown Council, Six Minute Soul Mate, artists Frances Barrett, Kate Blackmore, Kelly Doley, Diana Smith, The Carlton Hotel, May 16-23; X:Machine, Serial Blogger, director Olivia Crang, new media director Alex Gibson, performers Mark Tregonning, Fanny Hanusin, Lily Paskas, performer & visual artist Michael Meneghetti, video artist Jarrod Factor, multimedia artist Pierre Proske, sound artist Rob Stewart, lighting Bronwyn Pringle, set design Harriet Oxley, Arts House, Meat Market, May 27-31; 2020?: Ash Keating & collaborators, Arts House, Meat Market, May 21-31; The Telepathy Project: Sean Peoples & Veronica Kent, Forum Theatre, May 20-24; Next Wave Festival, Melbourne, May 15-31, www.nextwave.org.au
RealTime issue #86 Aug-Sept 2008 pg.
© Tony Reck; for permission to reproduce apply to realtime@realtimearts.net