IT'S BECOME INCREASINGLY COMMON TO CATCH BRAVURA PERFORMANCES DURING MELBOURNE FRINGE THAT ARE AS IMPRESSIVE AS ANYTHING ON OFFER ELSEWHERE DURING THE YEAR. THE REASONS FOR THIS MUST BE MANY, AND MIGHT INCLUDE INCREASING OPPORTUNITIES FOR TRAINING AND PRACTICAL EXPERIENCE FOR PERFORMERS AS WELL AS THE INTEREST SEASONED PROFESSIONALS HAVE IN USING THE FRINGE TO TEST OUT MORE EXPERIMENTAL IDEAS.
I think it's also to do with an increased cultural literacy among performers, who are able to expose themselves to a breadth and depth of work throughout the year that may not have been available to previous generations.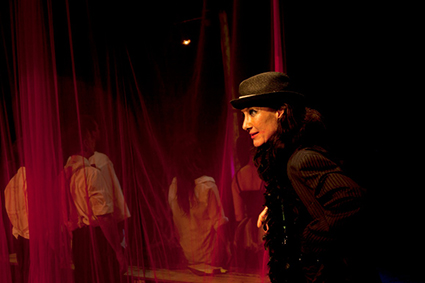 photo Oscar Socias
Maude Davey as Everyman, Everyman and the Pole Dancers, Auto Da Fe Theatre
Everyman and the Pole Dancers
Auto Da Fe Theatre's Everyman and the Pole Dancers was an example of the tensions between new and old. A confusing excess that highlighted the importance of a sorting principle in any attempt to process centuries of theatrical convention, its own kitchen-sink approach was also part of its anarchic pleasure.
Drawing on the Morality Plays of 15th century England, the work presents a gloriously grotesque family beset on all sides by a fiendish figure who variously assumes roles such as cop, sex worker, psychoanalyst, umpire and others. The family members themselves are just as labile, with mother deciding she is a gay man, grandpa at times apparently channelling a dog spirit, grandma romantically attached to a seven-year-old who also seems a kind of priest, and even the ashes of a deceased grandparent continuing to display the same abilities of reinvention as everyone else.
This carnivalesque spirit can be overwhelming, as is so often the case, and it is Maude Davey who provides almost the only anchor on offer here. Her performance confirms her as a national treasure, both assured and playful enough to allow the rest of the work to stray as much as it does.
Nick: An Accidental Hero
Another Fringe performance with a stellar impact was found in Renee Lyons' solo show Nick: An Accidental Hero. A recent trend at Melbourne Fringe seems to be the annual inclusion of a solo work from New Zealand that is exquisitely crafted and performed and Lyons is an outstanding example. The work was created around the true story of Nick Chisholm, an Auckland man who suffered a stroke during a rugby match and became afflicted with locked-in syndrome. The narrative here follows the impact this has on a number of people in his life, including the recovering alcoholic who appoints himself carer and a woman from the other side of the world who begins a relationship with Nick over the internet.
Lyons' accomplishments here are many. She produces uncannily detailed character work that is alternately hilarious and moving, and employs simple theatrical devices to convey urgent medical procedures, the passing of time and the changes in an entire community. She also manages to produce great sympathy for several characters who would essentially be reduced to boofhead roles in many works, but who are indeed central to this narrative. Nick himself is never bestowed with any heroic status, and in fact one of the boldest moves here is in Lyons' choice never to actually incarnate the work's central character until a brilliant coup-de-theatre in the production's final seconds.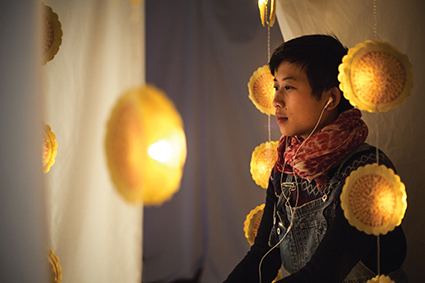 photo Daniela Rodriguez
Chinese Whispers
Chinese Whispers
The live art work Chinese Whispers also featured a surprise ending that both complemented and went well beyond what preceded it. The bulk of the experience involves a single audience member navigating an installation of billowing white fabric studded at intervals with small vignettes. An accompanying audio track weaves together interviews with survivors of the May 1998 riots in Indonesia, during which ethnic tensions saw the mass rape and murder of many Chinese-Indonesians.
Creator Rani Pramesti's audio work here is first-class, producing a provocative and heartbreaking tapestry with little unneeded editorialising. The initial presentation was marred by sound-bleed issues, and it's the kind of overall production that could sorely use funding support to reach the level of excellence it could attain. Its ending, however, was a delight—exiting the maze, each traveller finds themself alone with a performer of ethnic Chinese-Indonesian descent surrounded by Indonesian snacks and treats and invited to partake. What followed, for me at least, was a chat about racism in both Indonesia and Australia that was unexpectedly illuminating and which provided both of its participants with a number of "wait, really???" moments.
Dr Professor Neal Portenza Performs his Own Autopsy Live on Stage…one night only (Obviously)
Such moments are also a starting point for the bizarro comedy of Josh Ladgrove's alter ego Dr Professor Neal Portenza. Portenza fits somewhat into the already unstable category of art comedy that has swollen in the last decade in Australia and includes performers such as post's Zoe Coombs-Marr and the former members of Pig Island. Ladgrove's is a unique entry in the class, bringing a deconstructed type of clowning to the mix and working less with ideas of anti-comedy, deliberate failure and flatness and more with audience dynamics to provide the punchlines.
His Dr Professor Neal Portenza Performs his Own Autopsy Live On Stage… is a masterclass in the form. Its rough structure is a short series of acts he will attempt, but these are merely a hook upon which to hang astonishingly quick-witted moments of audience engagement that build and build until the crowd itself feels emboldened enough to get in on the act. Ladgrove handles his audience so deftly that he is able to dress one member as the good Dr Professor and have them ad lib their own unscripted comedy. On the occasion I visited, this random punter's routine was as funny as the 'real' show that framed it. It's one thing to produce your own bravura performance, but to evoke one from an onlooker is a kind of magic.
Melbourne Fringe Festival: Auto Da Fe Theatre/Shinjuku Ryozanpaku, Everyman and the Pole Dancers, writer, director Lech Mackiewicz, Installation Naomi Ota, Mechanics Institute, 1-11 Oct; Nick: An Accidental Hero, creator, performer Renee Lyons, Arts House, North Melbourne Town Hall, 19-26 Sept; Chinese Whispers, creator Rani Pramesti, design Shane Thompson, Bluestone Church Arts Space 3, 23-28 Sept; Dr Professor Neal Portenza Performs his Own Autopsy Live on Stage. One Night Only. (Obviously), creator-performer Josh Ladgrove, Tuxedo Cat, Melbourne, 22-8 Sept
RealTime issue #124 Dec-Jan 2014 pg. 18
© John Bailey; for permission to reproduce apply to realtime@realtimearts.net