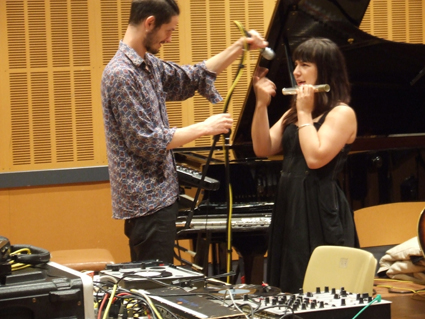 photo Andrew Dixon
John Watts, Lina Andonovska, Everything Always: The Noise Works of Peter Ablinger rehearsal
RAUSCHEN IS THE AEROPLANE LANDING OVER MY ROOF AS I LEAVE HOME TO CATCH THE TRAIN TO THE CONCERT. RAUSCHEN IS THE TRAIN IN THE TUNNEL: SPEEDING METAL REARRANGING MATTER—STAGNANT AIR INTO A WAIL SQUEEZED BETWEEN WALL AND WINDOW.
Rauschen is the between space on your radio dial, the audio snow of complete information separating tinny broadcasts of opinion, news, entertainment, talkback music. Ironic then that this concert of the Noise Works of Peter Ablinger, Austin Buckett and Cat Hope took place in a studio of the ABC in Sydney before 50 or so audience members, though primarily for national broadcast.
Although proclaiming the rather ambitious title Everything Always, the program of 10 short compositions can be dissected into three different approaches to the use of Rauschen: simulation, submergence and composition.
simulating rauschen with acoustic instruments
There was a clutch of three Ablinger pieces and one by Buckett that had as their creative impetus the attempt at simulating Rauschen using acoustic instruments. Ablinger's Weiss/Weisslich 20 (1992/95), performed twice on the night, consisted of a single cymbal roll for two minutes. John Wilton, using a different cymbal for each iteration of the piece, executed the work with a complete non-performativity that suited it perfectly. Once the roll began, there existed an air of inevitability around the piece. It was as if the music had always been sounding and would continue to sound always, partials ringing and colliding wildly with each other above the dull pulse of mallets on metal. The two necessary gestures, to begin and to end, then became amplified—the most exciting moments of this piece occurred when it suddenly came into existence, and when equally suddenly it ceased to be.
Lina Andonovska performed Ablinger's Piccolo und Rauschen (1995/96) for piccolo and CD and Buckett's Dead Machines (2012) for amplified flute head-joints and four speakers. The works are quite similar: Ablinger's high-pitched piccolo tones are synchronised with loud pre-recorded noise, Buckett's combines pre-recorded noise with breath blown across flute head-joints. In Piccolo und Rauschen, Andonovska's strident performance was affecting despite some slightly off-putting swaying between tones as if some irresistible Romantic melody was playing in her head. In Dead Machines the Conservatoire reared its ugly head, sounding in the central solo section to this listener as if the score directed Andonovska to improvise her own contribution to the pre-recorded Rauschen. The result was virtuosic chromatic runs: the Conservatoire's version of everything, always.
submerging genre in rauschen
In both Parker Notch (2010) for solo instrument (electric guitar) and noise (Ablinger) and Improvisors and Noise (2011) for piano, drumkit, no-input mixer and four speakers (Buckett), the composers attempted to submerge otherwise independent instrumental music in a field of Rauschen. In these pieces the instrumental parts behaved as gaudy neon signs—arrows and cartoon fingers pointing the listener outside the torrential downpour of noise and back towards the genre itself: jazz in the Ablinger and electro-acoustic improvisation in the Buckett.
This effect was, I imagine, the opposite to what the composers intended. For Parker Notch the problem was simply one of balance between the volume of the guitar and the noise. Improvisors and Noise sounded, however, derivative of Ablinger whose conceptual elegance in the submergence of genre in Rauschen was lost in the clamour of instrumental parts competing to be heard amongst themselves beneath Rauschen in Buckett's composition.
composing with rauschen
In both Cat Hope compositions, the composer used Rauschen as compositional material. Black Eels (2012) for two LPs, two flutes, piano, electric guitar and percussion was a somewhat precious collage of New Music gestures, noise and e-bowed guitar which stripped Rauschen of all its overwhelming physicality, using it instead as decoration.
The more successful of Hope's pieces was Kingdom Come (2009) for electronics duo, a loud amorphous soundfield, both parts being performed by Jon Watts. This was an example of Rauschen being pushed around in an attempt to compose interest. It sounded to me like Hope had provided Watts with a framework to improvise within, using only Noise as his material.
Being familiar with Watts' usually calmly executed work, I was surprised at the hurried impatience with which he moved his material around the space. The performance left me unsatisfied, as if Watts had given me only a perfunctory tour through Hope's soundfield.
ABC Classic FM, Everything Always: The Noise Works of Peter Ablinger, Austin Buckett & Cat Hope, curator Austin Buckett, performers Lina Andonovska, Cat Hope, flutes Elia Bosshard, electronics Jon Watts, percussion John Wilton; guitar Carl Morgan, piano Austin Buckett; ABC Sydney, Dec 15
You can listen to excerpts of the concert via ABC Classic FM podcast
RealTime issue #113 Feb-March 2013 pg. 40
© Rishin Singh; for permission to reproduce apply to realtime@realtimearts.net