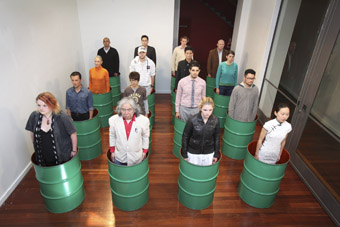 courtesy the artist, photo Alex Craig
Tatsumi Orimoto, Oil Can, 2010, 4A Centre for Contemporary Asian Art
"IF IT'S ART, IT'S ART," CONCEDES A BEMUSED PEDESTRIAN AS HE HEADS OFF AFTER BEING MOMENTARILY ABSORBED INTO THE CROWD OBSTRUCTING THE FOOTPATH OUTSIDE THE 4A CENTRE FOR CONTEMPORARY ASIAN ART. IN A SMALL WHITE-WALLED ROOM FILLED WITH 15 GREEN 44 GALLON OIL DRUMS PAINTED RED ON THE INSIDE STAND BLANK FACED FELLOW CITIZENS AND THE ARTIST WHOSE WORK, OIL CAN, THIS IS—TATSUMI ORIMOTO.
In a line outside the window, volunteers await their turn to expressionlessly occupy a drum for 30 seconds. Orimoto purposefully fusses about, directing individuals—it might be five, or 14—into position. When satisfied, he chooses a drum for himself and is helped in using a small step ladder. Once everyone is still, looking forward towards the street, the moment is captured by a photographer perched high on a ladder just inside the window. Then the process begins again, Orimoto creating new permutations for well over an hour.
Outside the crowd grows and, after a half hour or so, an emboldened Orimoto beckons to passersby to join his volunteers, which they willingly do. Meanwhile, chatty observers explain to the newly arrived what they think the work is about: "alienation," "ordinary people at the mercy of the oil industry," "people discarded," A newcomer asks, "Is someone making a movie? "Now there are several other photographers in the room and, outside, mobile phones are held aloft. Moments of stillness, as the latest permutations are realised, alternate with the bustle of selection, arranging and clambering in an out of drums. The sense of occasion is palpable and participation unthreatening. The cultural mix of volunteers, true to China Town (next door is the inviting Polish deli, Cyril's), is rich and welcoming.
Oil Can suggests much, reminding us of Ham and Clov in their bins in Beckett's Endgame, sharpening our sense of non-communicative personal isolation (curiously at odds with the conviviality of the crowd and the willingness of the volunteers) and heightening our appreciation of art as its usual complex two-way process—observer and observed—but to which has been added the ever increasing role of observer as observed, through participation and co-creation with the artist. All of this intensifies the sense of 'everyday surreal' that Oil Can evokes—pedestrians in their street clothes stepping into the neat rows of drums to have their images captured for purposes that remain unexplained. I look forward to seeing the documentation; doubtless it will be a work of art in itself, offering a more formal meditation, but stripped of the excited hubub of the performance it might mean something else.
Centre 4a's enterprising program of live performances engages new audiences—surprising them with art while making it simulantaneously part of the everyday.
Tatsumi Orimoto was born in 1946 in Kawasaki, Japan and studied at the Institute of Art, California. In 1971 he moved to New York, where he worked as an assistant to Nam June Paik and was introduced to Fluxus. In 1977 he returned to Kawasaki where he currently lives and works. His performances have been presented in several countries including the Biennale of Sydney, Sao Paulo Biennale and Venice Biennale.
Tatsumi Orimoto, Oil Can, 4A Centre for Asian Contemporary Art, Sydney, May 13
RealTime issue #96 April-May 2010 pg. web
© Keith Gallasch; for permission to reproduce apply to realtime@realtimearts.net