Ever Blossoming Life—A whole year per hour, Gold (2016), teamLab
Two radically different works exemplified the spirit and high calibre of OzAsia 2016: Two Dogs from China and Ever Blossoming Life II by Japan's teamLab, witnessed alongside other works in the festival's weather-turbulent final days. Two Dogs' exuberant Chinese crosstalk-cum-Le Coq-style clowning, replete with raw vaudevillian vigour, is scripted but frequently improvised. Ever Blossoming Life II—A whole year per hour, Gold (2016) and its companion digital screen work, Cold Life (2014), are sublimely contemplative creations in which worlds silently grow, flourish and pass in intricate seasonal detail.
teamLab, Ever Blossoming Life II and Cold Life
As Chris Reid writes in his response to teamLab at the Art Gallery of South Australia, Ever Blossoming Life II and Cold Life simultaneously evoke nature and its idiosyncratic representation in Japanese art, the latter generously represented in the AGSA's contextual staging with its glorious folding screen and numerous exquisite prints, paintings and ceramics. As in 'classical' Chinese or Japanese painting or floral art, a tree [a gnarled root in Ever Blossoming Life II and pine branches in Cold Life] is both the artist's subject and the foundation for growth.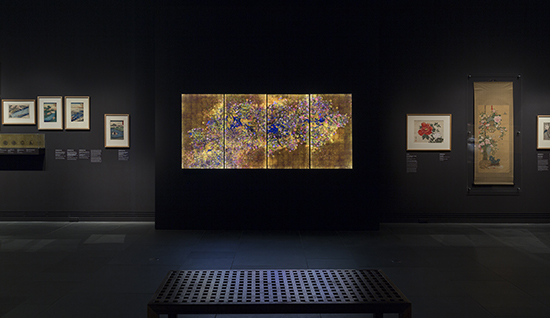 Installation view, Ever Blossoming Life, teamLab
In Cold Life the branch first appears as a floating tubular digital grid, waiting to be filled in. As it assumes texture, it multiplies in liquidy calligraphic swipes, forming a rotating three-dimensional shape that suggests the Japanese character for 'life' (a calligrapher, Sisyu, collaborated on the project]. A Moon materialises, small branches reach out, light snow falls, pink buds appear, butterflies and blossoms—white, pink, yellow, blue—pine needles and dense, furry fronds, the whole thick with teeming life. But this silent work is entirely ghostly, every branch and flower transparent and devoid of the buzz of Spring and Summer; it's beautiful, but emphatically digital; it is "cold life," but wonderful nonetheless; in its reductiveness, art intensifies our focus. [The room notes cite an ancient Chinese credo that inspired Japanese artists: "Painting is silent poetry."]
The vertical screen, the hovering Moon, the calligraphic form, the acute observation of nature, link the work explicitly to several strands of Japanese art, to which are added contemporary graphic and comic book art and animation, which allow Cold Life a visual intensity that delightfully borders on kitsch without surrendering to it.
You can watch all seven minutes of Cold Life on teamLab's Vimeo channel which alternates between showing full vertical images and welcome close-ups of the work's detail.
The close-up is an issue when it comes to viewing Ever Blossoming Life II. Its four vertical columns make one, wide horizontal screen, evoking an actual room screen with its background of softly burnished, sometimes highlighted, gold leaf squares. A gnarled, bared root rests diagonally across it. Unlike its Cold Life counterpart, the root is already formed, but, similarly, it's what springs from this still life which is transformative—from woody nooks tiny clusters of fungi tendril out into twigs, leaves and blossoms, their petals scattering oceanically. This and green growth altogether mask the root and then bare it as the seasons pass in an hour, and never in the same way—as in nature—thanks to a generative computer algorithm developed by teamLab. Surprisingly for a digital artwork, I found myself moving, as if before a painting, to and fro from the screen, eager to tell all too casual bypassers, "you should see this!" before slipping back into contemplation. Despite the busyness of its concentrated portrayal of emergent life (and, implicitly, digital intelligence), Ever Blossoming Life II yields a sense of the essence of nature which it shares with the works from past centuries that surround it.
You can see excerpts from Blossoming Life II full-screen and in close-up here and here. Better still, if you're in Adelaide you can see Blossoming Life II and Cold Life and the kinds of classical works that inspired these digital creations until 15 January, 2017. The room notes, for the cost of a donation, are well worth purchasing.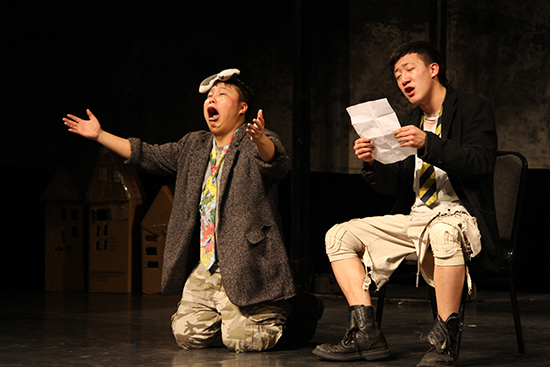 Two Dogs, OzAsia 2016
Two Dogs
On a sparsely set stage—two musicians on our left. Upstage are two manipulable cloth drops (one expressionistically splattered with paint, the other depicting two large, abstracted, non-gendered dancing figures]. To our right are cardboard model houses and oil drums. Two chairs sit forestage. Heralded by heavy metal chord-slashing, Wang Cai (Liu Xiaoye) and Lai Fu (Yin Yang) erupt onto the stage, declaring themselves "two peas in a pod," "two rising stars" and "both test tube babies." These "dogs" of the play's title are rural innocents, men with occasional, very funny canine-like characteristics, no skills, but with big egos and eager to work in the big smoke, just two of the millions moving to China's proliferating big cities.
When they arrive, they're improbably employed as security guards, part of the play's satirical swipe at the building industry, specifically targeting the gap between the luxurious promise of advertised plans and the absence of actual product. Wang Cai ends up in prison where he is frequently beaten but works his way up to the status of "top dog." The recurrent beatings reported in the play are re-enacted solo, virtuosically and at great length by the victim, much to audience's unlimited delight.
In the play's funniest scene, Wang Cai contracts appendicitis. Together with Lai Fu playing the surgeon, they hilariously re-enact the negotiations over fees which persist right through the mimed operation. There's the $880 fee model and the $8,800 alternative. The former only works with frequent additions (anaesthetic etc) until the total is pretty much $8,800—which includes removal of a forgotten clamp and, finally, the appendix. "But what did you take out?" "The small intestine." "Appendix and small intestine! What a bargain!" Clearly Chinese state capitalism is little different from our own when it comes to health.
There is little else indicative of political satire. Other targets are TV talent quests (the pair lose in one), popular singers (funny without ever having actually heard them) and possibly much else that non-Mandarin-speaking audiences cannot grasp. Although Two Dogs is scripted and surtitled (not always convincingly), a great deal of the play is improvised. Sometimes meaning is clear, often not, but you know the narrative will resume as Wang Cai and Lai Fu increasingly care for and recognise their need for each other (the play's 'brother' theme is neatly woven throughout). This mutuality is strongly expressed through the Chinese "crosstalk" form, the improvisations which have the pair working at competitive white heat and sometimes undone by each other's brilliance, stand-up passages and a mutual facility for mime and slapstick humour.
Playwright and director Meng Jinghui has created a hybrid work which at once displays the talents of his wonderful performers—often in excess of his script—and works as a standalone social document. Sharing it with a largely Chinese-Australian audience in Adelaide's elderly Her Majesty's, where I sat as a child in the gods in the 1950s giddily gazing down at the heads of the Tintookies' puppets and wondering what on Earth I was seeing, a different kind of vertigo grabbed me, the not unpleasurable one of being swept up in an experience at once culturally familiar and yet quite alien, requiring patience and openness for which I felt deeply rewarded.
–
OzAsia Festival 2016: Ever Blossoming Life, Art Gallery of SA, 17 Sept 2016-15 Jan 2017; Two Dogs, writer, director Meng Jinghui, Her Majesty's, 29 Sept-1 Oct
RealTime issue #135 Oct-Nov 2016
© Keith Gallasch; for permission to reproduce apply to realtime@realtimearts.net