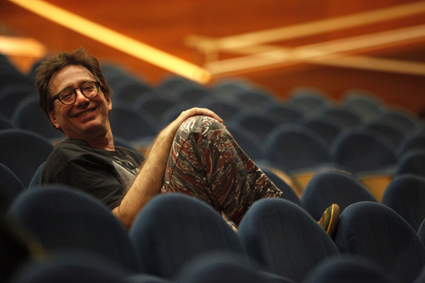 photo Lolo Vasco
John Zorn
The extensive contemporary music program for David Sefton's 2014 Adelaide Festival marks the festival out from its Australian peers. Epic concerts will celebrate the art and legacy of John Zorn, leading a huge ensemble of remarkable musicians and Australia's Elision; the riches of contemporary classical and experimental composition and playing in the Tectonics Australia program; and the serious side of electronica in Unsound. I spoke with David Sefton by phone about his bold programing with its fine balance of international and Australian talent.
It's clear from this program and last year's that you have a serious interest in 20th and 21st century experimental music. Where did this passion come from?
I guess it's where I started. Before I ended up as a programer-director-producer—whatever I've been through the years—I began as a music journalist way, way back in the mid to late 20th century. I started out in the north of England as a stringer for various publications that no longer exist, of course, back in the days when you could make a living from doing that sort of thing. I studied music; I'd been in bands. Music has always kind of been in the mix for me and it was how I made a living for some time.
It then morphed into working in theatres and becoming a programer of different media. I ended up at the Southbank in London and in 1993 started Meltdown [an annual festival featuring a mix of music, art, performance and film]. When I went to the Royal Festival Hall, I was managing the orchestral and chamber music programs, dealing with music in its widest possible definition—composers as well as rock bands. That real mix has always been there for me.
So in a way John Zorn is a perfect exemplar of an incredibly diverse and yet very cohesive mix?
Yes, in terms of somebody who's moved seemingly effortlessly from one category to another, there isn't really a better example.
In a way he combines traditional avant-garde, on the one hand, and jazz, experimental noise, contemporary and the cultural and spiritual as well.
I don't think anyone manages to incorporate quite as wide a range of influences and styles and he is able to go into each genre and be completely respected by those people already in it, which I think is crucial.
This is a great introduction for Australia to have Zorn live with such an astonishing range of musicians—people I've been listening to for years but never thought I'd actually see.
It came out of the most harmless exchange of informal e-mails. I just basically asked, "How come you've never been to Australia?" and he wrote back "No-one's ever offered to do it properly." What he wanted was to have the range of his work fully represented here. As we got into it he said, "It's gonna be a lot of people on the road but I really want to do it properly." There's been feedback saying, 'oh, that must be costing a lot of money;' but, no more than your average small to medium scale chamber opera would cost to bring in internationally. And, when you realise the calibre of who's coming!
Yes. John Medeski, Joey Baron, Ikue Mori, Uri Caine, Bill Laswell, Marc Ribot and many more and Zorn himself playing.
And Mike Patton. We've just announced that Dave Lombardo, the founding drummer of Slayer has been added to the bill, which is another example of that effortless straying between genres. It's a testament to the status of Zorn that all of those people are coming for John.
You've certainly gone for scale in this festival, which is sublime for music audiences eager to experience works at length in concerts that run for many hours.
I feel that's one of the great things that a festival can do—we are doing it properly and, yes, concerts will be between four and five hours long. Everyone's been waiting to book Zorn online from across Australia. Those tickets are going like hot cakes.
It's wonderful that you have Elision in the Zorn program, a great Australian contemporary music ensemble now working out of the UK.
Daryl Buckley (Elision artistic director) and John Zorn have been in close contact about the content of the program. They're both about to be in the Huddersfield Contemporary Music Festival at the same time.
John Zorn is only 60 of course, but what do you think his legacy will be?
What's fantastic about John is that he doesn't make a big deal about it; I imagine he's never used the word 'crossover' in his life. He just sees it all as music. I would hope that his legacy is that. I think there needs to be a lot more of that.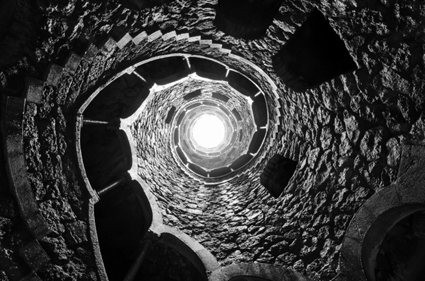 Masonic Spiral, image courtesy Adelaide Festival
The Tectonics Adelaide program is curated by the young conductor of the Iceland Symphony Orchestra, Ilan Volkov, who has been quoted as asking, "how can a 19th century orchestra, that 'beast,' become more radical or experimental?" Jon Rose and Oren Ambarchi will be appearing with the ASO as soloists. And there's a huge variety of Australian musicians involved in two epic concerts, one from the afternoon into the early evening, the other until late. How did you connect with Volkov?
Simon Lord who's the Orchestral Manager of the Adelaide Symphony Orchestra used to be at the BBC Scottish Orchestra where Ilan Volkov was the in-house conductor. Simon said, "You need to meet Ilan." We met in London and here was someone who is massively sought after as a conductor of conventional orchestral repertoire but whose depth of knowledge and range of enthusiasm for contemporary music I have rarely witnessed in my life. He's done the Tectonics program in Tel Aviv and Glasgow and I went to the one in Reykjavik last year to see how it ran.
Ilan looks at what the local contemporary legacy is, what the history of radical music is wherever he's going. A lot of the commissions and work being performed in the festival are Australian—Ilan carries a wealth of information around in his head (about Australian music). The commissioning had to happen first—people need a good 12-18 months to write a piece for an orchestra. He's a big fan of Elena Katz-Chernin, and he's worked with Jon Rose before, as I have. And I think he's also worked with Mathew Shlomowitz before.
The Unsound program is also fascinating and includes Jed Kurzel's music from his brother Justin's film Snowtown played live, along with appearances by Moritz von Oswald and the legendary Morton Subotnick.
One of my tenets coming into the job was that I wasn't going to repeat anything. With Unsound in 2013 I was looking at the interesting gathering points going on in music. I'd been aware of Unsound. I'd seen what they'd done in New York and I felt that they were on to something that was going on in electronic music and that's a very rich field at the moment. So after Solaris in the 2013 festival was such a huge success—made much more satisfying by the number of people who told me it was going to fail and that there was no way that Adelaide could sustain an esoteric electronica strand—I said to Mat Schulz, the Australian living in Poland who's the main organiser of Unsound, I'd like to have a bigger conversation than just the one show.
Subotnick's never been to Australia (playing Silver Apples on his classic Buchla synthesizer), The Haxan Cloak's first record just came out while we were discussing what we'd put in the list and Stars of the Lid (with Adelaide's Zephyr Quartet and Luke Savisky's projections) and Nurse with Wound have never been to Australia—we've got Fela Kuti's drummer, Tony Allen, in there. The line-up!
With Subotnick you're addressing quite a different legacy from Zorn's.
Absolutely. The thread is definitely a purely electronic music thing. It's not dance music—I'm not saying people can't dance to it if they want to—but it's serious and there are a lot of interesting things happening in that world.
Continuity has its value. Audiences feel it's their festival and enjoy anticipating some things and not others.
I absolutely agree. It's not like we repeat any artists. This is a completely new list from the last one and I'm sure there were a good five to 10 other totally separate configurations we could have done.
I was pleased to see that composers Ross Edwards and Stephen Whittington both have chamber works in your program and Jason Sweeney is presenting Sound Introversion Radio.
It will be a radio station running the entire duration of the festival that you can pick up either on your phone or at various physical pods around the city where you can sit and listen. I met Jason quite early on when I came to Adelaide and realised that he was one of those significant local treasures who should be encouraged and embraced. So, yes, he's another return visitor to the festival but with a different project this time.
Finally, your program has numerous works of scale—Zorn and Tectonics concerts, a five-hour Matthew Barney film and the stage production Roman Tragedy at six hours. As you've said, these are things that festivals can do well and they can be enjoyably immersive.
I think Adelaide definitely prides itself on the epic. It's done The Mahabharata (1988), The Seven Streams of the River Ota (1998), its own Ring Cycle (2004) and I'm sort of responding to that history this year.
Anything else you'd like to add?
No. You've definitely nailed the epic component. I've suggested we should work out what people are paying by the hour for the festival this year! [LAUGHS]
Adelaide Festival 2014, 28 Feb-16 March
RealTime issue #118 Dec-Jan 2013 pg. 15
© Keith Gallasch; for permission to reproduce apply to realtime@realtimearts.net