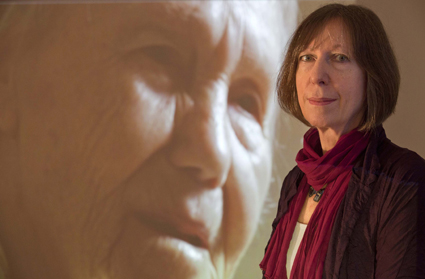 photo Mayu Kanamori
Once My Mother, Helen and Sophia Turkiewicz
One of the consequences of being in large part a refugee nation is that extraordinary stories of survival and terror can be found behind most ordinary Australian suburban front doors. Sophia Turkiewicz's deeply personal and affecting new documentary Once My Mother traces one such tale—her mother's path to Australia, via Eastern Europe and Russia during the darkest days of the Second World War. Yet, Once My Mother is not a work of mourning; rather it's a celebration of survival and a tender portrait of a fraught mother-daughter relationship haunted by a traumatic past.
When asked what inspired her debut documentary, Turkiewicz jokes, "Well, I keep making the same story." An early graduate from the Australian Film, Television and Radio School, Turkiewicz initially attempted to tell her mother's tale through an unfinished student documentary in 1976. Her first major work, the 30-minute Letters From Poland (1978) was a drama loosely based on her mother's experiences as a refugee in post-war Australia. Most famously, she made another Polish refugee story in 1984, with the award-winning feature Silver City.
"In a way I see this film as a companion piece to Silver City," Turkiewicz explains. "But I think the impulse behind making Once My Mother as a documentary was finally getting the story right. While I was lucky to have the opportunity to make Silver City, it's a pretty glossy account of the real story. I was always aware of that and felt it wasn't quite the authentic truth of my mother's real experience."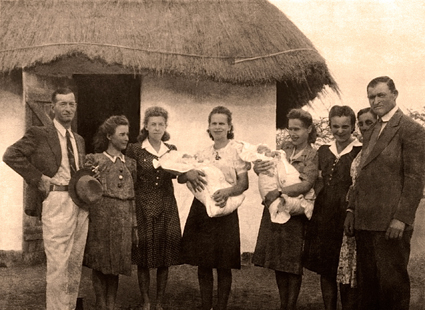 courtesy the artist
Once My Mother, Helen with newborn Sophia in Lusaka refugee camp
The sheer scale and horror of that experience perhaps explains the reticence Turkiewicz showed as a young filmmaker. Her mother Helen was one of millions deported east and fed into Stalin's vast network of gulags when the Soviets and Nazi Germany dismembered Poland between them in 1939. When Hitler invaded the Soviet Union in 1941, the desperate need for troops earned the Poles an 'amnesty' so they could form an army. Many of these soldiers eventually fled to Persia via Uzbekistan, bringing thousands of displaced civilians in their wake. Having made it to Persia, after the war Helen ended up in a British-run refugee camp in Rhodesia, southern Africa. Six years later, cradling the baby who became a filmmaker, she was taken into Australia as part of the post-war migration program.
Once My Mother traces this story through interviews with Helen shot for the unfinished student film in 1976, along with more contemporary interactions filmed as Helen's memories were slowly being eroded by Alzheimer's before her death in 2010. A wealth of archival material from Polish, Russian and British sources fills out the historical backdrop.
This is anything but dry history however. Nor is it a straightforward recounting of Helen's life. "It was only through the process of making the film that I started to realise that it was as much about me and my relationship with my mother as it was about her," Turkiewicz says of her decision to return to her mother's experiences. "What I understood, ultimately, was that my impulse behind returning to this story was to try and nut out my complicated relationship with my mother. So I had to be a character in the film as well."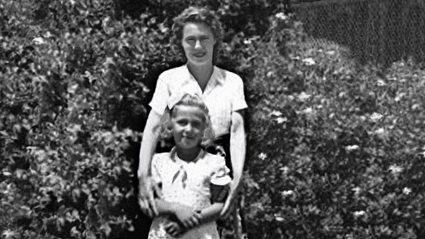 courtesy the artist
Once My Mother, Helen and Sophia Turkiewicz
Turkiewicz's bond with her mother was long tinged with resentment over her placement in an Adelaide orphanage shortly after they arrived in Australia. Their difficult relationship and the echoes of Helen's past in Turkiewicz's childhood are effectively conveyed through a parallel structure that places the director's life journey alongside her mother's earlier travails. In her 20s, for example, we see Turkiewicz's world open up as she gains a degree, moves to Sydney and joins the burgeoning Australian film industry. Around the same age, Helen was enduring a 4,000 kilometre trek across the Soviet Union with countless displaced Poles dropping dead around her, before finally escaping into an uncertain future as a post-war refugee. These parallel lives not only put the director's more mundane struggles into perspective but highlight how incomprehensible her mother's past must have been to Turkiewicz as a young girl coming of age in 1960s Adelaide. We see this story through both Helen's and the filmmaker's eyes, in a structure that conveys the epic sweep of the Polish deportee experience while maintaining an almost home movie intimacy with its subjects.
Although the film's limited means contributed to its pleasingly intimate feel, Turkiewicz would have liked greater resources with which to realise her directorial vision. "I only ever had one day with a professional cinematographer," Turkiewicz comments ruefully. "If we'd actually got the money and then made this doco, it would have had a completely different look and that's really one of my slight disappointments—that the production values are not what I would have wanted for this story. It just grew through grabbing any opportunities we could along the way and cobbling it all together."
As associate producer Bob Connolly explained in a speech before a private screening of the film last year, Once My Mother was rejected by both SBS and the ABC when the filmmakers sought a pre-sale (see On the Dox, RT118). This rendered the makers ineligible for backing from most government bodies. They were also rejected by Screen Australia's Signature Fund, the only funding program that does not require a pre-sale. Her mother's rapidly failing health forced Turkiewicz to push ahead and piece the film together over five years with virtually no budget. With the film almost completed, Screen Australia finally came on board and the ABC followed suit with some funds to make a 50-minute television version.
Turkiewicz concurs with Connolly's criticism of structures which effectively prevent any documentary not tailored to broadcast schedules from receiving funds. But she also sees a deeper problem related to distribution. "There are fantastic feature-length documentaries being made all around the world and they're not reaching our television screens or cinemas. I don't think it's just Australia—it's a worldwide problem."
Once My Mother is a perfect illustration of Turkiewicz's and Connolly's points—a beautifully moving, essayist documentary that cannot be neatly placed in a television slot and consequently nearly didn't get made. But as well as being emotionally affecting, this is also a film that speaks to contemporary events here in Australia. "When you look at that whole phenomenon of post-war migration to Australia, it came from government policy, leadership and education. In the course of less than a decade Australia was absolutely transformed—and what a gift those people have made to the dynamic, multicultural and sophisticated society we now have. I want my film to be part of this conversation. I'm driven to despair seeing what is happening to refugees now," Turkiewicz says forcefully.
As well as her mother's contribution to Australia, Turkiewicz herself is part of the ongoing refugee story, even if our broadcasters showed little interest in what she had to offer. As always, it seems, the best in our culture has to develop regardless of those in positions of power.
Once My Mother, director Sophia Turkiewicz, producer Rod Freeman, Australia, 2013, www.oncemymother.com
Once My Mother is screening nationally in cinemas.
RealTime issue #122 Aug-Sept 2014 pg. web
© Dan Edwards; for permission to reproduce apply to realtime@realtimearts.net