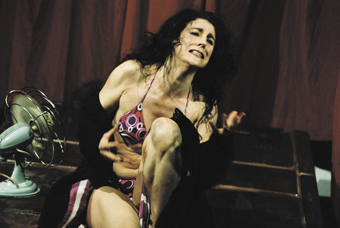 photo Heidrun Löhr
Moira Finucaine, Gotharama
Non Parlo di Salo
Monstrous and breathtaking, Melbourne Workers Theatre's Non Parlo di Salò is also one of the most ruthlessly philosophical pieces of theatre to emerge locally in recent years. It could too easily have taken the notorious Pasolini film Salò at its centre as an excuse to shock, or make a one-sided anti-censorship plea. And to be sure, there is much here to unsettle even the most jaded of viewers, including sexualised violence, nudity, sodomy and shit-eating. But the honesty of the writer's intentions, as well as a remarkable commitment by all performers mean that rather than turning off, the audience cannot help but be convinced of the integrity of the piece. Pasolini himself, played with great depth by John Francis Howard, is an iconic figure in his tinted dark glasses and sharp suit. Provocateur and political rebel, artist and antihero; we are offered a constantly shifting perspective on a profoundly contradictory character. Most of the play takes place off set during the filming of Salò, with a brief, but compelling sidestory of a young present-day Australian filmmaker, who is inspired by Pasolini, in confrontation with his despairing mother.
Director Andrea James mentioned to me after the show that she'd not fully appreciated the power of Christos Tsiolkas and Spiro Economopoulos' script on the page, and that it was only when given life by actors that Non Parlo di Salò achieved its disturbing resonance. Certainly, the play provides a more visceral understanding of the sort of cinema Pasolini strove to create than anything I've read on the subject. Salò was his nightmare, and we learn much of what kind of mind seeks to recreate such a nightmare as art.
Gotharama
Nightmares of a different order are in no short supply in the latest "cabaret bizarre" by cross-genre artist Moira Finucane. Finucane's works merge elements of cabaret, dance, storytelling and sideshow, often playing on imagery equally grotesque and beautiful. Gotharama's near-dozen short vignettes betray a fascination with the Gothic in all of its definitions: from the trashy page-turner of the 18th century to the industrial-edged Goth subculture of today. But while the term has almost come to signify a repository of cliched tropes, a kind of shorthand for creating suspense and the thrill of fear, Gotharama manages to reanimate the corpse of the Gothic through inventively reinterpreting the standard types of the form. There are moments of Gothic intensity in which Finucane's performance approaches the sublime, in the philosophical sense: tableaux which cannot be assimilated through any frame of reference except their own heightened, hysterical brilliance. They are savage and erotic spectacles such as the Frankenstein-like "fair maid" who jerks manically to life, all bloodcurdling screams and erratic spider-walking, limbs flailing to a shattering industrial throb; or the closing vision of a Carrie-style figure spouting showers of blood and revelling in the carnage. But equally, Finucane's more measured and subtle moments of storytelling create uncanny and disquieting effects. A disembodied head upon a bed explains how a series of unfortunate events led to her present state; a young girl recounts a boat trip with a sinister older man bent on her destruction. There is much humour. In Buried Alive!, the victim cries, "I'm not dead! I'm not dead! I was just bored!"
But the most eerie and understated piece, in my opinion, is A Sunny Day, in which a bikini-clad woman sits contently in the sun, which slowly disappears leaving her shivering with an increasing violence. Over the course of several minutes, and with not a word spoken, Finucane suggests a world of personal terror through the simple, natural process of growing cold. Finucane is able to switch from sledgehammer to slow-acting poison in a heartbeat, and in Gotharama she has created a show worthy of comparison with her best works of the past decade.
The Wall Project
Despite the self-imposed restraints demanded of participants in The Wall Project, a quite remarkable triptych has been produced. Three writers were given a short period in which to develop a series of 5 scenes centred on the theme of the Wall, and over a period of only a few weeks, performers and director Chris Bendall workshopped the disparate scripts into a somewhat uneven whole. The 3 pieces which make up the project are only tenuously connected, and the dramatic core of each is not necessarily the wall of the overall piece's title.
Ben Ellis offers us an imagined nation which could be the product of Kafka writing on contemporary terrorism: the absurdity of the bureaucratic state is juxtaposed with the story of a retarded boy sent on a suicide bombing mission. A foreign visitor is subjected to absurd interrogation, and then introduced to a vain and worn out actor as ironically symbolic of the republic's great character. It is the actor, of course, who brings about the explosive climax. Ellis is here in a territory in which he can confidently write, expanding on earlier plays which interweave the political with personal dramas, all presented in a sly and ironic fashion.
Tee O'Neill's piece, too, is a powerful take on contemporary global politics, in this case the miseries of international sex trafficking. A Sex and the City-styled heroine waits for her boyfriend in a leafy city park, but comes upon the ravaged figure of a Russian sex slave buried in the undergrowth, shackled by a leather chastity belt with a counter to tally the number of men by whom she has been brutalised, and accompanied by a child whose mental scarring is quickly apparent. Our protagonist's own involvement in the scenario slowly emerges, and a murderous conclusion leaves audiences with a series of powerful and indelible impressions.
Tom Wright's is the least successful work in the context of the larger project. Set aboard the Second Fleet and focusing on a trio of prostitutes sent to the colonies, the drama is articulated in the kind of guttural archaic language which has recently enlivened works like Anthony Crowley's The Frail Man and Wright's own adaptation of Daniel Defoe's Journal of the Plague Year (RT 67, p29). The story told is ripe with allegorical possibility, as one of the women is raped and miscarries a shrunken Christ child, a sacrifice resonant with the aborted dreams of Australia's history. But the voices of these characters require a different kind of engagement to the more accessible pieces they abut, and this creates a jarring effect when we shift from scene to scene. It's not that diverse styles of theatre should not be presented alongside one another in this way; it's just that Wright's piece is exponentially more 'difficult' than the others.
Catastrophe Practice 1: Skylight
Skylight possesses an air of the historical, of revealing a moment when something was blowing in the wind. One of only 3 pieces for theatre written by renowned British author Nicholas Mosley, the production at La Mama's Courthouse Theatre was in fact also the world premiere—decades after the work was written. Despite Mosley's marginal status in the British theatrical revolutions of the 1960s, we can still see here correspondences with contemporaneous work by Pinter or Brook and, across the Channel, Handke or Grotowski. Mosley's plays are perhaps less confronting than the key works of these formidable theatremakers. However they are more playful, silly even, and generous towards an audience's desire for narrative.
The play opens as a kind of Noel Coward social comedy gone wrong. A small group of loosely defined aristocrats are raising the roof in the seclusion of a mountain top castle, while some kind of unrest rumbles in the town below. There are intimations of desire and betrayal, familial problems and perhaps even deadly sabotage. But from the outset, these conventional devices are cut up with the "non-acting" explicitly espoused by Mosley. Actors handle lighting changes themselves and operate a pair of CD players loaded with nostalgic melodies; at times they appear to fudge lines and even show a reluctance to enter the stage, requiring others to drag them on. David Bailiht's Ariel is especially entertaining, pulling ridiculously histrionic grimaces and amateurish balletic poses, to the disgust of his fellow players. Individual audience members are frequently addressed ("Is it you?") and a long fuse connected to explosives is planted amongst onlookers. It's the kind of fourth wall breakdown which has itself become somewhat dated, but the non-serious way in which it is presented keeps things from growing mouldy.
Non Parlo di Salò, writers Christos Tsiolkas, Spiro Economopoulos, director Andrea James, dramaturg Patricia Cornelius, design Emily Barrie, lighting Marko Respondeck, sound Jethro Woodward; Melbourne Workers Theatre, Trades Hall New Ballroom, July 13-30
Gotharama, Keep Breathing Productions, text by Moira Finucane, performers Moira Finucane, Carolyn Connors, director Jackie Smith, design Anna Tregloan, costumes David Anderson, lighting Paul Jackson, sound Carolyn Connors, Darrin Verhagen; fortyfivedownstairs, July 6-24
The Wall Project, writers Ben Ellis, Tee O'Neill and Tom Wright, director Chris Bendall; [email protected], fortyfivedownstairs, June 1-5
Catastrophe Practice 1: Skylight, writer Nicholas Mosley, director Bob Pavlich, lighting Luke Hails, designer Bernadette Trench-Thiedeman, sound Previn Naidu; La Mama, Carlton Courthouse, July 13-30
RealTime issue #68 Aug-Sept 2005 pg. 46,
© John Bailey; for permission to reproduce apply to realtime@realtimearts.net