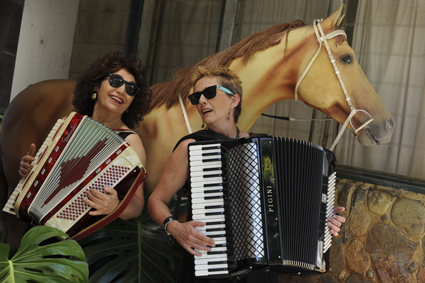 photo Heidrun Löhr
Annette Tesoriero & Cathie Travers, Month in the Country creative development residency Olive & Concettina, 2013 with Nigel Kellaway
Our ongoing focus on arts centres and organisations in Western Sydney and regional NSW—in the Eastern Riverina and Northern Rivers—has revealed not only a wealth of innovative activity but also intensive nurturing of creativity. Adjoining Eastern Riverina is the Albury-Wodonga region where HotHouse Theatre has generated a considerable volume of significant performance, locally and beyond, by providing training, time and space for artists to escape the pressures of the everyday in order to pursue their visions, as well as generating its own theatre program and various initiatives.
Albury sits across the River Murray from Victoria's Wodonga. The two cities work together in many ways. HotHouse Theatre is funded by both state governments, the city councils and the Australia Council; HotHouse Theatre resides in and manages the Butter Factory Theatre on behalf of the City of Wodonga, and Albury City provides a farmhouse for the company's residency programs.
Jon Halpin
CEO and Artistic Director Jon Halpin has been with HotHouse since late 2010. He tells me, in our phone conversation, that having left maths, physics and chemistry behind at university for cognitive psychology, student theatre revealed to him an arena in which "human behaviour could be seen in a much more interesting way." He acted, did a little bit of directing, which Michael Gow, then recently appointed as Artistic Director of the Queensland Theatre Company, saw and invited Halpin to become an Intern Director and then Associate Director, while he was also an Associate Artist with Metro Arts. He directed some 19 plays over 10 years, including Messiah for HotHouse in 2006 and Australia: The Show in 2009, got to know the town and the company, and moved to Albury-Wodonga to run the company in 2010, realising his own program and initiatives, he says, from 2012 on.
Halpin directs, runs workshops and drama classes "and is a sometimes props-buyer." He declares he's principally out to "reinvigorate the community's perception of HotHouse as not just a theatre" but a company with an identity comprising strong local programs and national impact. He thinks point of difference is important now that within five kilometres there are three performing arts venues: The Cube and HotHouse in Wodonga and the Albury Entertainment Centre. The company's dedication to young theatremakers, including Aboriginal youth, to its own ensemble and to its residency and commissioning programs certainly make it distinctive.
The Studio Ensemble and Black Border Theatre
The Studio Ensemble offers young people under 26 the opportunity to work for a year on making a show from an initial idea to scripting to full production with roles as performers and as assistant directors, designers and dramaturgs. This process alerts students to a world of theatre quite different, says Halpin, from high school musicals and eisteddfods. Last year's Studio production, Pyjama Girl, written by former young local, Emma Gibson, and developed with the Studio Ensemble, was a great success.
Black Border Theatre is aimed at young Aboriginal performers, whose 20-minute work Black Border Bits, their first, was staged in 2013. This year Halpin hopes the group will expand from nine to 12 or 15 and, growing in confidence, deliver a 40-minute piece on a shared program, and then work towards a stand-alone production by 2016.
A Month in the Country
HotHouse's Month in the Country residency program was initiated in 2004, assisting some 500 artists to date and yielding 45 produced works. The site is a five-bedroom AlburyCity-owned farmhouse plus rehearsal space at Splitters Creek, 10 minutes outside Albury. It is expected that "successful recipients will enrich the local community by delivering theatre workshops, and presenting their talents to professional and school groups, giving back to the Albury/Wodonga community." Artists and groups have included Branch Nebula, Annette Tesoriero/Nigel Kellaway/Cathie Travers, 3s A crowd (Flight or Fright), Susie Dee/Nicci Wilkes/Kate Sherman, The Escapists, version 1.0, 7 On Playwrights (Vanessa Bates, Hilary Bell, Ned Manning, Catherine Zimdahl, Noelle Janaczewska, Verity Laughton), Michelle Anderson (Welcome to Slaughter), Ali Sebastien Wolf and David Williams.
In 2014 the six supported artists and companies are Melbourne's Maybe Together developing a children's installation work, Small Voices Louder (the company, led by Alex Desebrock, premiered The Future Postal Service at Federation Square, 7-11 April); theatremaker Brienna Macnish mentored by Roslyn Oades for a site specific audio theatre work about ageing and place titled HOME, which will appear in Next Wave 2014; physical theatre artist David Sleswick and Motherboard Productions developing Daughter Overboard; MKA: Theatre of New Writing working on plays by Marcel Dorney, Morgan Ross and Tobias Manderson Galvin; Team MESS evolving Opening Night; and director Alicia Talbot and writer Raimondo Cortese creating a work with the assistance of the HotHouse Studio Ensemble.
Production in Residence
HotHouse's theatre program includes works that emerge from the company's Production in Residence program which provides independent groups $10,000 for creative development plus $15,000 for a season of the finished works. As well, each group has the opportunity to lodge in the farmhouse, use of a rehearsal room, a technician from HotHouse's production staff and a week-long bump-in to guarantee the work's premiere is in the best condition. A proviso is that the production must have a subsequent capital city season. Halpin is emphatic this is not an out-of-town try-out, it's the premiere. He thinks the initiative a unique offer for artists given that schemes elsewhere often rely on unreliable box-office splits.
The first Production in Residence, in 2013, was Dame Farrar and her Stupendous Acts for the Stage, featuring Carita Farrer Spencer with Australian jazz musician and composer John Rodgers in a cross-dressing role and Cirque du Soleil contortionist Liu Jie. In 2014 Melbourne's Elbow Room will premiere The Motion of Light in Water and there will be three productions-in-residence in 2015 including David Williams' Quiet Faith [see RealTime Profiler#1, Feb 5], one each from NSW and Victoria and another which, says Halpin, might be from anywhere in Australia.
HotHouse Theatre program
HotHouse also has its own theatre program, with a commitment to Australian work and responsive subscriptions improving 270% over the last three years and audience averaging 78% capacity in 2013. The program included Jack Charles vs The Crown, I'm Your Man, version 1.0's Table of Knowledge, Van Badham's The Bull, the Moon and the Coronet of Stars and Dame Farrar and her Stupendous Acts for the Stage as well as Pyjama Girl, optional for subscribers, from The Studio. In 2014 the program includes Packed, a co-production with the Escapists and Metro Arts, following on the success of the Escapists at HotHouse in 2011 with boy girl wall, which ran for a rare two-week season.
Also in 2013 is Warning: Small Parts, about the thrills of collecting and exploring, a HotHouse production for primary school-aged audiences, new territory for the company, says Halpin, but promising after the sell-out success of recent holiday workshops for children. The work will employ two young local performers in their first professional roles. After the success of Pyjama Girl, the HotHouse Studio Ensemble will present Letters from the Border, directed by Associate Director Travis Dowling. This work draws entirely on letters to the editor published in the Border Mail and the Albury Banner in Wodonga and Albury over the last 100 years and has been aided by historical societies, libraries and local historians. Halpin says that the ensemble will be sifting letters for times when the community was inspired, outraged, divided or came together—as when Albury-born Independent Catherine McGowan became an MP in the last federal election, defeating Liberal incumbent Sophie Mirabella. Other plays in the program are Food, from Steve Rogers, Force Majeure and Belvoir and shake & stir theatre company's production of 1984.
Albury Regional Art Gallery
Jon Halpin hopes that the opening in 2015 of AlburyCity's new Albury Regional Art Gallery (a $10.5m redevelopment) will lead to even more opportunities for artists in the region and in the A Month in the Country program, doubtless in the areas of live art and performative and media art installations. The gallery will feature 10 spaces for visual art and new media and a large foyer gallery with surround sound and multimedia projection facilities, moveable staging and seating for 60.
Regional arts are enjoying a period of significant growth in which new infrastructure is vital—not just buildings, although homes for art are a necessity and need to grow with the population and new generations of artists—but also the kinds of nurturing programs HotHouse Theatre offers, positioning it as a vital hub for regional, state and national creativity in theatre, contemporary performance and live art.
RealTime issue #120 April-May 2014 pg. 30