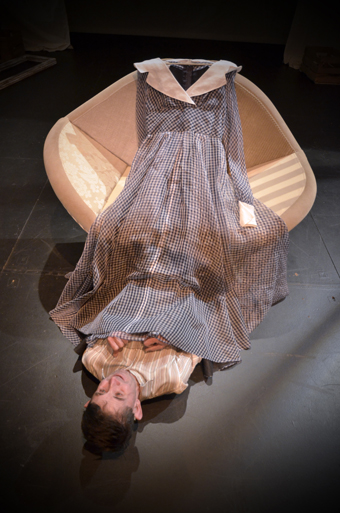 photo Alex Frayne
Kym Mackenzie, Sons & Mothers
Art and disability programs, projects, artists and companies are changing the Australian cultural landscape, not only making us aware of the lives, passions and skills of people and, in particular, artists with disabilities but, more than that, introducing new challenges and possibilities for the arts as evident in the innovative creations of the internationally acclaimed Back to Back Theatre.
Much of the thrust of art and disability work is about democratisation, enabling artists with disabilities to be treated as equals with their able-bodied peers with whom they can collaborate and, indeed, compete. Successful ventures in theatre and dance have come from intensive collaborations, often over long periods and involving the establishment of subtle means of communication. Assistance from the able-bodied is very often necessary, but there's a point at which the artist with a disability in performance achieves independence, realising their creativity and relishing its freewheeling joy on stage. He or she is no longer being helped in that moment, but is giving to an audience, as Adina Tal, director of Israel's internationally applauded Nalaga'at Theatre Ensemble of blind, deaf and deaf-blind performers, tells me in an interview prior to the company's appearance at the 2014 Perth International Arts Festival with Not By Bread Alone (see article).
In attempts to demand acknowledgment, respect and rights, some performance works have been created about disability and the prejudices and challenges faced. Others, like Back to Back's Super Discount (2013), address the tensions among the disabled about how they treat each other in terms of disabilities. Beyond that, disability does not have to provide the content of works by artists with disabilities. A disability may be evident in a performance, but Anne Louise Rentell, who is directing The Man Who Dreamt the Stars with two performers with disabilities for Merrigong Theatre Company says in an interview, it's about "'talking' to the disability without the show becoming about being disabled."
Adina Tal is adamant that simply aiming to develop sympathy for disabled performers is not the issue: "[Not by Bread Alone] is not a show for the audience to come and do a good deed, but to see a good show. It's not about blindness or deafness anymore; it's about being imperfect. Once you sit in the audience and accept the imperfection in yourself you will accept that in other people. This is the way to start changing the world."
The more audiences encounter artists with disabilities the more they'll be alert to the ways they expand our creativity. Although arts and disability organisations have been operating for a very long time, we are entering a period of high visibility as these artists emerge and their works are programmed in arts centres and festivals, as with Sydney's 10-year-old Ever After Theatre in the 2014 Carriageworks program in May. The Disability Trust's Altogether Drama Group in Wollongong has provided the performers for The Man Who Dreamt the Stars. Rawcus in Melbourne and, in Adelaide, Restless Dance Theatre (see article) for many years and, more recently, No Strings Attached (see article) have been producing high calibre productions.
Indicative of the richness of the field of disability and the arts are the very different works produced by these and other companies. In a world in which nuance is less and less welcome, the term 'disabled' continues to be severely limiting. A disabled body might be inhabited by a highly intelligent mind; an intellectually constrained mind might be blessed with a rich emotional intelligence that lends itself to acting or a body that is rhythmically and spatially responsive to the liberating demands of dance.
In attempts to counter negatives that constellate around 'disability,' arts organisations have used terms like 'integrated dance' and 'mixed ability performance.' One artist told me he preferred "diversability" to 'disability.' As more and more artists of various abilities become visible, doubtless the limitations of terminology will be transcended, not just on stage or in galleries, but, gradually, on television—as in the case of the forensic data specialist Clarissa (Liz Carr) in BBC TV's Silent Witness.
In his article on Sydney-based visual artist John Demos' residency at Big Fag Press, Lucas Ihlein writes, "While working with John, we've become acutely aware of some of the politics of representation surrounding art and disability. The question of voice has come up repeatedly. Who gets to speak on behalf of whom? Mostly, it seems, John is spoken of by others (as I am doing right now)." This critical issue is not one we've addressed in this feature, although you will read throughout about means of communication and what artists have had to say about their work. Doubtless, as more artists emerge, creating regardless of their disabilities, they will demand to be heard or read. In the meantime the works made and being made that we report on here justify a sense of excitement for the future of the arts as we all, as Adina Tal has put it, engage with our imperfections and seek out and make good art.
RealTime issue #118 Dec-Jan 2013 pg. 5
© Keith Gallasch; for permission to reproduce apply to realtime@realtimearts.net