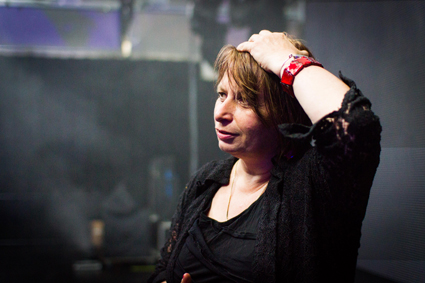 photo Alia Grinvalds
Jo Truman
Jo Truman's remarkable voice exceeds three octaves, from dark mezzo to high soprano, improvising flights of song, birdcalls and didjeridu cries, resonant with microtonal complexities and haunting overtones. The artist's express focus is on "the voice and its ultimate potentials," realised over some 30 years in live performance and an extensive catalogue of radio appearances and radiophonic works.
Most recently Truman (voice, piano, looping) appeared at the 2013 Mona Foma music festival in Hobart in two dramatically mercurial improvisations with Len Marks on guitar, Daniel Grinvalds on electronics and sampling, and joined by 12-year-old Alia Grinvalds on violin in the second performance. In 2012, Truman produced and performed a radio work, Bridge to Otherness, about Sydney's Blue Mountains, where she lives, for WDR3 Koln, Germany and has been commissioned to provide libretto and electronics for a 30-minute chamber opera to be created in collaboration with Icelandic composer Hildigunnur Rúnarsdóttir for performance in 2014. The opera, for one voice, oboe, string quartet, clarinet and electronic media, is supported by a grant from the Icelandic State Broadcasting Corporation, Rikisutvarpid.
Despite a recent illness the artist is currently undertaking a Master of Fine Arts degree at CoFA (she completed a Master of Music in Composition at the Sydney Conservatorium of Music in 2008), exhibits her drawings from time to time and sings jazz at a Blue Mountains pub as well as writing and composing. I met Truman at the RealTime office to discuss the motivations for and connections between her practices.
Where motivates you to sing?
I was always prone to mimicry when I was young. I thought the crows were boys in the district yelling out to us, so I'd yell back in 'crow language' [LAUGHS], and would mimic my squeaky rubber toys. I think I was encouraged by my family's amusement: it was a tense family and my mimicry broke the ice so I learned my mimetic talent had a certain power. I used to imitate opera singers too. My father was a pretty good musician who although he was a businessman had songs published in the 40s. He had an amazing ear for picking up anything on the piano and he had unusual tastes for the time—I heard Schoenberg's Pierrot Lunaire when I was nine, and Poulenc.
It was all play for me, although I had classical piano training to a fairly high level from the age of three. In my teens I heard Meredith Monk and that was very liberating, but I was more an appreciator rather than a practitioner. Then things went wrong in my family in my teens; there was the tragedy of my closest sister dying—she committed suicide. I left school, catapulted out into the world at the age of 16. I was driven to be a visual artist—I did an arts certificate and then started on a diploma of fine arts. At the Alexander Mackie College of Fine Arts [now the National Art School] I would go from drawing into the Cell Block Theatre to sing. I was still traumatised by my sister's death.
What kind of singing and to what end?
I think what was happening was that I was something of a disembodied young person and I felt empowered and embodied by singing. I could hear the voice coming back and defining me in space. I met Jon Rose and got involved with the Relative Band and Jim Denley. In the Cell Block Theatre by myself I had started connecting improvising with singing with fantasy and flying and to see how far I could stretch the voice. I wasn't singing songs; my body was a physical score and I could draw feelings and landscape out of it, unimpeded by words and it was transformative. It was like making a line, with a pencil, a gesture, a choreographic sound.
How did the singing grow in complexity and technique?
I fell in love with Cathy Berberian's singing. She had a classical background that I could relate to, but what she was doing was removed from the classical institution—it was very experimental for the time. That freed me. And from an early age I got fixated on breath moving through different nasal cavities, exploring a kind of atonality. Then there was birdsong. [Truman unselfconsciously breaks into a beautiful high-pitched, fluttering bird cry.] The notes are not semi-tonal, they're more quarter tonal. While in the Cell Block I started exploring bird sounds and integrating them with bel canto and some jazz styles.
I know now it's a bit taboo for a woman but I also studied the didjeridu, traditionally the yedaki, in my early 20s. I spent an amazing year, 1983, in the Northern Territory and was taught by master players and makers George Djungawanga and David Blanasi. George taught me how to make my own didjeridu. There's microtonality in didjeridu playing, so I also started mimicking as well as playing it, producing the overtones vocally because it's a similar principle, using the tongue.
How did your performing career commence?
I did some concerts with Jim Denley, a very positive musician with strong convictions. I performed with Jon Rose and Henry Kaiser at The Basement and in the Cell Block Series with the Relative Band. Then in 1985, with a grant from the Australia Council's Music Board I continued my study in England with improvisers such as Phil Minton, studied jazz and counterpoint in Holland, and worked with an amazing French-Vietnamese ethnomusicologist and performer Tran Quang Hai who taught harmonics in overtone singing. Mongolian performers generally refer to it as "throat singing." I was in Europe for eight years, returned to Australia in 1992, received a live-in stipend from the Akademis Schloss Solitude in Stuttgart for 15 months and then came back here in 1994 to complete my arts degree.
You performed extensively in Europe with a like-minded community of artists.
I thought they'd be a family. [LAUGHS] They weren't really, but there were great experiences. I threw myself in the deep end and performed in Lithuania with Tony Buck and a lot of improvisers. There was a sense of family. One of the highlights was Songs from a Prison Diary by Phil Minton and Veryan Weston commissioned for the Le Mans Jazz Festival and Strasbourg's Musica Festival composed around the beautiful poems of Ho Chi Minh. I was the opening improviser on that. I was thinking back to the Cell Block and the dream of flying and escaping—a lot of his poetry works with those images.
In 1991 I composed and recorded Sdreamings, a 30-minute radio play inspired by my time in the Northern Territory. It was produced by Klaus Schoning in the WDR3 studios, then appeared on a Staalplaat CD and in 1999 as a privately produced CD. It was about coming to grips with my own sense of loss and that associated with the apartheid between Australian cities and the land—not denying it, but embracing and transforming it vocally and with birdsong, improvising over recordings.
What drew you to composing for radio and to radiophonic works with a documentary dimension?
There's less work in that area now, but extended listening is important. I thought radio could open more sonic dimensions for the voice and instruments, and narrative. I was interested in the changing nature of the perception of time as things have sped up. I wanted to create three imaginary Australian soundscapes: pre-colonial, colonial and contemporary. How are we impacted by changing sonic environments? I got a commission to produce Cell Songs with The Listening Room's Andrew McClennan as executive producer. For part of it I went to the Northern Territory to talk with [the late Kakadu man and writer] Bill Neidjie, whom I met with twice and was honoured to interview. We could do well to heed Bill's message about what we stand to lose in Australia. WDR3 translated it for broadcast in Germany.
Let's jump to your recent radio work.
The Bridge to Otherness was a commission from WDR3. It's about the Blue Mountains, where I live, asking what is wilderness, how do we relate to otherness—people different from ourselves, and nature—and trying to find an empathic answer, a sense of connectedness because I feel that rampant colonialism is still very active and we're destroying everything at the rate of knots. So, having lived in the mountains for six years, I was looking at the so-called celebrations for the Blaxland, Lawson and Wentworth crossing of the mountains in 1813 and what that meant.
Many people who have felt disenfranchised by the mainstream, or have had particularly difficult lives, come to the mountains to find niches and a sense of community. The bird sound of the area interests me and the strangeness of a suburban corridor which runs up and over an escarpment surrounded by wilderness, and the intense contrasts this creates—the "schizophonia" of it all.
Where did you produce it—a home studio?
Home studio? [LAUGHS] I just use my computer. Thomas Knox, who worked on the Bridge to Otherness, will work with me at his studio on recording my voice and the electronic part of the Icelandic collaboration. I hope to go to Iceland next year.
As well as performing, composing, recording and producing, you continue to draw and study.
Drawing comes and goes. I'm doing a Master of Fine Arts at CoFA. I'll create an Installation looking at the corridor through the mountains.
I know it's flavour of the month, but I'm very interested in synaesthesia in my work. I believe I am a synaesthete. I could never make a hard and fast distinction between the experience of the little space before the realisation of a sound or making a mark or a composition forming itself. There's a place in which all these perceptions come together. I think we're living in an over-categorised state generally in our culture; this is why I think I branched off into all these different areas because they didn't feel different. The way I was experiencing them or visualising a piece, I could see that piece coming to me in a shape or a form.
As for live performance, it's not always comfortable. I'm naturally introverted. Mona Foma was pretty confronting; the first gig was in a huge wharf space. One of my colleagues was saying, "Fill up the space, Jo." Anyway, it was on radio too—good enough to broadcast I suppose." [LAUGHS]
RealTime issue #117 Oct-Nov 2013 pg. 40
© Keith Gallasch; for permission to reproduce apply to realtime@realtimearts.net