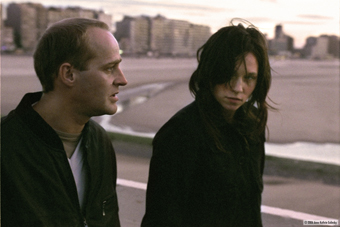 photo Anne-Kathrin Golinsky
Jürgen Vogel, Sabine Timoteo, The Free Will
The Goethe-Institut's annual Festival of German Films is focusing this year on women—their tribulations political, romantic, professional and sexual, and as actors and filmmakers. It's not just a matter of fixing on a theme but responding to a wave of new women-centred films, even if mostly made by men. There are other films in the program that are less female oriented but in which women play no less a role than their male antagonists, not least in The Free Will, the festival's most powerful film.
Sophie Scholl—The Final Days (Marc Rothemud, 2005) recounts the arrest, interrogation and trial of university student Scholl, one of the White Rose Group, for distributing anti-war leaflets in Nazi Germany. Nominated for an Academy Award in 2006 for Best Foreign Language Film, it features a superbly restrained performance from Julia Jentsch as the courageously determined and pious Scholl. Despite some awkward patches where the young Scholl reveals a level of unexpected insight into the regime's ills, the film keeps in focus both political evil and the consequences of protest based on youthful impulse—friends, family and associates suffered for an ill-executed plan. The screenwriter Fred Breinersdorfer will be a festival guest.
The Red Cockatoo (Domink Graf, 2005) becomes increasingly engaging as it replays a slice of East German history, the weeks building suspensefully towards the building of the Berlin Wall. The film centres on a young man, Siggi (Max Riemelt), a would-be artist and theatre designer with little political awareness, attracted to a young woman in a park (Luise played by Jessica Schwarz) where young people gather in 1961 to play rock'n'roll, only to be beaten up and dispersed by police. She's married, she's a poet and committed to the state, it's just got the wrong leaders. Siggi recognises in her the artist he'll never be, publishes her book of poems without state permission and the consequences are, again, horrific, involving more beatings, suspicion and betrayals. Veering between teen comedy and high drama, The Red Cockatoo (the name of the club where the young gather to rock'n'roll and the government enforces hilariously hotted-up folk dancing) pays careful attention to its many characters, to the changing mores of a sexually and financially repressed society, and the states of political, artistic and romantic grace so hard to attain.
While Sophie Scholl—The Final Days and The Red Cockatoo continue Germany's reassessment of its past, both are reminders of the proto-fascism that Western democracies are currently embracing with terrorism as their excuse. Scholl and her collaborators are accused of demoralising German troops, Siggi and his fellows of undermining the state; sedition is the name of the game.
Almost Heaven (Ed Herzog, 2005) stands out for its un-slick relaxed cinematography in the tale of Helen, a would-be country singer (Heike Makatsch) of limited ability (and with a bigger problem it would be unfair to give away), who takes up an offer to play in Nashville but ends up in Jamaica (a welcome bit of on-screen tourism). She finds herself up against a tough young delinquent mother, Rosie (an engaging performance from Nikki Amuka-Bird), local gangsters, wary musicians and tiny-minded hotel entertainment managers. Almost Heaven swings from serious to sentimental with unfortunate ease, and is much, much better on the dark end of the scale. As for a film about a woman with ambition, well let's say Helen at least goes as far as she can, and as far as the people who need her can go with her. Not quite the "breezy comedy" of the press release, but there are a few smiles to be had, and not a few pleasures.
If Almost Heaven has something of the parable about it, then a trio of smoothly produced features about couples are deliriously rooted in myth and fairytale. About the Looking for and Finding of Love (Helmut Dietl, 2004) tracks a disastrous coupling between a singer and her Svengali record producer into separation, suicide, a voyage into the underworld of the ancients, and a lot of greying hair. For a "romantic comedy" it's light on laughs, has a laboured plot and a grim outcome à la Orpheus and Eurydice. If only he knew how to express his feelings, and if only she she wasn't "an ice-cold business woman…a frigid Aphrodite." Barefoot (Til Schweiger, 2005) is another dark comedy, this time a kind of Cinderella tale for its odd couple. He's the tearaway scion of a millionaire businessman and she's a suicidal asylum inmate where he's a cleaner, temporarily. Though it's never clear why, he becomes responsible for her and she loves him. The drama and the occasional comedy are over the top. The Fisherman and his Wife—Why Women Never Get Enough (Doris Dorrie, 2005), loosely based on a Brothers Grimm story, features a couple so out-of-sync that nothing can convince you they will ever work it out—but the film is insistent that they try, features an irritating talking fish couple who frame the narrative interspersed with some interesting local colour from Japan and Germany about the market value of ornamental carp. The woman's business flair, incidentally, is disastrous for the marriage, but so then is his wounded hippy childhood. All 3 films besiege the viewer with strategically placed pop songs and feature 30-something couples with the emotional maturity of teenagers. But that's festivals for you, you have to take the good with not-so-good, and these films all have something more serious than When Harry met Sally about them although they clearly have their eye on the same market.
For a couple of a completely different order and in what looks to be the standout film of the festival, Matthias Glasner's The Free Will (writers Glasner, Judith Angerbauer, Jürgen Vogel, 2006) offers compulsive but gruelling viewing as a rapist, Theo (Jürgen Vogel), freed after 9 years of incarceration and medical treatment, tries to live a normal life against enormous odds, primarily his sexual compulsions and a hatred for women. He comes into contact with a young woman, Nettie (Sabine Timoteo) who has recently escaped her father's psychological abuse. However, The Free Will doesn't lend itself to easy precis. Comprising long scenes, it is sparely scripted, dramatically sustained, superbly acted, and shot with a technique that is disturbingly immersive (Glasner himself is co-cinematographer). What's more, it's completely unpredictable and on occasion truly frightening—getting past the first 15 minutes or so of this 163 minute, painfully suspenseful psychological epic will be difficult for some.
There are many powerful scenes. In one of the strongest, Theo invites Nettie to his martial arts class and instructs her to attack, to choke him. In a situation where he finds control, she finds a shocking release, unable to stop, striking Theo harder and harder in a dance of repeated moves. But however different they are, Glaser reveals in Theo and Nettie a shared inarticulacy, a numb interiority, breathing that sits on the edge of panic, the fear of touch, and the spare worlds and ordered occupations they inhabit.
It's rare in cinema to feel that you have really entered the life of another, especially someone like Theo, a psychopath with whom you can barely empathise, or the wounded and closed Nettie. Glasner adroitly tests us to the full, and his film stays with us like a bad dream, but one from which we have perhaps intuited something about the rapist psyche and the love that can find no place in it, or for too short a time.
At the 56th International Film Festival Berlin, The Free Will won a Silver Bear for Jürgen Vogel for Artistic Contribution as actor, co-writer and co-producer. It also won a Prize of the Guild of German Arthouse Cinemas for director Matthias Glasner for what he describes as "a tender film about the terror of loneliness [in which] I showed everything that my camera recorded with the same sympathy…no matter what it was, whether brutal or hesitantly hopeful" (www.thefreewill-themovie.com).
The festival also includes 2 panel discussions. Female Vision—Strong Women asks if the number of films focused on women is "a coincidence or is filmmaking about to be free itself from male dominated topics and views? Is it just a German or European trend or does this phenomenon have an equivalent in Australia?"
Festival of German Films 2006, Goethe Institut; Sydney, April 20-30; Melbourne, April 21-30; Brisbane, 26-29 April; Canberra, April, 27-30; panel discussion, Sydney, Female Visions—Strong Women, April 21, 5pm; Which Future for the Arthouse, April 28, 5pm
RealTime issue #72 April-May 2006 pg. 20
© Keith Gallasch; for permission to reproduce apply to realtime@realtimearts.net