KURT VONNEGUT ONCE HYPOTHESIZED A HOLOCAUST IN WHICH THE CHEMICAL BONDS OF THE WORLD'S WATER SUPPLY PERMANENTLY FUSED FOLLOWING THE ACCIDENTAL RELEASE OF A LETHAL CHEMICAL REFERRED TO AS ICE-9. THE WRITER USED THE CATALYTIC PROPERTIES OF THE CHEMICAL AND THE FLUID DYNAMICS OF WATER TO CONVEY A SENSE OF THE INTERCONNECTEDNESS OF SYSTEMS.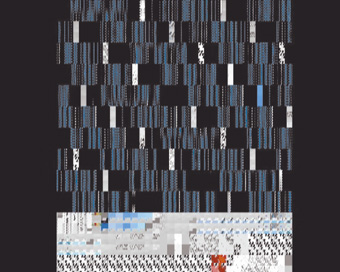 Tracey Cornish, Glitch
An ostensibly discrete puddle becomes infected with the chemical and connects with the muck and ooze of the surrounding swamp, breaking out into deltas, rivers, oceans and clouds, and permeating the cell walls of almost every living thing on the planet.
This notion of complex interactions has been adroitly summarised by American sociologist and philosopher Theodore Nelson:
Intertwingularity is not generally acknowledged; people keep pretending they can make things deeply hierarchical, categorizable and sequential when they can't. Everything is deeply intertwingled.
Intertwingularity at the EAF is an exhibition of computer-generated moving images created by Tracy Cornish, emerging from her doctoral research into generative photography and the non-linearity of complex systems. She refers to these works as found objects, artefacts that have arisen from computer translation errors and source glitches whilst encoding prior works.
Emission Glitches is a shifting mosaic of colour-soaked pixels, the result of a coding error whilst the artitst was putting together a moving image called Glowing Emissions. Glitches perforate the vacuum seal separating different kinds of media reality. There is a place between the gestalt of recognising a familiar pattern or code and relating it to the next in which the mind freefalls before finding something to hold onto, measure, record and customise. Watching the shuffling patterns in this work, it is tempting to want to lock down its content into something recognisable: as if this elusive pattern is simply the poor transmission of a known television program. Buddhist philosophy has for centuries recognised the benefit of placing the logical part of the mind into suspended animation. Zen koans such as the well travelled 'sound of one hand clapping' pose questions that are unanswerable and often circular in nature, generating experiences that would remain inaccessible via logical or sequential thinking. Cornish refers to complexity in her thesis as information containing more than one form of representation simultaneously, citing the ambiguous rabbit-duck illustration (first noted by the American psychologist Joseph Jastrow) as an example of how perception is a result of cognition, not simply an index of external stimulus.
The slip of gears between recorded stimulus and awareness is present in another of Cornish's glitch pieces, Encoding Patterns. This sequence is the result of a slightly more complicated process involving the transposition of a photograph into sound using synthetic software. Accessible as an open-source application, this "visual prosthesis" software is used by the visually impaired as a means of accessing web content. Fundamentally, it operates by converting images into frequencies. The ensuing artefact is a waterfall of graphic striations with the odd hint of something familiar, such as road or a mirage of elongated people. This warp and weft of glitchy abstractions emits an aura of compression and absence simultaneously. Watching the cascade of information on screen is like watching the back of a scrolling tapestry, or a machine dreaming from the vantage point of its root directory.
The same software used to generate Encoding Patterns was also used to produce the exhibition's soundscape, Sound Glitching. Cornish used the vision software to sample images from this sequence at a rate of one frame per second, converting these captured stills into sound files and arranging them into an accompanying score. It is uncanny how such procedures always seem to emulate a kind of neurological synesthesia.
Machine translation—whether as an interlocution between human languages, or software packages—exposes the difference between computational complexity and true Artificial Intelligence, which computer science is a long way from achieving. A toaster may be programmed with enough complexity to accommodate different tastes, but it will be a long time before machines understand that burnt toast tastes bad.
The works in Intertwingularity succeed collectively as an entry point into generative artforms and emerging media theory. However they are still at an experimental stage and not quite ready to support their own weight without an adjoining thesis. Technology sophisticates are much more likely to enjoy a richer aesthetic response to this work than viewers who know nothing about machine complexity. Of course as machine interfaces evolve to increasingly mirror human complexity, research into the cognitive and aesthetic experience of such interfaces becomes progressively more relevant.
Tracy Cornish, Interwingularity Experimental Art Foundation, Adelaide, Oct 6-Nov 4, 2006
RealTime issue #77 Feb-March 2007 pg. 33
© Samara Mitchell; for permission to reproduce apply to realtime@realtimearts.net