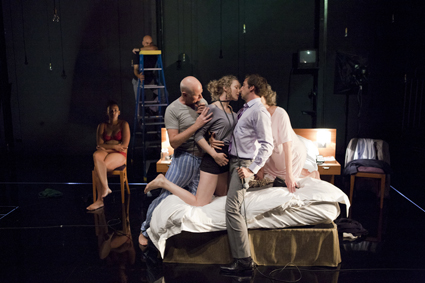 BeforeAfter
ACROSS 51 SHORT SCENES GERMAN PLAYWRIGHT ROLAND SCHIMMELPFENNIG CONJURES A COSMOS FROM AN EXPLODING LIGHT GLOBE—LIKE THAT FAMOUS BUTTERFLY IT TRIGGERS CYCLONIC, EVEN QUASI-SPIRITUAL REPERCUSSIONS LIGHT YEARS AWAY, BUT IN THE ROOM NEXT DOOR TOO, IN THE SAME HOTEL, WHERE RELATIONSHIPS FALL IN AND OUT OF SYNC AND SOLO LIVES HANG ON FOR DEAR LIFE. BEFOREAFTER PLAYS OUT LIKE HUMANISED CHAOS THEORY. WHEREAS ITS NEAR KIN, BOTHO STRAUSS' BIG AND LITTLE SCENES (COMING TO THE STC THIS YEAR), LARGELY TRACKS THE LIFE OF ONE WOMAN, LOTTE, BEFOREAFTER IS MORE DIFFUSE, MORE CHAOTIC—A SERIOUS CHALLENGE FOR DIRECTOR, DESIGNERS AND PERFORMERS.
The moment of panic experienced when the globe shatters is made analogous with the disgust at seeing oneself naked in a mirror or the shock of realising you're on the edge of infidelity or, more quietly, with having to face one's aloneness late in life and trying to put it into perspective. These and other trains of thought are densely woven in BeforeAfter if loosened by the play's episodic construction—you have to pay attention. But director Cristabel Sved and her design team have a very good go at keeping themes focussed and creating coherence if on occasion letting it unravel with a superfluity of effects. Some work well—actors invade intimate bedroom scenes, wielding cameras and casting close-ups onto the walls, but later the images are huge and ill-defined, their purpose uncertain. The projection of the classic animated cartoon Hoppity Goes to Town (Fleischer Studios, 1941)—about nature invaded by humans—juxtaposes a sense of innocent purpose with the near bizarre complexities of human life (one woman loses weight and height and another's speech involuntarily speeds up and slows down). Elsewhere the stage is convincingly transformed into a glowing galaxy dancing with suspended and hand-held lights.
The biggest challenge was one only partly met—the tight ensemble playing that a work like BeforeAfter demands. Physically and spatially, actors and director do well enough, realising with agility some 40 characters, but they fail to find a shared voice and common rhythms. The largely brisk, naturalistic delivery gravitated against the play's strangeness and its peculiar poetry if somewhat compensated for by the production's various clever design aspects. Doubtless a short rehearsal period for such a large work would not have helped. Nonetheless, the ambitions of playwright Roland Schimmelpfennig and director Cristabel Sved made for an adventurous theatrical experience, and one quite out of the ordinary.
STC Next Stage: BeforeAfter, writer Roland Schimmelpfennig, director Cristabel Sved, performers Annie Byron, Justin Stewart Cotta, Zinozi Okenyo, Johanna Puglisi, Richard Pyros, Graham Rhodes, Sophie Ross, Tahki Saul, designer Justin Nardelle, lighting & audio-visual design Verity Hampson, composer, sound designer Max Lyandvert, choreographer Johanna Puglisi; Wharf 2, Sydney Theatre Co, Feb 4-19
RealTime issue #102 April-May 2011 pg. 34
© Keith Gallasch; for permission to reproduce apply to realtime@realtimearts.net