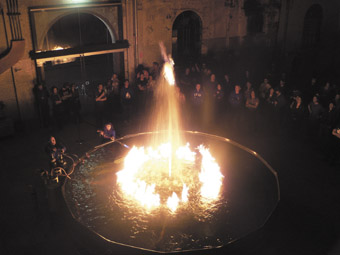 photo Harry van Dorssen
Miles and Zai van Dorssen's Feuerwasser, What is Music?
AFTER THE METAL INFLECTED DRONEFEST OF 2005 WE HAVEN'T HEARD MUCH FROM WHAT IS MUSIC? PRESENTING A FESTIVAL ALMOST EVERY YEAR SINCE 1994, PERHAPS IT WAS TIME FOR THE DIRECTORS ROBBIE AVENAIM AND OREN AMBARCHI TO TAKE A BREAK AND LET THE TINNITUS SUBSIDE. IN 2008, UNDER THE LEADERSHIP OF AVENAIM ALONE, THE FESTIVAL HAS COME BACK AT A STRATEGICALLY SMALLER SCALE YET STILL MAINTAINING A PRESENCE IN MELBOURNE, BRISBANE AND SYDNEY.
I didn't catch the onslaught of Maxximal Patterorist (Anthony Pateras and Max Kohane), who opened the nine-acts-on-one-night extravaganza at CarriageWorks, as I was tooling down the highway from the funky Ford Utilities (see Aurora review). However I asked one of my esteemed colleagues what it was like and he responded, "scrabbling avant piano hammering welded to grind-core percussion, peppered with quieter, but no less intense, passages of textural exploration." Sorry I missed it.
I entered the packed venue to see Dale Gorfinkel pottering around like Dr Dean from the Curiosity Show, with a small child on stage holding a tennis ball container over a vibrating contraption that amplified the nasal drone. Gorfinkel's hacked vibraphone was besieged by plastic cups holding spasm-ing ping pong balls and other clattering bits and pieces. He quietly walked the space, making adjustments, switching elements on and off to create intriguing layers of textural drone. Both Gorfinkel and Avenaim have been seriously exploring this machinic approach to sound-making (in the tradition of Ernie Althoff), and it is engaging both sonically and in its unpretentious task-based performativity. Avenaim's set up involves an augmented drumkit, from which machinic vibration and microphone feedback elicit deep rich tones. A large part of his piece involved trying to get a recalcitrant motorised drum stick to behave, illustrating the multiple possibilities of chance rhythms and textures. There is something very appealing in the honesty and vulnerability of Avenaim and Gorfinkel's processes: we see the elements, we see how they come alive, how they come together, and then how they fall apart again.
It was particularly pleasing to hear Marco Fusinato play as prior to this I had only known of his series of 'blank' vinyl LPs on which he scratches and carves creating visual artworks. When played these objects make a music of surface noise, clicks, jumps and skips (0_synaesthesia edition, syn 013-16). For this set Fusinato produced bursts of harsh guitar and effects-generated static in which manipulation of volume and timing were paramount. A loud burst—just long enough so that you begin to block your ears—then it stops…followed by a quieter burst, which somehow makes you feel the loss…interspersed with definitive silences. It was a deeply satisfying work showing a compositionally controlled and structured approach to noise.
No event seems complete these days without the laserlight show of Robin Fox, and although I've seen and heard it several times, it just keeps getting better. In this version he uses two lasers pointed at the audience, the raked seating enhancing the three-dimensionality as the lasers catch the smoke, carving up the space into shifting sheets and sheering planes. Sonically the work is also getting more intricate, with cross rhythms emanating from the brutal tones that slip in and out of overexcited arrhythmia and pumping beat.
Fox's spectacle was a hard act to follow for the contemplative piano duo of Cor Fuhler and Chris Abrahams. Fuhler concentrated on piano preparations and 'electronifications' while Abrahams worked with the 'raw' sound of the grand piano. Initially I felt that I didn't have the ears left for this piece and the amplification of Abrahams' piano seemed distancing and unnecessary. However as the work progressed, the sounds of both players mingling in the same mediated space became increasingly rich. The duo's intense summoning of just the right sonic event and gesture out of the aether, and their tangible sense of playing 'together' created a sustained, meditative experience that rewarded the patience it demanded.
Former What is Music? director Oren Ambarchi was the seventh act. His set of luscious, loud, occasionally harsh drones produced by four guitars building into a painfully beautiful squall seemed, by this stage, overly long, though nonetheless momentous. Unfortunately it called upon whatever concentration many of us had left and visiting Italian artist Valerio Tricoli had a challenge to keep the crowd focused. Calling for night (lights out), his set occurred in the glow of a television screen that was tapping into his audio feed. Tricoli has a dark, ambient, almost gothic flavour in his work, with cavernous echoes and shifting vocal fragments. I wish I could say more… but as the programming proves, more is not always the best approach.
The final event sent us out to the vast foyer of CarriageWorks where Miles and Zai van Dorssen had constructed Feuerwasser, consisting of a large swimming pool full of water which, with the encouragement of a blowtorch begins to sport a ring of flames—a fire fountain. By altering the amount of gas and water pressure the artists 'play' their construction, making the jets of water and flame rise ever higher into the air. Incorporating the sound of hissing and sharp, cracking explosions as vital molecules within fire and water clash, the piece is awesome, defying our understanding of the elements as a flame dances on top of a ten metre high jet of water.
What is Music? 2008 was a mature and serious beast. (An additional Sydney performance at another venue presented some of the terror rock elements for which the festival is also renowned). Although the event may have sustained attention better with fewer acts, the choice of who to lose from the impressive line-up would have been a hard call. It will be interesting to see whether What is Music? continues to grow old gracefully.
What is Music?, CarriageWorks, Sydney, April 12.
RealTime issue #85 June-July 2008 pg. 46
© Gail Priest; for permission to reproduce apply to realtime@realtimearts.net