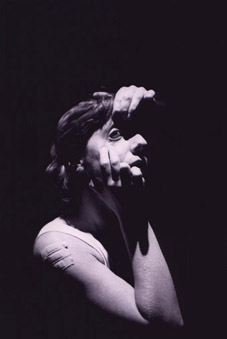 photo Katrina Douglas
Karen Therese, Sleeplessness
Karen Therese is one of the brightest talents in the Sydney performance scene. Her training, vision and collaborative instincts successfully came together in 2003 to realise Sleeplessness, an intense, autobiographical and multimedia journey into her family's past both in Sydney and Hungary. I met Karen recently to discuss how her work had arrived at this point and the role training has played in it.
Dorothy
Karen Therese recalls being 8 or 9 years of age and playing Dorothy "in a kind of performance version of The Wizard of Oz. I had this teacher who looked like Cindy Lauper and her influence was significant. We were always singing and doing drama in class for 2 years. So that definitely planted the seed." But nothing else theatrical entered her life until she was 19. Having left school, she says, "I was kicking the pigeons and throwing stones and stuff. And then my sister said 'write a list of everything that you've really liked in your life.' And that teacher and playing Dorothy were on the top of my list."
The actor
Therese's sister persuaded her to take acting classes. They were Stanislavskian, twice a week for 6 months: "I remember after my first class just bolting home and feeling really elated. It was really exciting. After 6 months I found a script I was really inspired by and I put the play on in a small space on Brunswick Street in Fitzroy. And my sister, who's a visual artist, designed the set. And I got amazing reviews. It was a solo piece called Adult Child, Dead Child about an androgynous person's journey from 5 to 21. I thought, hmm I want to do this but write it. I kept doing classes and I had a company called Tallulah Presents with a friend. We did Sam Shepard and other plays in the same small space in Brunswick Street. Then I had an agent and did lots of short films for the Swinburne Film School. Lots of those. And acting work." After 2 years of this Therese says she stopped: "I think I was just going a bit crazy. The whole acting thing just lost all meaning. So then I stopped and moved to Sydney."
The Journey
At 24, Karen Therese decided to get back into acting, but wanted to first refuel. A key influence at this stage was Tanya Gerstle (who now teaches at the VCA) at the Actors' Centre. "I felt a real connection with Tanya. And so for the first time I did an audition that [felt right]. The cost of The Journey was alot and I didn't know if I was going to be able to come up with that kind of money, but I got in." Asked what she thinks was good about The Journey compared with what she knows of other acting courses, she says "it was fantastic because it focuses more on developing you as an artist and human being rather than as a product for the industry." As well as being challenged, Therese enjoyed the space to dream offered by the course being only 3 days a week.
At the end of the year, Gerstle and Chrissie Koltai asked their students to write pieces for a performance instead of doing a play. Karen's contributions were included and she thought, "That's what I want to do. I'm gonna write it and do it. And so everyone else from that year went off to NIDA or WAAPA or whatever…I just said no and then it was just like free-falling. Then someone introduced me to PACT Theatre."
PACT
Karen Therese was cast in PACT Youth Theatre's The Dark Room, a work created with director Nikki Heywood, a key figure in the Sydney performance scene whose own training had been in Body Weather through Tess de Quincey. Therese believes "that was pretty pivotal, working with Nikki. I'm still working with her. And I loved that type of work and I completely understood it." Heywood added a focused physicality to Therese's standout performance in The Dark Room's childhood fantasia.
At 25 turning 26 Therese began to worry about her lack of tertiary education and enrolled in a bridging course to enter university as well as working days and rehearsing with PACT at nights. While angsting that "there has to be an easier way, you know, this is just insane" she was contacted by the VCA to let her know that a position had opened in the one year Animateuring course: writing, movement, directing and performing.
Animateuring
The VCA course unleashed the director in Therese and helped initiate the trilogy of which Sleeplessness is the first part and was first produced in the course. "We had to direct some actors from the first year acting course. I can remember thinking, okay what do I know? I actually struggled with it a lot. Making decisions was a huge learning curve." A significant influence in the final stage of Therese's time at the VCA was training in physical theatre with Teresa Blake of desoxy Theatre. And she made Sleeplessness: "the culmination of everything I'd learned that year." She also created an outdoor performance called The Elephants with Katrina Douglas, which later became Species with figures based on the Borg Lady in Star Trek's First Contact. It was performed in a Melbourne Festival and at the Melbourne Fringe won an award for best outdoor performance, attracted funding and "lots of gigs."
For Therese the time at the VCA meant the creation of "3 years work for myself…I'm still going with the trilogy." But she also had offers, to direct for Salamanca Theatre Company, to appear in Performance Space's Unbecomings season and to work with desoxy Theatre. "I took them all up! Unfortunately (Laughs). And then I applied for a Next Wave Kickstart grant for emerging artists. And I got that. It was insane. And I did them all—to varying degrees of satisfaction. Then I burned out."
Therese trained with desoxy on and off for a year and co-developed the show Species, "a work that was communicated solely through movement and costume. I wanted to focus on movement. I felt that I hadn't done much of that. That was my main focus for about 3 years. Teresa Blake is extremely skilled and disciplined. desoxy were fantastic in terms of training." What also impressed her was the development period desoxy undertook before putting on a show: "I think that's really valuable. I developed Sleeplessness quite a lot before it went up."
Time_Place_Space
After some development work on y.smith, the second part of her trilogy, Therese went to the desert for a break and then participated in Tess de Quincey's Triple Alice outside of Alice Springs before moving back to Sydney with a desire just to focus on making her own work. Playworks supported development of Sleeplessness and she started work on the piece with Nikki Heywood.
Participation in the Time_Place_Space hybrid arts laboratory proved another vital element in the growth of the work: "I think I'd started to lose confidence in a lot of things but got to meet new, fresh people and I started to gauge an understanding of the possibilities of multimedia. A lot of my ideas come in film [images] and I had an idea of what Sleeplessness was going to be, of what I wanted. And I got to discuss the idea with [filmmaker and designer] Margie Medlin and [new media artist] Keith Armstrong. So we really focussed on creating ideas for the show. I did a showing at Time_Place_Space and Fiona Winning [Director, Performance Space] was there and the following year [2002] she arranged a residency for me at Performance Space. At the same time, I asked Margie to go to Budapest with me to film some of the stuff. I got about $3,000 from the Myer Foundation. I paid for the rest and my dad gave me some money, which was really nice, and I got a RunWay grant. Margie Medlin is pretty amazing. She's turned into another mentor along with Teresa Blake, Tanya Gerstle and Nikki Heywood. I've kept in touch with them. I'm always asking them questions."
Forward and back
As well as freelancing as a director, Karen has been looking at staging Sleeplessness in Budapest, further developing y.smith (pending grants) and is thinking about a more substantial phase of professional development, say at Das Arts in the Netherlands. As a performer she keeps in trim, as do many other members of the dance and performance scene in Sydney, with the improvisation classes held at the Omeo Studio. Karen says "I felt really distant from performing. I looked at Sleeplessness and asked myself what do I need to work on. So I'm trying to get into the studio twice a week and staying really connected with it. Because you can lose it a lot in being at a desk writing applications and sitting around waiting." Always up for a challenge, Therese is also currently employed as an alcohol and drugs worker for the Ted Noffs Foundation working with youth in crisis.
On reflection Karen Therese thinks that the varied history of her development and her animateur training could have put her at risk of becoming a "jack of all trades, master of none." All the more reason, she says, to focus on performer training when other skills and demands threaten to take over and to look at ways of further developing herself as a performance maker. On the other hand, the range of skills have allowed her to create a growing body of work that is truly her own. "Since the VCA I always do workshops based on what skills I think I need. So I'm continually in training."
RealTime issue #62 Aug-Sept 2004 pg. 8
© Keith Gallasch; for permission to reproduce apply to realtime@realtimearts.net