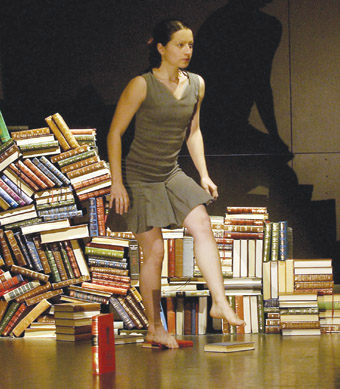 photo Kim Callas
Jodie Garugia, In Outside
The dance artists I interviewed for this article had different expectations and estimations of their courses and have had very different career trajectories, but it is obvious that some important legacies of their time at university were the broadened social and artistic networks they were able to develop; either formal or informal, supportive mentorships; continued resource sharing and fostering of skills; and a deepened awareness of both the possibilities and limitations of Australian dance culture.
What kind of dancer?
At 17, Phoebe Robinson (Advanced Diploma in Performing Arts, Dance, West Australian Academy of Performing Arts, 3 year course, graduated 1999) went to WAAPA primarily to study ballet with Lucette Aldous. "We were all very young, and most hadn't finished school. My view of dance at that time was pretty narrow. But whatever's going on in your head at that age, you're so malleable, open to almost anything. Lucette's classes were very holistic, and her approach was quite different to what I'd experienced. But over time I began to realise some of the limitations of being a ballet dancer. There were new experiences too: Feldenkrais, Body Mind Centring, improvisation, choreography…which I didn't necessarily do very well at uni, but worked on later. There seemed to be a big divide between the ballet and contemporary classes and at the time I wanted not to feel that separation. I wanted to try everything."
Simon Ellis (Bachelor of Dance, Performance, Victorian College of the Arts, 1996) entered the program hoping to be exposed to dance strategies and techniques, and in this sense his expectations were met. "I like it that the staff were prepared to go about their thing, sharing ideas, understandings and then leaving it reasonably open as to how we were to dialogue with these ideas." In the process of completing a Masters in Kinesiology, his relationship to teaching, writing and thinking was a little different from other students. "I think the training was limited in terms of preparing me for the professional world, even though my 'technique' was adequate by the time I graduated. But I didn't see this as problematic as I don't see tertiary institutions as serving this vocational role.
"In terms of understanding my corporeality, the VCA provided a suitable platform. We were treated to a lot of different forms: various contemporary/modern techniques, ballet, tastes of classical Indian, tap, flamenco, jazz. But it was also limited by a model that I think might still exist; students being trained to be employed in dance companies, becoming virtuosic dancers. I remember being frustrated by the quality of the theoretical subjects, and at that time we didn't do any contemporary theory, which the students do now." Ellis commented on "the tension which existed between those students who 'just wanted to dance' and those who were interested in developing a practice that might include making, performing, project development—very different to, say, training as a visual artist, where there is less ambiguity about your relationship to making and doing."
Re-thinking
After a long career in dance, both in Europe and Australia, Vanessa Mafé completed the Master of Fine Arts program at Creative Industries, Queensland University of Technology in 2002, also taking subjects in visual arts. With no undergraduate degree, and the fact that her formative years were spent in non-English speaking countries, she feels that she "put the world together a little bit differently…When you stop dancing, the way you interact with information changes, and how you value it. The course has opened something up, and I know that won't close down ever again…I did much more than a MFA, because there was a lot of catching up, trying to push myself into some idea of a future, where I wanted to be. I spoke to people in visual arts because that was more the process that I used. I was trying to find my voice as an artist, as opposed to myself in the context of dance.
"The MFA was something I could craft the way I needed to…as long as I could articulate what it was I trying to do, and Cheryl Stock [Head of Dance] was very supportive…My emphasis was on research. I had always thought my research was adequate, but I realised I was barely scratching the surface…
"In my last installation project, Listening to People Move, I put more emphasis and value on the process rather than the outcome, and that shifted things a lot. It meant that the research had to be relevant, and I had to find a way of applying it. Suddenly I didn't have to restrict myself to dance outcomes. What might be the most appropriate way to present something? Through the body, a series of drawings, or something else? It seems obvious now that all those things are part of [my] practice, but it takes time to be able to manifest it in ways that have any meaning."
Beyond the curriculum
Jodie Farrugia and Luke Hockley graduated from the 4-year Deakin University Bachelor of Education in Dance and Drama [Rusden] in 1996 and both commented on the flexibility allowed by the use of "contract" units at Deakin. For Hockley "it was flexible enough so I could define my own study. Within this, I was able to work with choreographer Helen Herbertson at Dance Works in my final year."
Importantly, Farrugia also commented, "It's sometimes difficult for me to separate what was in the actual curriculum with what was going on around it. I used the studios a lot out of hours; we had our own creative performance group. You never just trained in dance. There was a really holistic approach to theatre making, whether dance or drama. I think I developed a really good idea of how it all—design, sets, lighting, costume—hung together." After graduating, Farrugia approached Rusden for the use of space and was able to make work with some of their students. "They organised an artist-in-residence program for me, which was wonderful because they were so supportive…That's when I started experimenting with my own work for 6 months."
The 6 month course at National Institute of Circus Arts (1999) was a pilot project which later became the full-time Bachelor of Circus Arts degree at Swinburne, and was another turning point for Farrugia: "There came a time for me when I became interested in accessing a wider audience and therefore looked at more accessible forms such as circus and physical theatre.
Mentors & communities
"With Maggie Smith, the history teacher, Nanette Hassall and Lucette Aldous", says Phoebe Robinson,"it was at the end [of the program] that I realised how amazing they all were. Now I have a bit more of a clue…but then I didn't have the questions to ask. The community that surrounds the institutions is really important. Sometimes that's just as valuable, and you learn more from your peers and sessional teachers than you do from the course structure itself. The year I graduated, I met Jo Pollitt, who was doing her Masters. I spent 2 years in her improvisation group, Response, which was amazing, and really part of my continuing education. Jo and Alice Cummins (who was teaching improvisation for the degree program at WAAPA) also had connections with Ros Crisp in Sydney, whose Winter Moves workshop I did in 2001. I can't really remember how I managed to afford it and how I got there, but I think it was through Alice…I did a Body Mind Centring workshop with her and found it so informative and useful. So she was a catalyst."
Jodie Farrugia describes the importance of her training with Garry Lester as teacher and mentor: "[He] was a big advocate of dance education, not just mainstage dance presented for an elite audience. He wanted students to understand the benefits of community art, group-devised performance, education; and this allowed us to develop broad, open minds about what dance and choreography could be. I walked away from Rusden really wanting to create accessible work, and particularly interested in the importance of the creative process, guiding performers and students through honest processes, honouring the real emotional content of work, as opposed to just giving them information."
Ellis's experience endorses the value of mentoring in an informal way. "I believe I was influenced in a very positive manner by a couple of the teachers at VCA who have since become friends and colleagues. I value this notion of having a mentor, or acknowledging and being stimulated by this simple development of lineage, and I feel it in my bones when I am dancing."
Aloneness and surprise
Jodie Farrugia comments on informal networks: "In terms of accessing my close peers, it hasn't necessarily been just dancers. If I'm interested in exploring things from an education point of view, they're not the same people that I would explore my choreographic side with. So, in a way, I feel my connections are really dispersed in many directions. And then there's the circus industry, which is completely different. Because my work, since I left NICA, has been more about acrobatics I feel a little lonely, because there aren't many people who I can talk to about that. I've had a bit of a solo journey with all of that."
Robinson too comments on a useful sense of working alone. "Melbourne was a good place for me to come to (as it was also home) and try to get work with either Chunky Move or Dance Works. But now I feel quite fortunate that I was out of work for so long, because it really helped me develop my own ideas. My life is satisfying for now: doing a project and then going back to the café for money, letting ideas tick over and then going into the studio, collaborating. What I want now is much simpler than when I was younger. I want a more fluid experience in dance: seeing what comes up, and being surprised by things."
RealTime issue #62 Aug-Sept 2004 pg. 36-
© Eleanor Brickhill; for permission to reproduce apply to realtime@realtimearts.net