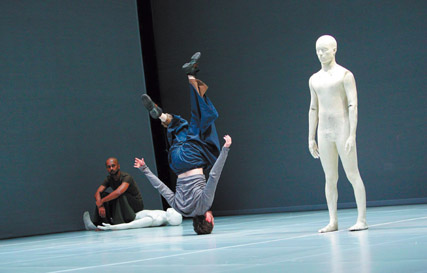 photo Tristam Kenton
Akram Khan & Sidi Larbi Cherkaoui, Zero Degrees
IN A STRONGER THAN USUAL SYDNEY FESTIVAL PROGRAM, DANCE PLAYS A PIVOTAL ROLE, NOT ONLY FEATURING LEADING AUSTRALIAN AND VISITING COMPANIES BUT ALSO OPENING SYDNEY'S NEW REDFERN-BASED CONTEMPORARY PERFORMING ARTS SPACE, THE CARRIAGEWORKS, WITH AKRAM KHAN & SIDI LARBI CHERKAOUI (UK-BELGIUM), AUSTRALIAN DANCE THEATRE AND BATSHEVA DANCE COMPANY (ISRAEL).
At the Sydney Opera House there's Lucy Guerin Inc, Meryl Tankard & Taikoz, and The Holy Body Tattoo (Canada). The theatre program is more modest but boasts the wonderful Maly Drama Theatre of St Petersburg in Uncle Vanya along with Gate Theatre (Ireland) with a trio of Beckett adaptations for the stage, Company B's new take on Snugglepot and Cuddlepie and South Korea's Yahangza's A Midsummer Night's Dream.
But it's the hybrid works that have some of the festival's strongest appeal, above all in the Christoph Marthaler Seemannslieder in collaboration with the Dutch-Belgian companies ZT Hollandia and NTGENT, merging musical performance and theatre in unexpected ways. Likewise there's Lou Reed's Berlin, a live performance of his 1973 cult album realised here with Reed and band as staged by visual artist Julian Schnabel; dancer-choreographers Akram Kahn and Sidfi Larbi Cherkaoui collaborate with sculptor Anthony Gormley; ADT's Garry Stewart with Montreal roboticist Louis-Philippe Demers; Lucy Guerin with dancers media artist Michaela French and designers Bluebottle; and, not least, Geelong's Back to Back Theatre join a host of collaborators to work a public site into an intimate theatrical/media space. Here's my ticket wish list, in welcoming artists whose work I've seen and admired, but also with quite a bit of guesswork and reliance on reputations—the risk-taking that comes with arts festivals. By the way, let me add this wish, for a greater commitment from the festival to Sydney artists who appear in such small numbers relative to their counterparts in festivals in other Australian cities.
Christoph Marthaler/ZT Hollandia/NTGent: Seemanslieder
The great European director (p8) evokes the pull of the ocean on body (sober, dreaming & drunken) and voice in sailor songs, pop and lieder.
Maly Drama Theatre of St Petersburg: Uncle Vanya
Superbly theatrical and wonderfully lateral in the 1996 Adelaide Festival, this company's Vanya will doubtless yield great emotion and unexpected insight.
Akram Khan & Sidi Larbi Cherkaoui: Zero Degrees
In the premiere CarriageWorks' performance, superb dancer-choreographers British-Bangladeshi Akram Khan and Flemish-Moroccan Sidi Larbi Cherkaoui (Les Ballets C de la B) dance to a meeting point, the zero degree, with music by Nitin Sawhney and design by sculptor Anthony Gormley.
Australian Dance Theatre: Devolution
Choreographer Garry Stewart, robotocist Philippe Demers, filmmaker Gina Czarnecki and the powerful ADT dancers create a frightening world in which humans and machines uneasily coexist. Interview with Garry Stewart: RT 71, p2; review: RT72, p32.
Lucy Guerin Inc, Structure and Sadness
Choreographer Lucy Guerin's reverie on the 1970 collapse of the West Gate Bridge as felt in analogous tensions of the body. Review: p31; Interview: RT75, p4
Back to Back Theatre: Small Metal Objects
Outside Customs House Square by Circular Quay at peak hour, the audience watch a very real passing crowd amidst which a disturbing drama unfolds. A hit at last year's Melbourne International Arts Festival. Review: RT70, p4; interview RT69, p6
Meryl Tankard and TaikOz: Kaidan, A Ghost Story
Choreographer Meryl Tankard in a collaboration with Sydney taiko drum ensemble TaikOz and visual artist Régis Lansac create their version of a classic Japanese ghost story.
Batsheva Dance Company
Three works: the intimate Mamootot with nine dancers and audience on four sides at the CarriageWorks; Kamuyot for groups of young people over 6 without experience of dance; and the epic Telophaza for over 40 performers and screens, choreography by Ohad Naharin, staged in the Capitol Theatre.
The Holy Body Tattoo: Our Brief Eternity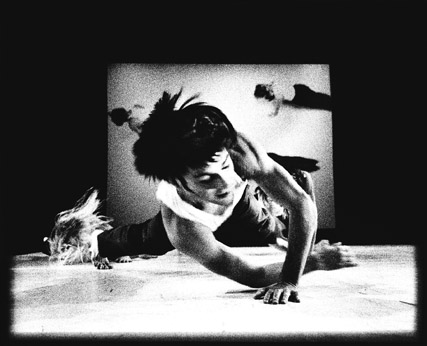 photo Rolline Laporte
The Holy Body Tattoo, Our Brief Eternity
The Holy Body Tattoo "explores the nature of human endurance through ideas of surrender, fragility and broken elegance" From Canada, three dancers, an electro-industrial score, images by William Morrison and texts by William Gibson and Chris Halcrow tackle the forces of progress. www.holybodytattoo.org
Gate Theatre: Beckett Season
Michael Gambon in Eh Joe, directed by Atom Egoyan, is a staged version of the TV original; Barry McGovern in I'll Go On, a dramatised selection from the Beckett novels; and Ralph Fiennes in First Love, from the novella.
CIRCA: The Space Between
A rare Sydney outing for Brisbane's globe-trotting physical theatre, CIRCA, with a work about the desperate need for togetherness and its attendant tensions.
Company B: The Adventures of Snugglepot and Cuddlepie and Little Ragged Blossom
With John Clarke at the writing helm expect both a faithful realisation but also a satirical re-write of a white Australian children's classic.
MCA: Centre Pompidou: Video art 1965-2005
Curated by the Pompidou's curator of New Media, Christine Van Assche, this large scale exhibition includes over 25 renowned video artists from across the globe including Isaac Julien, Nam June Paik, Garry Hill, Jean-Luc Godard, Samuel Beckett, Bill Viola, Valie Export, Pierre Huyghe and Tony Oursler.
Lou Reed's Berlin
A grim paean to life on the edge, the cult 1973 LP Berlin is now performed live for the first time, featuring Reed himself, a fine band and Antony of Antony and The Johnsons, with musical direction by Bob Ezrin, who produced the original album and Hal Willner, creator of the 2005 Sydney Festival Leonard Cohen tribute, Came So Far for Beauty. The concert will be directed and designed by New York painter and filmmaker Julian Schnabel (Basquiat, Before Night Falls).
The Famous Spiegeltent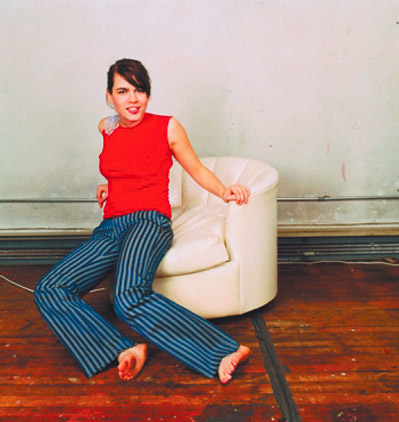 Kaki King
The ubiquitous tent features an unusually adventurous musical program with Australia's The Necks, Clogs (a classy electro-acoustic US-Australian combo), New York virtuoso guitarist Kaki King (echoes of the late great John Fahey), another fine guitarist and singer-songwriter M Ward (US), eclectic harpist-singer-songwriter Joanna Newsom (US) of the weird child voice, and Brazil's Bossa Nova Hot Club.
Roseanne Cash: Black Cadillac
US progressive country great Cash sings from her latest CD, Black Cadillac, about parents Johnny Cash and June Carter, in a concert with song, spoken word and film.
The World Famous: Crackers?
Audiences over the age of 12 stand for an hour surrounded and awed by the fireworks of pyrotechnicians The World Famous at Sydney's Olympic Park. Also features The Human Sparkler.
Sky Orchestra
In a work about listening while asleep, at sunrise hot air balloons will fly over western Sydney broadcasting the creations of sound artists Luke Jerram and composer Dan Jones.
Have a go…
Arts festivals always involve risk-taking and some of the following look intriguing: Akhe Russian Engineering Theatre's multimedia performance, White Cabin; the hip hop theatre of Will Power's Flow (US); Compagnie Au Cul Du Loup (France) at play with found sounds in a show titled Mousson; and even the Domain series. Jazz in the Domain's Noite Brasil is the two and a half hour creation of composer-guitarist and bossa nova boss Oscar Castro-Neves with a percussion section led by no less than Airto Moreira; and Symphony in the Domain features not only Barber, Bernstein and Copland but also works by Frank Zappa and John Zorn. KG
RealTime issue #76 Dec-Jan 2006 pg. 10
© Keith Gallasch; for permission to reproduce apply to realtime@realtimearts.net