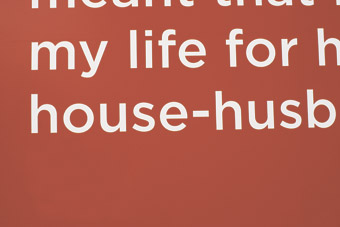 write/here project curated by
James Newitt and Justy Phillips
As non-fiction increasingly dominates the front shelves of bookshops, as documentary feature films fill cinemas and prime time television slots, as theatre reproduces significant events verbatim and reality TV lingers over its contrivances, we become increasingly aware of the art of non-fiction, the poetry and drama of the everyday and the creation of the shifting personae with which we present ourselves at home, at work and on YouTube. In the write/here project [page 13], part of Tasmania's Ten Days on the Island festival, 27 billboards featured the anonymous poetry of the everyday, verbatim utterances from Hobart's citizens, around which, like reading haiku, we read and built worlds. The quotations, all in white on red backgrounds, supplanted or were juxtaposed with the advertising we so often ignore, its creativity having only one goal. The lo-tech, labour intensive write/here offered much more, making everyday thought strangely more palpable. Everywhere in RealTime 78 writers and artists address observation and activism, art and the real.
RealTime issue #78 April-May 2007 pg. 1
© RealTime ; for permission to reproduce apply to realtime@realtimearts.net