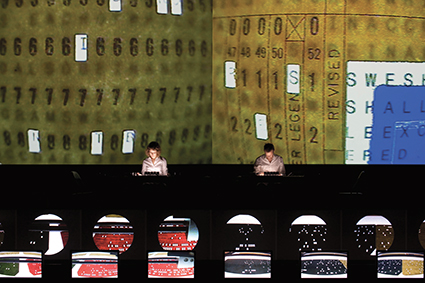 Kazuo Fukunaga
Ryoji Ikeda, Superposition, courtesy Kyoto Experiment
Great to see media art playing centrestage on its own terms and in a host of interdisciplinary manifestations in exhibitions and festivals across Australia.
Already underway and showing until 22 Feb is Experimenta's Recharge, an opportunity to re-estimate your relationship with media art at Melbourne's RMIT before the biennial show goes on tour 2015-16, admission free. Artistic director Jonathan Parsons tells Darren Tofts that gaming, 3D-printed sculpture and animation—including a rising sea levels work from Japan, aptly designed to run for 100 years—are just a few of the attractions.
Adelaide Festival's Blinc features free access to 22 international media artworks on the banks of the River Torrens, ranging from intimate interactives to large-scale wonders. As well, there's a three-venue showing of major works by Bill Viola, who'll be in town for the festival.
Sydney Festival's Sound/Unsound program includes Mira Calix's Inside There Falls in which you enter an immersive world of paper, text, voice and dance (again, free). Also in the festival program is media artist Lynette Wallworth's collaboration with French organist Bernard Froccoulle, Darkness and Light, and WA company The Last Great Hunt's Falling Through Clouds (reviewed in this edition), a synthesis of puppetry, animation, music and live video.
Now open and playing to 1 March is QUT Art Museum's Performance Now, 20 intriguing videos featuring prominent artists and curated by a leading expert on performance art, New Yorker RoseLee Goldberg. The videos aren't simply documentation; they reveal visual and performance artists inventively engaging with the camera. Only showing in Brisbane, Performance Now will be an obligatory holiday hotspot for performers, artists and lovers of the provocative and the ineffable.
Carriageworks' 2015 program includes the welcome return of Ryoji Ikeda, this time with a 90-minute large screen work mixed live by two performers, and 24 Frames per Second, a three-month exhibition of commissioned screen works focused around dance and surprising cross-artform collaborations.
Thanks to our readers, writers and clients for your wonderful support in 2015. Have a great art time over the summer. But to our friends at the ABC, including those who produce New Music Up Late, you are victims of ideological assault. We send our condolences. Artists will need to be brave in 2015.
RealTime issue #124 Dec-Jan 2014 pg. 3