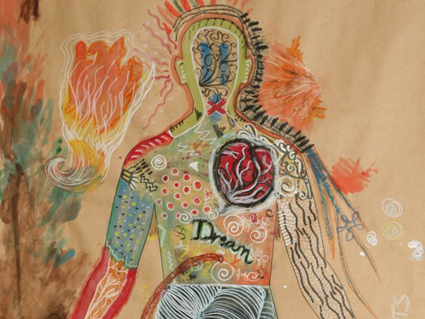 photo Julia Charles
Section of experiential map contributed by participants at UTS Gallery, 2008; The Heart Library Project, George Poonkhin Khut with Caitlin Newton-Broad, David Morris-Oliveros and Greg Turner
Our Art, Wellness & Death feature is the first of two focusing on innovative artists—in this edition Efterpi Soropos, George Poonkhin Khut, Victoria Spence and Margaret Cameron—whose work has taken them into unexpected fields of practice to deal with illness, pain, dying and grieving. In a related interview Jo Truman reflects on how improvised song has empowered her with a sense of embodiment.
Sydney's irreverently venerable Performance Space celebrates its 30th birthday in November with presentations from former artistic directors and performances by The opera Project, De Quincey Co, Rosalind Crisp, Brown Council and a multitude of artists spanning the organisation's rich and often provocative history. A not-to-be-missed celebration.
Violence in art, and as art, in this edition appears in several forms: for its own sake (the action movie Death Race 3: Inferno); as re-creation, by the killers themselves, of the infamous mass murders in Indonesia in 1965 (a documentary, The Act of Killing); as a surreal take on a wave of apparently senseless murders in China (Jia Zhangke's A Touch of Sin); or in version 1.0's new work, The Vehicle Failed to Stop, about the murder of Iraqui citizens by armed Western contractors operating outside the law.
RealTime issue #117 Oct-Nov 2013 pg. 3
© RealTime ; for permission to reproduce apply to realtime@realtimearts.net