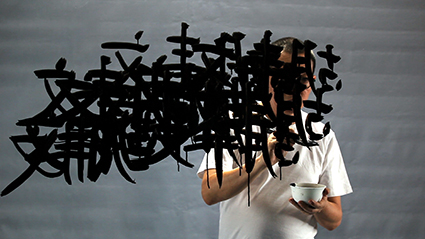 photo courtesy OzAsia Festival 2015
Writing in the Rain, FX Harsono
No, we're not ailing. It just so happened that our choice of cover image of a performer in an MRI machine coincided with our decision to go totally online. It's a scene from the great Italian artist Romeo Castellucci's Go Down, Moses, which features in the 2016 Adelaide Festival.
The image by Indonesian FX Harsono on the opposite page feels more apt. Chris Reid, in his review of the visual arts program of the OzAsia Festival writes, "In his video Writing in the Rain (2011) we view [Harsono] through a sheet of glass repeatedly writing his name in Chinese over the same spot on the glass. Water, representing rain, then begins to wash the ink down the glass." Although Harsono is reflecting on the fragility of identity under dictatorial power, the image resonated with us. Magazines are ephemeral. With each edition we wrote our names, and again in the next and the next as previous editions became like ghosts. But the hard copies were there and archived in several libraries. Paper ages and ink dries, but with likely longer staying power than the word online which is vulnerable to crashes, hacking, solar flares and the endless redundancy of platforms that defeat archivists. But that's where RealTime is going, online, in good faith.
We've been printing and distributing 20,000 copies every two months to 750 locations across Australia for 20 years, delivering online and holding out well against the incursions of internet publishing. But we've had to face market pressures, distribution challenges, the high combined costs of print, freight, distribution and mail and the burden of a large carbon footprint (though the toys, devices and power consumption of the digital world are not much less problematic).
Our vision of free access, highly responsive and constructive reviewing and a focus on innovation and experimentation across the arts remains intact. And the internet will allow us to do the kind of things which we can't in print: dialogue directly with you, stream live from festivals, host forums, commission and curate online works and link you to great sites and events around the world that foster experimental art.
We know many of you will sorely miss the look, feel and leisureliness of the print editions, so will we, but our weekly e-ditions (growing to twice weekly) will, without undue pressure, keep you happily in an expansive arts loop. We hope you'll come with us from page to screen, whether on your computer, phone or tablet.
We wish you a very happy holiday season, thank you for being a loyal print reader and look forward to being digitally-conjoined in 2016.
Keith & Virginia & the RealTime Team
RealTime issue #130 Dec-Jan 2015 pg. 3