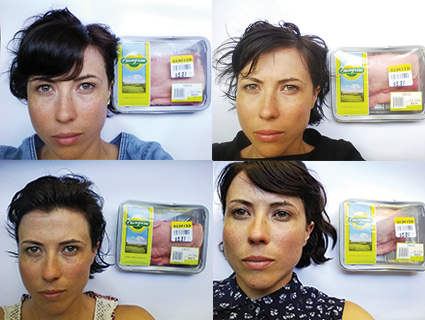 Jade Suine, (detail) Random Generator Experiment 3: who changes more rapidly, me or the packaged meat?
Arts education is a vital part of the cultural and creative industries ecosystem. In this edition we celebrate diverse innovative approaches to the making of artists in secondary and tertiary education. The sequence of images above by UNSW Art & Design student Jade Suine represent a small section of her Wiki record of the experimental thinking she pursued in a one-week intensive Experimental Arts course.
Here, we reproduce the complete version of the artwork on our cover by another UNSW Art & Design student, Broc Webster whose work was Highly Commended in the 2015 HATCHED National Graduate Show at PICA.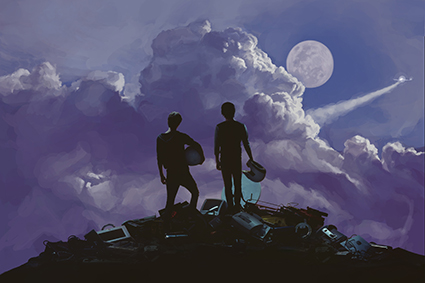 Athanasia, 2014 (detail), Broc Webster, University of NSW Art & Design, Bachelor of Fine Arts, Honours
Artists of the small to medium sector are praying that the current Senate Inquiry into the impact of the 2014 and 2015 Commonwealth Budget decisions on the Arts will deliver salvation, ie enough pressure, alongside further protest, to compel Arts Minister Senator George Brandis to reverse his decision to take $105m from the Australia Council for his own department's National Program for Excellence in the Arts. The very title of his program is an insult to the Australia Council and all the artists it funds. Brandis has effectively reduced by an enormous 28% the funds available to the small to medium sector, putting it at risk across Australia, from cities to the suburbs, rural and remote regions where art has been burgeoning in recent years. Doubtless it will take this inquiry and more to move Brandis, but it must be done.
RealTime issue #128 Aug-Sept 2015 pg. 3
© Virginia Baxter & Keith Gallasch; for permission to reproduce apply to realtime@realtimearts.net