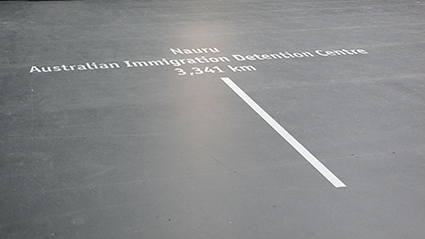 From Landung in Australien, an exploration of refugee and asylum seeker policies presented by QUT Creative Industries Precinct and Christoph Wachter & Mathias Jud as part of Move On:European Media Artists in Residence Exchange.
We feel shame for our maltreatment of refugees, anger at successive governments' failures of empathy and helpless in our ineffectual protests. The consequent numbness can pass. As Caroline Wake writes, in her feature coverage of the issue, there's been a recent surge of anger in the wake of the damning revelations in the Moss and Australian Human Rights Commission Reports and the comments of Juan Mendez, the UN Special Rapporteur on Torture. That word, 'torture,' hit hard. Caroline looks at recent performance that engages with the asylum issue.
It's Autumn and our arts festival reporting comes to its seasonal close with reviews, written in all kinds of weather, from Bristol, Vancouver, Perth, Adelaide and Melbourne.
Philip Brophy delivers a magisterial two-part account of Jonny Greenwood's score and the vintage songs deployed in Paul Thomas Anderson's unnervingly wonderful new film, Inherent Vice
Our Modes of Production focus in RT125 continues with more on the future of museums, a look at digital theatre initiatives and the second in The Producers series—an interview with Sydney-based Harley Stumm of Intimate Spectacle.
Vale Maggi Phillips. Great sadness is felt at RealTime. Maggi has been writing eloquently and insightfully for us for many years. In her last review she celebrates the dancing of Aakash Odedra in the Perth Festival for "returning thought and wonder back to those ancient beginnings where illumination speaks of life and all the possibilities of birth." Farewell, Maggi.
Keith & Virginia, RealTime
RealTime issue #126 April-May 2015 pg. 2
© Keith Gallasch & Virginia Baxter; for permission to reproduce apply to realtime@realtimearts.net