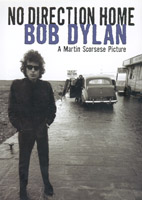 It appears that in the twilight of his career, Bob Dylan is shoring up his place in history with an ongoing wave of autobiography, other books, CDs and DVDs. What's fascinating about the mid-60s focus of many of these is the extent to which Dylan's recordings and performances of that era refuse cozy reminiscing and continue to confound some 40 years after their creation. With Greil Marcus' new book Like a Rolling Stone and Martin Scorsese's documentary No Direction Home, we have works aimed at reigniting one of the most incendiary moments in Dylan's career.
Unravelling a transformation
Like a Rolling Stone is Greil Marcus' second book on Dylan, following on from 1997's Invisible Republic—Bob Dylan's Basement Tapes. The difficult pleasure of Marcus' work lies in his methodology, informed as it is by a relentless determination to dissect an object until it has yielded every possible resonance. It's a critical flight of imagination underpinned by an awesome storehouse of anecdotes and historical scholarship that generates a sometimes exhausting cross-referential density. A single word, or even a single sung intonation, represents a loose thread that Marcus pulls until the word lies in tatters, having yielded every social, political, historical and mythological connection that affected its making. The more Marcus tries to pin down the cultural objects he writes about, the more 'meaning' slips away, dispersed across the countless strands he unravels. This is precisely the beauty of his best criticism; he invokes the endless swirl of factors that constitute a work of art without ever pinning the work down in anything as prosaic as 'interpretation.' Rather, he offers a creative reading that demands the reader's active participation.
Marcus' books on Dylan represent, respectively, one of the most rewarding examples of his method and one of the most formlessly excessive. The acclaimed Invisible Republic focuses on the set of recordings made by Dylan and The Band in Woodstock during 1967 while Dylan was a recluse following his motorcycle accident of late 1966 (either a near-death experience or a pretext to escape the pressures he was under, depending on who you believe). The 1967 recordings have been endlessly bootlegged and a selection was officially released in 1975 as The Basement Tapes. Through these recordings Marcus traces the musicians' investment in what he calls "the old, weird America", a mythical republic of the mind inscribed in the folk, blues and country traditions of the United States.
Marcus traces how Dylan and other performers of the 'folk revival' extensively mined and extended this musical heritage, while certain revival figures such as Pete Seeger fashioned the country blues legacy into a kind of socialist realist orthodoxy at the service of their political agenda. Many liberal northern whites embraced folk music in the belief that it was a 'pure' product of 'the people', an expression of spontaneous collectivism and a rejection of the values on which they had been raised. America's multifarious musical traditions were reduced to a look, sound and attitude that folk singers were expected to embody, posited in opposition to the country's materialist and individualistic post-war lifestyle.
In sketching the emotional investments underpinning the politics of the folk revival, Marcus offers one of the most convincing explanations as to why Dylan's turn to a more introspective lyrical approach and entry into the pop charts in 1965 provoked such violent hostility and even hatred amongst sections of the folk crowd. As Marcus notes, from Dylan's 1964 Bringing It All Back Home album onwards, "events and philosophies with which one could identify had been replaced by allegories that could dissolve received identities." For many in the folk scene, this meant Dylan was dissolving their identities, and opening up a world of individualised imaginative possibilities that many found offensive or deeply threatening. Marcus goes on to argue that The Basement Tapes were a continuation of the project Dylan embarked upon with his mid-60s 'electric' albums: an embracing of those paradoxes, moral ambiguities and bizarre myths informing American music that had been largely written out of the black and white world of the folk revival.
The thread under the microscope
With his new book, Like a Rolling Stone, Marcus takes a temporal step back and homes in on the recording that most brazenly announced Dylan's break with the folk purists. Early on, Marcus sets forth his basic thesis regarding Dylan's top 10 hit with a quotation from composer Michael Pisaro: "In some ways [Like a Rolling Stone is] a difficult song to hear now, because it is a vision of a time that never came to pass…[T]hat time (or is it the time created by the song?) seems to have been the last moment in American history when the country might have changed, in a fundamental way, for the better. The song, even now, registers this possibility…"
Revisiting the premise of Invisible Republic, Marcus contends that Like a Rolling Stone's sense of promise lies partly in its exhilarating negation of any form of stable identity, which was precisely what offended many folk fans. But where each chapter of Invisible Republic uses one or 2 tracks as the starting point of a labyrinthine journey through the musical lineages informing Dylan's work, Like a Rolling Stone focuses entirely on one song. As the book progresses Marcus' gaze becomes ever more microscopic and his thoughts increasingly dispersed, until the text becomes a series of disconnected threads that undermine, rather than enhance, the power of the song itself. In parts, Marcus' musings become so fanciful they read like a parody of his own style:
There may not be another pop song or a folk song that begins with 'Once upon a time…'—that in a stroke takes the listener into a fairy tale…But the entry into the realm of fairy tale, of dragons and sorcerers, knights and maidens, of princes travelling the kingdom disguised as peasants and girls banished from their homes roaming the land disguised as boys, would mean nothing if the singer's feet were on the ground.
Between such overblown passages there is an interesting account of the recording session for Like a Rolling Stone and the personnel involved; the section on guitarist Mike Bloomfield's prolonged demise after 1965 is quite moving. Mostly, however, the book says little that isn't conveyed by the experience of the song itself. In this sense Marcus never moves beyond Pisaro. The song still conveys an extraordinary sense of immanent power, but achieves in 6 minutes what Marcus takes over 200 pages to convey only partly.
Scorsese's weaving
In contrast to Marcus' book, Martin Scorsese's new documentary, No Direction Home, is invaluable for the way in opens up the experience of Dylan's musical journey. The film begins with a gruff but articulate present-day Dylan describing his career as one long journey back to a place where he was supposed to have been born. From here we cut to Dylan standing on an English stage in 1966, surrounded by the rock and roll musicians who would become The Band. They launch into a slowed down, amped-up Like a Rolling Stone. After the first verse and the heartfelt cry of "How does it feel?", there is an abrupt cut to silence and a still image of snow-covered trees. The quiet comes as a shock after the aural intensity of the live performance. After a few seconds, Dylan's raspy tone comes forward as if from a distance: "Time…you can do a lot of things that seem to make time stand still, but of course no-one can do that." The opening signals that No Direction Home is anything but a slapped-together nostalgia package. The film deals with an era some 40 years past, but through a skillful interweaving of interviews, archival footage and live performances, Scorsese manages to evoke the emotional reactions engendered by Dylan's music in the early to mid-60s, and we are made to feel someing of what was at stake in the sounds Dylan created during that era.
The film's touchstone is Dylan's 1966 tour of the UK, captured in colour by D A Pennebaker for a never-released concert film. This was the final leg of a world tour that was Dylan's first with electric backing, provided by Canadian group The Hawks (minus their usual drummer). The following year The Hawks became The Band and recorded The Basement Tapes with Dylan, followed by their debut album, Music From the Big Pink. But in 1966, the rock'n'roll sounds they created with Dylan provoked boos, heckles, threats of assassination, and in one infamous incident in Manchester (for years bootlegged as the 'Royal Albert Hall concert') a public denunciation of the singer as 'Judas' by an audience member.
Scorsese carefully splices sudden transitions to the 1966 tour footage into the story of Dylan's rise to fame, re-creating the visceral shock of Dylan's change in style for many who had followed his pre-electric career. The transitions also underscore the tensions and jealousies that plagued Dylan's career from the outset. At one point, for example, fellow Greenwich Village singer Dave Van Ronk discusses the resentment among the folk crowd when Dylan first signed to Columbia in 1961, and the manner in which the recording contract was turned into a moral issue by those who badly wanted what Dylan had attained. Following Van Ronk's comments, the film cuts to Dylan being heckled as a "traitor" on an English stage in 1966 as he launches into an electrified rewrite of the folk standard Baby Let Me Follow You Down, recorded in more traditional form on his first album. Edits such as these illustrate the continuities underlying Dylan's career, while simultaneously demonstrating the radical contrast between his work with The Hawks and his earlier sound.
The film also illustrates the immense pressures that amassed around Dylan as his fame grew, which came to a head on the 1966 tour. At a photo call captured by Pennebaker, a middle-aged photographer orders the incredulous singer to "suck on your glasses", as if he is a performing circus animal. In a hotel room interview Dylan almost breaks down, rocking back and forth like a wounded animal, intoning "I just wanna go home." At every press conference he is cross-examined about his 'message' and the 'meaning' of his work. On stage he appears like a twitching marionette, so wired on amphetamines he barely seems aware of his surroundings. These scenes illustrate the extreme conditions under which Dylan's mid-60s work was created and the messiah-like veneration he endured. Curiously, despite the visual evidence in Pennebaker's footage, Scorsese's film barely mentions Dylan's drug use. But then in every way, No Direction Home shows so much more than it tells.
A new world with every listen
So what do all these words, images and sounds add up to? Although Marcus' new book is disappointing, its predecessor Invisible Republic is an invaluable piece of scholarship that traces the mythical and emotional roots of Dylan's music, as well as his work's social and historical context. Together the Marcus books and the Scorsese film illustrate the broad musical context from which Bob Dylan's work emerged, a context rarely appreciated by contemporary audiences. One of the great tragedies of today's corporate controlled music world is the rigorous segregation of styles, which serves to erase the rich cross-racial mix of folk, rock, country and blues that constituted the musical ground from which the young Dylan sprang. This terrain is sketched particularly effectively in Scorsese's film through rarely seen archival footage of performers such as Hank Williams, Odetta, Woody Guthrie and Leadbelly.
Most importantly, however, No Direction Home blasts the events of Dylan's early career out of the past and makes them part of the living present, confronting us with the people and events as they were then, loaded with the potential of a contingent, unpredictable future. The film allows us to experience Dylan's performances throughout the early to mid-60s, and to see something of the life-threatening extremes he endured in 1965-66 in pursuit of his vision. It's one thing to read about these events, it's another to witness their power. And as No Direction Home demonstrates, the albums tell only part of the story.
Whatever the questionable nature of the corporate deals Dylan now indulges in, the lingerie advertisement in which he appeared, and the variable quality of his contemporary output, nothing can destroy the capacity of Dylan's greatest performances to dissolve not only all received identities, but all pre-conceived understandings of our world. The strength of Scorsese's film and Marcus' best work is their refusal to indulge in comforting nostalgia, and their embrace of the open, often disquieting possibilities of Bob Dylan's music. With every reading, every viewing, and every listening, a new world of imaginative potential is ours for the taking.
Greil Marcus, Invisible Republic—Bob Dylan's Basement Tapes, Picador, UK, 1997; Greil Marcus, Like a Rolling Stone-Bob Dylan at the Crossroads, Faber and Faber, UK, 2005
No Direction Home: Bob Dylan, director Martin Scorsese, producers Jeff Rosen, Susan Lacy, Nigel Sinclair, Anthony Wall, Martin Scorsese, Apple, 2005
RealTime issue #71 Feb-March 2006 pg. 17,
© Dan Edwards; for permission to reproduce apply to realtime@realtimearts.net