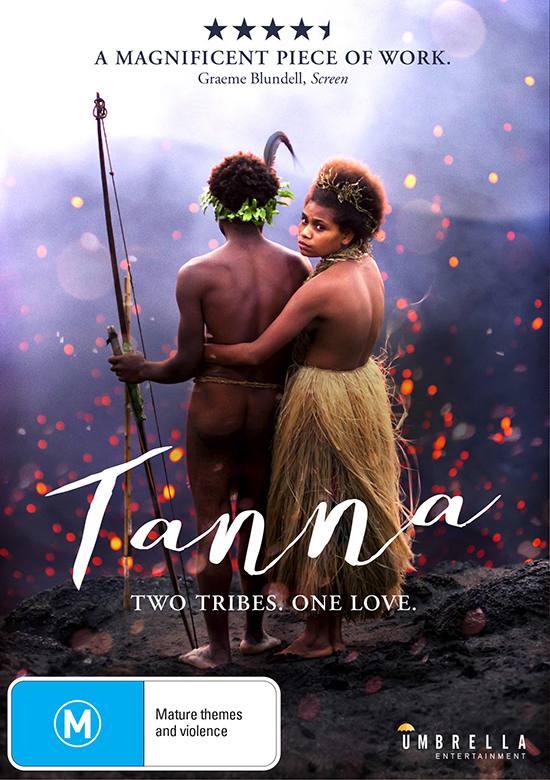 Set deep in the jungles of the Vanuatu island of Tanna and created in collaboration with that island's communities, the 2015 feature film Tanna honestly and simply tells a culturally-specific true story of rebellion against arranged marriage with the universal dimensions of a Romeo-and-Juliet forbidden-love tale. Imagine Rolf de Heer's Ten Canoes against a volcanic Pacific island backdrop. Stripped down to the barest essentials of cinematic storytelling, Tanna is finally getting its due recognition as a nominee for Most Outstanding Foreign Language Film at this year's Oscars. It's one of the loveliest, most underseen films of recent years.
An Australian-Vanuatuan feature film, Tanna (2015) was directed by Australian filmmakers Martin Butler and Bentley Dean while living and working with the Yakel tribe in Vanuatu. Lauren Carroll Harris
3 copies courtesy Umbrella Entertainment
Email us at giveaways [at] realtimearts.net with your name, postal address and phone number to go in the running.
Include 'Giveaway' and the name of the item in the subject line.
Offer closes 22 February 2017.
Giveaways are open to RealTime subscribers only. By entering this giveaway you consent to receiving our free weekly E-dition. You can unsubscribe at any time.
RealTime issue #137 Feb-March 2017