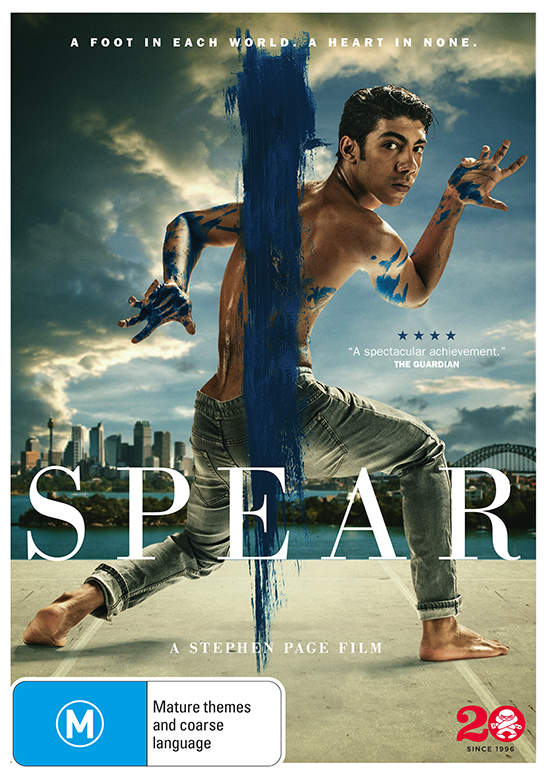 Bangarra Artistic Director Stephen Page's striking debut feature film centres on tensions felt by a young man caught between an ancient, still vibrant Indigenous culture and a competing, feverish modernity played out across Sydney streets and landscapes.
The strong core cast features Hunter Page-Lochard as the teenage boy, Aaron Pedersen as Suicide Man, a raging alcoholic, and Yolngu elder Djakapurra Munyarryun in what is essentially a full-length dance movie—a true rarity in Australian filmmaking.
Greeted with praise in The Guardian and Variety, Spear was less enthusiastically received elsewhere. Perhaps set dance passages, little dialogue and minimal plot were inevitably limiting, but Dan Edwards, in his review for RealTime, "Men's Business in another world," points to fragmentation and a curiously static filming of the dance. Nonetheless, he sees Spear as "a probing experiment, a first step into a new realm by one of our leading dance makers. Experiments are becoming increasingly rare in our constricted screen environment, so let's hope this is a beginning, and not an intriguing one-off for Australian Indigenous dance on screen."
Spear, director Stephen Page, screenplay Justin Monjo, adapted from Bangarra Dance Theatre's Spear/Skin
5 copies courtesy of Madman Entertainment.
Email us at giveaways [at] realtimearts.net with your name, postal address and phone number to go in the running.
Include 'Giveaway' and the name of the item in the subject line.
Offer closes 21 December.
Giveaways are open to RealTime subscribers only. By entering this giveaway you consent to receiving our free weekly E-dition. You can unsubscribe at any time.
RealTime issue #136 Dec-Jan 2016 pg.