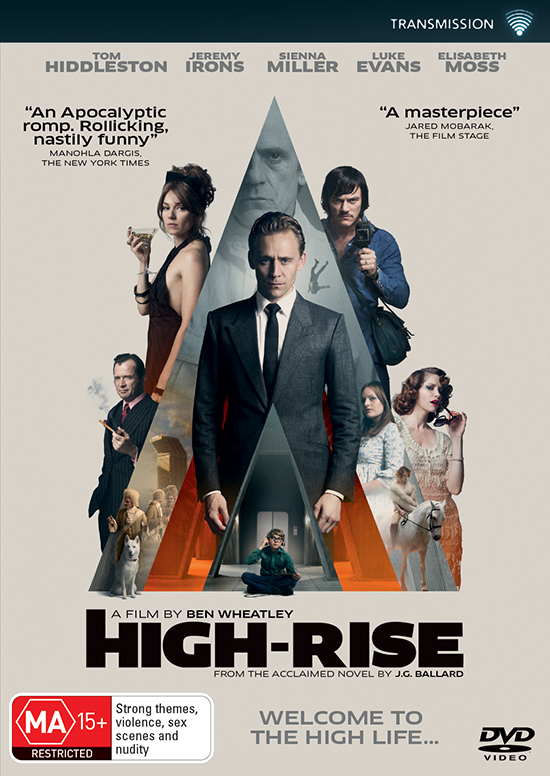 Ben Wheatley, maker of the much admired thriller-horror hybrid, Kill List (2011), went on to make another success in 2015, an adaptation of JG Ballard's 1975 novel High-Rise. The 40-storey high-rise of the title has the wealthiest occupants living on the upper levels with sufficient facilities to warrant them not going into the outside world. Below them live the less well-off middleclass. With a declining sense of mutual responsibility, social relations and services go to pieces with appalling consequences: pet-eating, possibly cannibalism and certainly murder.
Wheatley sets the film amid 70s economic and social decline and Margaret Thatcher's soon to hold sway "there is no such thing as society" ideology. But we can do the updating ourselves thanks to Neoliberalism's inexorable push into the 21st century for endless deregulation, tax cuts and consequent rapid infrastructure decline and decreasing social justice. Wheatley puts it thus, "The idea of a book looking to a future that has already happened and making a film looking back to the past to show a possible future was interesting."
High-Rise has been praised for its "future-retro vision," "coolly immaculate" design, a fine central performance by Tom Hiddleston, its strongly realised sense of escalating decadence and Chris Mansell's score which includes "an inspired slow-jam cover of ABBA's S.O.S., by Portishead. It's a party track for a party at the end of the world."
5 copies courtesy of Transmission Films.
Email us at giveaways [at] realtimearts.net with your name, postal address and phone number to be in the running.
Include 'Giveaway' and the title of the item in the subject line.
Offer closes 30 November.
Giveaways are open to RealTime subscribers only. By entering this giveaway you consent to receiving our free weekly E-dition. You can unsubscribe at any time.
RealTime issue #135 Oct-Nov 2016