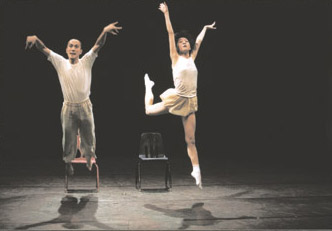 photo Sete Tele
Jareo Osamu, Terada Misako, It Might be Sunny Tomorrow
AUTOMORPH, A DUET BETWEEN DANCER EMMA STRAPPS AND SOUND ARTIST DEAN LINGUEY WAS FIRST UP IN THE TRIO OF DUETS COMPRISING DYUETTO AT DANCEHOUSE IN MARCH. STRAPPS' DANCE AESTHETIC SUGGESTS A BUTOH-STYLE OF WORKING. HER MANNER OF MOVEMENT IS VERY CONNECTED TO HER INDIVIDUAL CORPOREALITY, WHICH SHE CLEARLY DRAWS ON TO GENERATE A SINGLE, SUSTAINED PERFORMANCE QUALITY. THIS IS WORK THAT HAS BEEN CREATED FROM THE INSIDE, FROM FEELING RATHER THAN LOOK. THE MOVEMENT ITSELF WAS VERY JOINTED, OPERATING AT THE MEETING-POINT OF BONE AND BONE, EXTENDING TO THE LIMITS OF HER PHYSICAL RANGE. THE EXTREMITIES OF THE LIMB WORK—PARTICULARLY WHERE THE ARM MEETS THE SHOULDER OR THE LEG ENTERS THE HIP SOCKET—CREATED A RATHER NON-HUMAN ENSEMBLE, INSECT-LIKE AND REMINISCENT OF SUE-ELLEN KOHLER AND SANDRA PERRIN'S MEMORABLE BUG (1992).
Strapps created this movement state through a series of inhuman shapes, extending then collapsing them along a slow diagonal. At some point, she reconfigured her costume into a dress in which it was odd to see her moving, almost jarring. I'm not sure how or whether this transition into human form was reflected at the level of movement. After this point, there was a journey across space with an ending in the spotlight. Personally, I would have been happy to stay with the non-human part of the work, to go deeper into its nuances rather than be taken towards a resolution which evaded me. A good deal of investigation underlies Automorph. It will be interesting to see where it goes next.
My initial experience of N_TN_GLD was saturated by the power of its music. Zipper Sky artfully created a repetitive sound, like a car engine which never actually starts. Its effect was to create a series of anticipations: that the sound would progress, that the engine would actually start, alongside a succession of 'disappointments.' Against that background, Perth dancers, Sete Tele and Rachel Ogle, each in turn fronted the audience. Tele stood quite close, repeatedly digging into his torso, extracting invisible innards. Ogle's work was more dancerly, working a kind of emotional communication. N_TN_GLD then became more mobile, more active, in the faster style of contemporary dance, engaging the two in spirals, rolls, twists and turns in and out of the floor. There was for me a slight 'disconnect' between the initial offbeat character of the work and its subsequent shift towards what felt like a familiar mode of dancing, a pattern and legacy of choreographic style which is already given. While Ogle in particular looked quite comfortable dancing in this style, I think the intention was to create something more out of the ordinary.
Jareo Osamu and Terada Misako's It Might be Sunny Tomorrow was the most entertaining piece of the evening. Aside from the humour of the work, these two dancers had a wonderful sense of mutual and differential timing. This was achieved not via duplication or action and response but through an intriguing and subtle sensitivity. The relationship was enacted rather than expressed. They rarely looked at each other, performing mostly task-oriented actions without excessive adornment. Some abstract repetition occurred, for example, a slow leg split by Misako over and around Osamu's back, but by and large It Might be Sunny Tomorrow evoked a sense of everyday life, of ordinary humans confronting expectations, not always managing to meet them but, at the same time, not necessarily caring. Osamu and Misako were fellow travelers here, collaborators in parody, sometimes dance partners but, more often than not, moving in a relation of difference. This gave a refreshing slant to the idea of duet, that proximity can be maintained without falling into sameness.
Although these three pieces were all duets, they were very differently realized. The connection is in part achieved because three institutions—Dancehouse (Melbourne), Strut (Perth) and Dance Box (Osaka)—are each taking it in turns to host artists from the other two cities. It's the first season to be presented under the auspices of Dancehouse's new artistic director, David Tyndall. Although Tyndall rightly acknowledged the work of former director Dianne Reid and recently retired general manager Michael Mitchener in developing this season, Dyuetto stands at the brink of Tyndall's new curatorial outlook.
Dyuetto (Duet): Automorph, dancer Emma Strapps, sound Dean Linguey; N_TN_GLD, dancers Sete Tele, Rachel Arianne Ogle, music Zipper Sky; It Might be Sunny Tomorrow, dancers Jareo Osamu, Terada Misako; presented by Dancehouse, STRUT Dance, Perth, Dance Box, Osaka; Dancehouse, Melbourne, March 28-April 1
RealTime issue #79 June-July 2007 pg. 30
© Philipa Rothfield; for permission to reproduce apply to realtime@realtimearts.net