"Journeys to relive your past?" was the Khan's question at this point, a question which could also have been formulated: "Journeys to recover your future?" Italo Calvino, Invisible Cities
It can sometimes seem that Australian artists are obsessed with travel, their sense of achievement and status intimately linked with international residencies and presentation opportunities. It's hardly surprising given the general ambivalence towards the arts here, resulting in a small critical mass even when all the art scenes are added together.
But beyond the motives of CV building and presenting your work in an environment where art is respected, travel is vital for an artist (and everyone), as the immersion in difference encourages altered ways of seeing, hearing and experiencing. All that stimulation can't help but get the creative juices flowing.
For Profiler 4, we've asked a selection of artists to tell us about a city that gets their creative curiosity piquing and how that place has influenced their practice or a particular project. Enjoy this vicarious vacation.
Gail Priest, Online Producer
Lawrence English | Paul Gazzola | Janie Gibson | Cat Jones | Teik-Kim Pok | Jodi Rose | Jon Rose | David Young
Lawrence English, Kyoto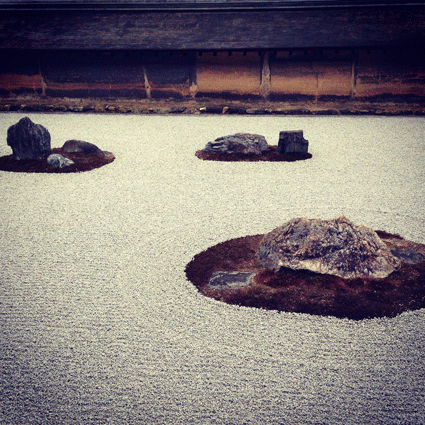 photos Lawrence English
Kyoto
Kyoto is one Japanese city I have had little connection to, in terms of embedded time, but somehow its echo resonates. The first few times I visited were during tours in the early noughties. These visits were fleeting and the memories seemed mostly to be confused—a jumble of train stations, giant robotic crabs, transcendental food, record stores, galleries and friends not seen often enough. It was as though my mind was just engaged, I was present as someone focused on a kind of delivery into that space, more than a consumer of it. Time as it were, worked against me.
Recently though I have found myself in Kyoto twice as, well, a tourist. The timeframes were not so generous, but on both occasions I had no agenda except 'being.' It's a luxury that doesn't present itself very often. It has been in this more free flowing mode and with a casualness of time that I have managed to find what it is that makes this place so reverberant beyond the moment on contact. For me Kyoto epitomises an expression of time and this is probably one of the central themes in my work. In its Zen gardens, time is gradated; rock, water, moss, trees and their inhabitants marking out layers of time, as T?ru Takemitsu put it. Each element exuding a sense of (de)composition over timelines, these timelines weaving into increasingly complex patterns that eventually overcome and subdue the mind.
This affect is in many respects what I hope my music does. I want to trick the mind and create a rupture in time within which the listener becomes disconnected from a notion of linear or narrative time. I want the sonic elements, like those in the gardens to erode and emerge at different rates, creating a wholly consuming experience that hopefully lingers well beyond the moment in which it is first experienced.
http://lawrenceenglish.com
English's latest release, Wilderness of Mirrors, will be released July 21, http://room40.org
Selected articles
Antarctic reveries
Greg Hooper: Liquid Architecture 13, Brisbane
RealTime issue #110 Aug-Sept 2012 p18
With an ear to the greater city
Danni Zuvela: Lawrence English, Site-Listening: Brisbane
RealTime issue #103 June-July 2011 p42
10 years of room40: privileging the ears
Danni Zuvela: interview, Lawrence English
RealTime issue #97 June-July 2010 p39
Paul Gazzola, Cape Town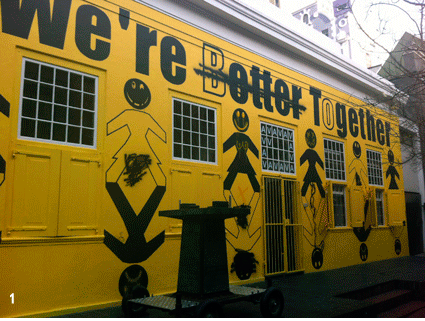 1) Cameron Platter, Better Together, Cape Town (graffiti also by the artist) photo Paul Gazzola; 2) Francois Knoetze, artist in OPENLab, courtesy the artist; 3) Sethembile Msezane, artist in OPENLab, courtesy the artist
Cape Town—a city on the edge of a continent where incredible beauty is juxtaposed with the harsh realities of a huge racial divide. Cape Town—home to 3.7 million where only 15% of this number is white. Recently named the best place in the world to visit by the New York Times as well as becoming the 2014 World Design Capital. Cape Town—sun, sea, nature, drugs, crime, disease. Cape Town—yeah baby!
Seventeen years have passed since I was last here as part of an artist exchange. This time was highly formative in my explorations around themes of people, place, history and site and my developing interest in the creation of works with diverse communities and cultures. Seventeen years ago I also learnt I was but a young white boy in a very black world.
So 17 years later I am again in the city and this time in preparation for OPENLab 2014. The politics of democracy and the individual, longstanding quests in this country are still high on the agenda as the transition to a more equal South Africa still seems a long way off. But these unifying themes give weight to many of the artists' works I have seen and provides a nurturing and provocative guide to my own thoughts as I explore the social realities of an arts and curatorial practice that strives to be inclusive and relevant.
www.paulgazzola.org
OPENLab, 8-27 July 2014, University of the Free State in Bloemfontein, Cape Town, alongside the Vryfees festival; www.openlab-southafrica.co.za
Selected articles
Making sense of place & relocation
Ilana Cohn: Campbelltown Arts Centre, Temporary Democracies
RealTime issue #117 Oct-Nov 2013 p32
Live art from demolition
Keith Gallasch: Michael Dagostino, Paul Gazzola, Temporary Democracies
RealTime issue #116 Aug-Sept 2013 p32
Oh how they danced!
Virginia Baxter: Oh I Wanna Dance With Somebody
RealTime issue #112 Dec-Jan 2012 p2-3
Janie Gibson, Lenox, Massachusetts, USA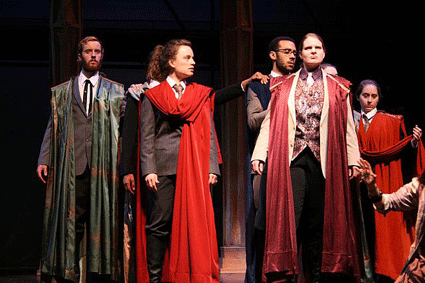 Janie Gibson (second from left), Shakespeare and Company Conservatory, Lennox, Massachusetts
Lenox is a small town in the Berkshire Mountains of Western Massachusetts. I was drawn there to study the theatre practices of Shakespeare and Company who made their home in the area in 1978. I spent 6 months there last year, immersed in the company's work through the Conservatory training program for actors and as a teacher trainee in the Month-Long intensive Workshop. I was there during the 'Fall' and Winter months and loved watching the leaves change colour, eating apple-cider donuts, using Laundromats and getting used to the filtered coffee.
I am an actor, education artist and theatre maker. My work is rooted in Polish ensemble theatre, Shakespearean performance and devising original pieces. Lenox is a place in which I have transformed and discovered new things about myself, my voice, my work and how I want to live in the world.
'Speak what we feel, not what we ought to say' is one of the closing lines of King Lear and a principle underpinning the practice of Shakespeare and Company. Through this training I found my voice as an artist and human being. I learned how to investigate and perform Shakespeare and in doing so discovered the power, joy and importance of telling these stories. I experienced the strength I have as a woman and my capacity to effect other people through my words, actions and voice.
Shakespeare and Company was founded on three pillars of training, education and performance. The company runs world-renowned actor training programs, a popular summer season of performances and an extensive program of transformative education work. I am hoping to return to Lenox in September this year to work as a director in the annual Fall Festival of Shakespeare.
http://www.shakespeare.org/
<a href="http://www.linklatervoice.com"http://www.linklatervoice.com
Cat Jones, New York (between Billyburg and Beaverkill)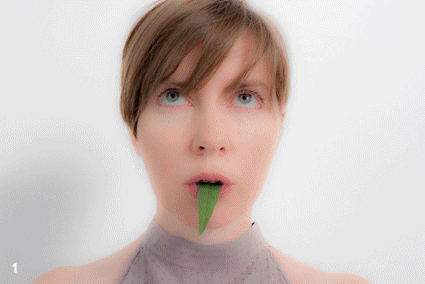 photos Cat Jones
1) Cat Jones, Transcontinental Garden Exchange 2) From the other side, New York; 3) Ladybake 3000, Catskills; 4) Entrance to the Fragrance Garden, Brooklyn Botanic Gardens Library; 5) Intelligent Slime Mould, Genspace, New York
In New York I can start a conversation mid-sentence addressed to no-one in particular and be sure that whoever is nearby will pick it up and carry on. I can walk the street, give directions to a stranger and end up at dinner with same, a dogma changing neuroscientist.
For me, New York is a place I can turn up in and feel like I'm home. A similar summer 11 years ago seasoned me with lifelong friend collaborators and artistic turning points. I was enamoured to see if we still feel the same way about each other. We do.
2013 was a year of cumulative cities for me, rolling in from a retro media art and feminism party reunion, Berlin; a winter retreat with plants and edible olfactions, Brussels; pounding through ideas, SXSW, Austin, Texas; spilling sensory performance and brittle papers, London; and balancing unbalance in Noosa. When I arrived in New York I carried the politics of touch from Performance Studies International 19, Stanford, packing stinging debates on methodology and mind blowing science from the Plant Signalling Conference, Vancouver along with a personal preview of Michael Marder's Plant Thinking. Within four days of arriving I had an unexpected exhibition of my work in progress for Transcontinental Garden Exchange at point b. Simmer on high in the midsummer heat of New York for seven weeks. Season to taste.
So begins lucid dreaming in New York: public lectures on demand, Weird Wednesdays, behold intelligent slime mould, Secret Science Club, DNA sequencing, Genspace, library daze from florilegia to perfume, the Centre for Feminist Art, conversation with strangers, Live Sound Cinema, Amateur Night at the Apollo, rooftop thinking, urban foraging, the tall green of the Catskills shimmering in my ears, Beaverkill's Ladybake Art Hole 3000.2 Extreme Croquet, art that grows, eats and sleeps out on the banks of the Hudson and the greenest queerest performance heroine introduction demand "Who is this eating my front lawn?".
http://catjones.net
Cat Jones will be presenting Anatomy's Confection, On the Clitoris, Proximity Festival 2014, 22 Oct-1 Nov, Fremantle Arts Centre; http://proximityfestival.com/
Selected articles
Together, listening to landscape
Gail Priest: Wired Open Day 2014, The Wired Lab
RealTime issue #121 June-July 2014 p28
realtime tv: Sarah Last, Wired Open Day
RealTime Profiler #3, 21 May, 2014 online
Intimate transformations
Astrid Francis: Proximity Festival 2013
RealTime issue #118 Dec-Jan 2013 pg41
Teik-Kim Pok, Singapore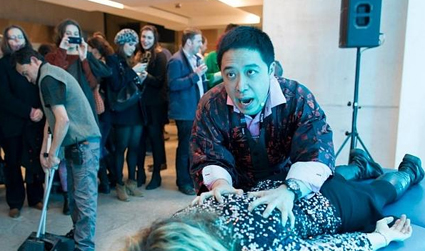 courtesy the artist
Teik-Kim Pok, Karaoke Massage, ArtBar, MCA
My foundational perspectives on identity were defined by a period of living in two cities within close chronological proximity—first London as a pre-schooler in the 1980s and then ex-colonial metropolitan outpost, Singapore, all the way through to the end of high school years in the 1990s.
Having lived in a fairly multicultural part of east London, I fitted in nicely and any attempts to make me feel like an outsider washed off like water on a duck's back. When I got to Singapore, my early struggle to understand any Mandarin in the government-mandated 'mother tongue' classes for kids of Chinese heritage led to being labeled a 'banana.' Even though Mandarin was only one subject alongside every other subject that was delivered in English, I sought further refuge in the English-language theatre scene, aided by a prestigious boys school education. Only after leaving did I have an appreciation for the bilingual and unique bicultural perspective I'd gained, perhaps at the cost of stunted socio-political awareness.
Most of my work treads this overlapping territory in ways that cite and satirise recognisable Western pop cultural influences through a postcolonial Southeast Asian lens. The most enduring example of this is Karaoke Massage, which deals with conflating expectations of both cultures. Dressed in a lab coat, as I sing English evergreens and top 40 hits over the top of a tissue-busting backrub, I actively resist a few narratives at once—of a corporatised Asian by co-opting stereotypical health service tropes but also using hegemonic Western pop against itself.
Later this year at PACT's Tiny Stadiums, together with Kevin Ng at the Mook Gwa Institute, I will be shedding light on the rise of the diasporic Chinese middle class property obsession over Sydney's urban landscape.
Selected articles
Boy on the edge of obliteration
Teik Kim Pok: True West Theatre, The Violent Outburst That Drew Me To You
RealTime issue #119 Feb-March 2014 pg. 38
Teen girl brutalism
Teik-Kim Pok: Casula Powerhouse, Tough Beauty
RealTime issue #117 Oct-Nov 2013 pg. 38
Performative re-assemblings
Virginia Baxter
RealTime issue #51 Oct-Nov 2002 online
Jodi Rose, Ljubljana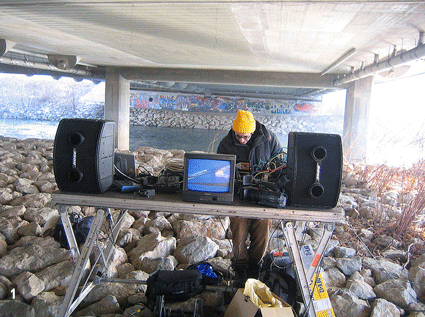 3) Luka Princic & Luka Dekleva listening to the Bizovik Bridge, photo Jodi Rose; 4) Jodi Rose, T.R.A.C.E.S, Ljubljana 2010, courtesy the artist
Ljubljana: 1) Luka Princic & Jodi Rose, Bizovik Bridge, 2007, photo by Cym; 2) Luka Princic, mixing live sound under Bizovik Bridge, 2007, photo Jodi Rose;
Ljubljana was high on my list when I dreamed of Europe, after seeing the documentary Predictions of Fire, about the infamous NSK (Neue Slowenische Kunst) art collective.
My first visit is to perform at Break 2.3 Festival "New Species," where I collaborate with video artist Luka Dekleva. Luka arranges a rehearsal at his apartment and we spend an afternoon playing bridge sounds and video with increasingly psychedelic effects, helped by the judicious ingestion of Medica, the local honey liqueur. Creative friendships and the evolution of projects through ongoing personal connections are the reasons that Ljubljana will always hold a place in my heart. That and the Medica.
My second visit is three years later and Luka has arranged a short residency through his music and festival production company CodeEP, with technical support from Kapelica Gallery and finance from the Ministry of Culture, Slovenia. We spend Christmas Day under the Bizovik Bridge, a cable-stayed structure in a bleak wasteland on the outskirts of town. Luka D, Luka Prinčič and I amplify the bridge and hold an impromptu performance for people out walking their dogs in the snow. The bridge is on the 'POT' Path of Remembrance and Comradeship around the outer edges of Ljubljana, commemorating the resistance and underground Liberation Front.
Our recorded material is processed and re-invented in a live 'expanded' cinema performance at plush refurbished cinema, KinoDvor. In celebration, the boys take me to Metelkova, the internationally renowned "autonomous cultural zone" created on the site of the former military barracks, now home to artist studios, galleries, bars and clubs. I am initiated into the secret "dark room" bar, Jalla Jalla and introduced to Slovenian Bear's Blood. The homemade schnapps almost kills me, yet I make it back into town for a club night at K4.
I am thrilled to meet the boys again in Linz, where they are part of the featured Slovenian Art Scene at Ars Electronic and I am cruising the Danube with the European Sound Delta. We play an impromptu gig on the ESD boat and I am tickled to find that my name is listed on the wall of the international arts scene in Slovenia. (Here the performance on SoundCloud.)
Ljubljana's beautiful setting, nestled between a fairytale castle and the Ljubljanica river, gives the city a great deal of charm. In winter there is a magnificent display of galaxies and comets through the winding cobbled streets, the alternative to Christmas lighting designed by one of the country's most famous painters. The romantic story of Francè Preseren, Slovenia's national poet, is commemorated with his statue gazing across Preseren Square. I suggest a stroll along the river to find antique bookstores, experimental fashion and fabulous cake at Kavarna Zvezda,14 Wolfova ulica.
On my third, and most recent trip I am there as co-initiator and facilitator of TRACES, a cultural exchange project funded by the European Commission with partners in Belgium, Lithuania, Germany, Finland, Hungary and Slovenia. We are part of EarZoom, Sonic Arts Festival organised by IRZU Institute for Sonic Research. Opening night of the festival ends on a high note with cocktails atop the Neboti?nik Skyscraper Bar, the first 'skyscraper' in Ljubljana. The mix of high culture, serious philosophy and friendly conviviality makes every visit a lasting pleasure.
http://jodirose.tumblr.com/ http://singingbridges.net

Singing Bizovik Bridge from Luka Dekleva on Vimeo.
Selected articles
RT Traveller: Barcelona, Spain
traveller: jodi rose, sound artist, writer
Online edition 6 March, 2012
Bridge odyssey
Gail Priest talks with sound artist Jodi Rose
RealTime issue #66 April-May 2005 pg. 50
Earbash review: Jodi Rose & guest artists
Singing Bridges: Vibrations/Variations
Online Earbash, 2005
Jon Rose, Berlin (1980s)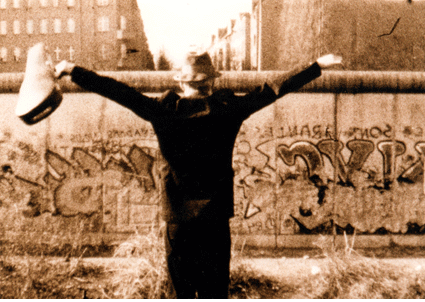 courtesy the artists
Berlin Wall and Jon Rose, stills from a film by Konstanze Binder 1990, Rosenberg Museum Archive
All you need to know about how bad the former DDR (East Germany) was can be gleaned from the official records of the victors of the Cold War and writers, such as Anna Funder, who have jumped on the band wagon and weren't even there.
I lived in West Berlin from 1985, but spent much time in East Berlin—indeed I played a number of tours in East Germany. Yes, state sponsored concerts of free improvised music in concert halls, galleries, cinemas and clubs to full houses. My final tour before the place collapsed and the population committed political suicide, consisted of 13 concerts in 12 days, two matinees, and one day off—all paid generously in advance. Of course, if I had been strumming three chords on a guitar and singing about the limitations of the East German government, I would never have gotten the gig. But as it was, "free" improvised and experimental music was considered art by the authorities and thus acknowledged an important part of state culture and community. East German musicians could travel abroad as cultural ambassadors.
My escapades back and forth over the border between West and East, clothed me in the garb of a bit character in a John Le Carré novel—alternative realities, loaded double meanings, Cartesian sign posts, the yellow haze of the smog blowing over the wall from the East and a strange twilight world of opportunities, surreal misunderstandings and dangers too, occasionally. I was once arrested for crossing the border with my 19-string cello. As the guard at Check Point Charlie pointed out to me, "That's not a cello, a cello has only 4 strings! Do you think we are all stupid over here?"
My experiences and stories from this time could fill a book, but we live our music and culture so much in the past these days, I'll stop right there.
http://www.jonroseweb.com
Selected articles
See our Archive highlight featuring all our coverage of Jon Rose since 2001.
http://realtimearts.net/feature/Archive_Highlights/11397
David Young, Weissensee, Berlin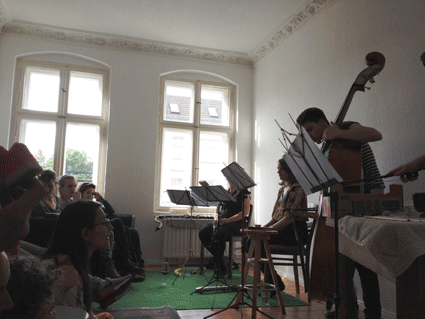 courtesy the artist
Rebecca Lane (flute), Aviva Endean (clarinet), Jonathon Heilbron (bass) and Matthias Schack-Arnott (percussion), Quiver, performing David Young's 'Not Even Music' in Berlin-Weissensee, 28 June 2014
Saturday 28 June 2014
7:00am Up early to go for a run, followed by morning skinny dip in the lake (Weissensee literally means 'white lake') that gives this district of Berlin its name.
8:07am Breakfast Skype with a Melbourne friend to debrief about shows I've seen this week which included a chamber opera by Sciarrino, a radical reimagining of Purcell's The Faery Queen by Helmut Oehring and then a reconstruction of Oskar Schlemmer's Bauhaus invention, The Triadic Ballet. Haven't even scratched the surface of what Berlin offers up every week.
11:12am Wander around my local village, the 'Componisten Kiez,' where all the streets are named after composers (Bizetstrasse, Smetanastrasse, Schoenberg Platz). Wind up in Weissensee Jewish Cemetery, ancient, ivy-covered and (according to the caretaker) bigger than the Vatican City.
2:00pm (Australian) Quiver Ensemble arrive at my apartment to rehearse "Not Even Music" a new piece I've just composed employing watercolour as graphic music notation. Rebecca Lane (flute), Aviva Endean (clarinet), Jonathon Heilbron (bass) and Matthias Schack-Arnott (percussion) tackle it with their usual passion, openness and virtuosity.
5:47pm People begin to arrive for the house concert. Ute, a photographer, has brought her own thermos of tea. Enrico, a dance therapist, has brought brochures for his Samba workshops. Meggie, a curator, has brought wine and a bunch of exotic weeds. Soon the kitchen is packed, the living room is rearranged, windows are flung open, cushions and rugs repurposed.
6:29pm The world premiere of "Not Even Music" lasts 42 minutes and coincides exactly with the Chile-Brazil World Cup match, so the neighbours don't even notice the thunderous crescendi. Post-performance exuberance ensues.
9.04pm Find myself in a bar in Neuköln, half of which is in police lockdown due to a standoff between the city council and refugee squatters. Machine guns everywhere.
11:49pm Cycling home under the Television Tower in Alexander Platz which is as busy now as any other time of day.
http://www.chambermadeopera.com/people/David_Young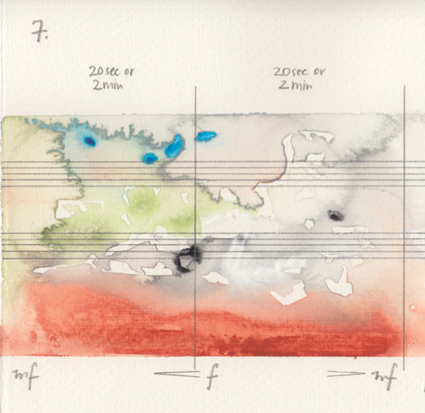 courtesy the artist
Not Even Music! (detail), score, David Young
Listen to David Young's 'Not Music Yet' (the first in this watercolour graphic notation series) performed by pianist Zubin Kanga https://soundcloud.com/zubin-kanga/not-music-yet-by-david-young
Selected articles
The consolations of philosophical theatre
Matthew Lorenzon: Margaret Cameron, Opera for a Small Mammal
RealTime issue #119 Feb-March 2014 p48
From the living room into the world
Keith Gallasch: David Young, Chamber Made Opera
RealTime issue #108 April-May 2012 p36
New director, new opera
Keith Gallasch: David Young, Artistic Director, Chamber Made Opera
RealTime issue #95 Feb-March 2010 p50
RealTime issue #121 June-July 2014 pg. web
© RealTime ; for permission to reproduce apply to realtime@realtimearts.net