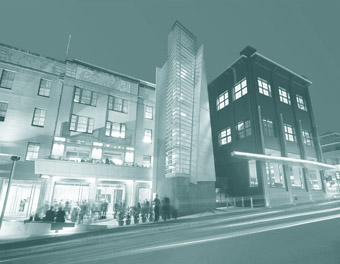 IMA entrance, Judith Wright Centre of Contemporary Arts
On the edge of Fortitude Valley, as Brunswick Street heads into New Farm, just minutes away by car from the remarkable Brisbane Powerhouse is another astonishing addition to the Queensland arts scene—The Judith Wright Centre of Contemporary Arts (JWCCA). At the very moment that post-election rumour sweeps Australia suggesting to the small to medium performing arts companies that the federal inquiry into their well-being will come to nothing, here is a new, magnificently equipped home for 7 Brisbane-based contemporary arts companies and organisations: IMA (Institute of Modern Art), Expressions Dance Company, Rock'n'Roll Circus, Kooemba Jdarra Indigenous Performing Arts, ELISION new music ensemble, AFTRS (Australian Film Television & Radio School, Queensland branch) and The Arterial Group.
JWCCA is big, 2 buildings fused into one by Michael Rayner of Cox Rayner Architects: the old Empire office furniture store (facing the main road) and, behind it, the Bushells tea and coffee factory (the artwork faded but still visible from the street). Near the corner of Brunswick and the adjoining side street, a glass tower gives the building its unity and contemporary character. A few steps down the side street and onto a gently sloping terraced courtyard (bounded by a low stone wall inscribed with some of Judith Wright's verse) and you're at the glass-walled entrance to the IMA. Back on the busy main road, the building is lined with shopfronts waiting to be leased and the main entrance. The latter gives immediate access to the theatre at the centre of the building, those organisations on the ground floor, and, wisely, alternative access to the IMA. The foyer includes an installation (not functioning on my visit), a dedication to Judith Wright, the poet and activist after whom the building is named, lift access to the other levels of the building, a bar and an adjoining outdoor balcony.
For IMA Director Michael Snelling and Expressions General Manager Abel Valls the journey to the opening of the centre has been a long hard haul over many years. A mid-90s Green Paper on the needs of small to medium arts organisations prompted the Coalition state government to purchase the site. A change of government to Labor meant re-charging the project, seeking the support of Arts Minister Matt Foley, who persuaded cabinet colleagues to run with it, and investing an enormous amount of time in negotiating with organisations and architects. Valls says that he and Snelling once estimated that they were each spending at least a day per week on planning and negotiating for years. Issues included getting the theatre right, providing quality studio spaces for the performing arts companies, sane acoustics (with performing arts companies working in such close juxtaposition), security, live-in artist studios, workshops, a loading dock, freight lift and good storage space. The cost was $15.25m and the building and everything in it looks worth every cent.
The companies pay rent for their spaces and the theatre is available for hire to outside users. It has a large, flexible performing area, excellent height and a catwalk, freight lift access to all levels, excellent lighting equipment and seating for 200. The seating is retractable (push-button, 15 minute operation) making the space ideal for all kinds of performance. For a company like Expressions, the number of seats means that while the theatre will be ideal for developing new works, for small seasons and hosting guest companies (like Singapore's Odyssey Dance Theatre in 2002) its not going to achieve the kind of box office that their Queensland Performing Arts Centre seasons do in a couple of weeks. But, says Valls, the JWCCA provides them with the very flexibility they need.
Under the artistic direction of Maggi Sietsma, Expressions tours internationally, throughout Queensland and beyond to schools and art centres, and runs choreographic workshops and community dance classes. Their major operations are now very much under one roof and the JWCCA is custom built to match the company's needs. Valls says that within a few weeks the company felt totally at home in the building, a significant test after spending 15 years in their previous one above a Hare Krishna restaurant and miles from their 2 storage spaces out near the airport. A stairway leads up from the company offices (reception, direction, management, production, promotion, design etc) to a large dance studio with lighting bars (for workshop performances for audiences of up to 60), a perfect dance floor (the best of some 6 prototypes), natural light, and the choice of fresh or conditioned air. Expressions christened the new theatre with Sketches III revealing its capaciousness and versatility.
Rock'n'Roll Circus, one of Australia's leading physical theatre companies, has a more modestly sized office but a very impressive studio with plenty of height for performers to swing and to toss each other about. Artistic Director Yaron Lifschitz is clearly very pleased with the space and the facilities. The theatre though is of less immediate significance because of the hire cost and the company's successful partnership with the Brisbane Powerhouse. However, the JWCCA is ideal for the company for rehearsal, management and the projected creation of their Circus Training Centre and for community workshops including with young blind people in a project with the Royal Blind Foundation. Like Expressions, the JWCCA is a base for national and international touring, with New Zealand and Europe in the company's sights.
ELISION new music ensemble has an impressive record of extensive national and international touring and collaborations (see Dark Matter, p36). ELISION's brand of contemporary music can at times be aggressively if sublimely loud. Abel Valls claimed he could sit in his office and not hear Daryl Buckley, ELISION's Artistic Director, practising the Transmission electric guitar series for Dark Matter in the studio below.
Also resident in the Judith Wright Centre are Kooemba Jdarra who nurture Indigenous artists in all aspects of theatre and have a fine track record of premieres and touring works. The community new media Arterial Group were featured in RealTime 45 (p29) with their monumental, international collaboration with San Francisco sound installation artist Barry Schwartz.
IMA has 3 gallery spaces, 2 workshops and 3 fully furnished artist studios. The substantial gallery spaces, 2 of them large and one intimate, all currently feature works by Queenslander Robert Macpherson. These are fine, cool, spaces to wind through taking in Macpherson's droll vision. IMA can present 15 to 20 exhibitions involving around 100 artists a year, as well as publish 10 titles ranging from small catalogues to substantial volumes containing the work of some 50 writers and artists. The JWCCA should give the IMA the increased visibility it warrants.
There are some challenges for JWCCA. The name of the centre is hardly a good hook for attracting audiences. As well, while it's nice to honour Judith Wright, it's a little odd to do so in a centre that has no literary organisations. Certainly the name of the theatre (as yet unannounced) will need careful consideration. The kind of stores that front the building will also shape public attitudes. A couple of the centre's residents thought that a bookshop (in a large suburban area devoid of one) would be ideal…but unlikely. One thing however seems certain, Fortitude Valley and the densely populated New Farm with its growing number of restaurants, cinemas and cafes and a 25-40 age demographic, could provide an immediate audience for the JWCCA theatre and gallery.
The most significant thing about the JWCCA is that it is that Australian rarity, a civilised, well-appointed home for arts companies where they can develop new work, sustain extant work, teach, workshop, have artists truly in residence and be accessible to the other artists and the public. Like the very different Brisbane Powerhouse (a performance venue, but crucially also a producer), the Judith Wright Centre for the Contemporary Arts is a complex production house, a model for other Australian states to take a long serious look at.
While most of the major arts companies of Australia provide expensive entertainment to those who can afford it, it is the smaller creators who are the innovators, uniquely representative of Australian culture and much more likely to be welcomed and applauded overseas. In most other states of Australia, companies of this scale desperately await the justice that will give them decent working conditions and homes in which work can be consistently developed.
The Judith Wright Centre of Contemporary Arts, 420 Brunswick St Fortitude Valley, Qld.
RealTime issue #46 Dec-Jan 2001 pg. 4
© Keith Gallasch; for permission to reproduce apply to realtime@realtimearts.net