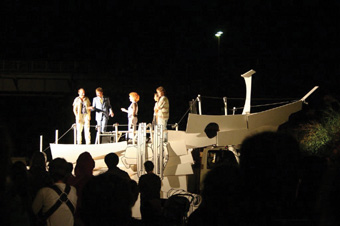 photo E. Matejowsky
The Flood
Noah's job of getting pairs of the world's animals onto the ark must have been a whole lot easier than moving some 1000 people through the streets of Lismore for the final night of NORPA's The Flood. What could have been an effective tale soon became a distended epic, far removed from the economy of the comic Noah's Flood of the great mediaeval English Mystery Cycles. But once we got to the riverside for the final act things looked up and that's where most of the music happened with a small but very effective big band.
The Flood opens at an old school, now an arts centre, video monitors peering out of windows blinking images of the floods that have beset Lismore, accompanied by a projection of a flood level marker. On the ground there's a truck dressed up like a ship, a modern version of the mediaeval float we recognise from modern street pageants. Neville, The Flood's Noah, is a former plumber. He's the town's mayor and a man with an evangelical mission and a wary wife, in the classical Mrs Noah manner. Before Neville can get things going a 950 year-old prophet, a dirty, hairy man, tumbles from a carboard box, ready to predict the next Lismore flood. Neville's not interested, he wants the town's population to follow him on the straight and narrow.
The choir sings neo-gospel and we're on the way into the back streets of Lismore. A garage door rolls up to reveal a large video screen featuring locals telling their stories of floods past. Neville and team quibble on the float (out of earshot at this point). Pairs of animals played by local children in immaculately made masks pass almost unnoticed through the dense crowd (we get to appreciate them later). We enter the Star Theatre by the fire escape to find it post-flood—the aisles and seats littered with possessions and wreckage, nets decked with photos, and more video footage of disaster, all cast in a grim blue light. A couple of blocks away we stop beneath a bridge with Neville's float to witness an elaborate tussle between the mayor and the prophet who would like to end his career with a proper death by drowning rather than be recycled through more floods to come. The script hits and misses with the audience, the song delivery is wobbly. There are some nice jibes: "A flood is not a miracle in Lismore."
Finally we crowd onto the riverbank, flood workers guiding us about, passing sandbags. There's a band on a stand powering out Michael Hannam's well crafted, dynamic mix of Latin, jazz and contemporary classical compositions. The old timber building at the end of the road turns out to be an illusion, a giant magical screen transforming variously into shadow plays, broadcasts of flood news and powerful images of swirling waters changing in colour, complexion and power. For Neville the flood is a time for revelation, "to get to know who you are." But his epiphany is realised as a parade of cut-out white goods and the latest technology, in pairs!
Tension builds as water levels are reported to be rising, ebbing and then building again. Opinions contrast. An expert would like a little flood to see if the new levee will work. An Aboriginal woman tells how her people in the century before last watched in astonishment as the Europeans built down on the flood plain. Shadow figures rescue people and furniture, rushing about against mournful classical-jazz clarinet, bass and drums, with the organ calling forth until thundering, followed by a quick subsiding…Will the flood come? Optimistic partying is evoked by Latin numbers clashing with disturbing video imagery. One way or another, everything is eventually resolved. Neville, lost in the flood, is recovered in person and spirit, and the prophet set free. The question remains on the screen, 'Can Lismore save itself from another large flood?' The music parties on.
The Flood had its moments. As a blend of theatre, installation, video and concert it worked best when its images were strong and concise. However, big street theatre of this kind cannot sustain an elaborate script, let alone sometimes convoluted satire. It needs something spare that goes straight to the point and can make many of its points physically. Sure, the big crowd slowed things down until the last act on the riverbank, but the work itself lumbered along regardless of the multitude of talent involved. However, if you want proof that there's an audience for work on this scale, The Flood was evidence of curiosity, patience and an encouraging sense of community.
NORPA, The Flood, writer Janis Balodis, composer Michael Hannan, director Patrick Nolan, designer Kathryn Sproul, lighting Bernie Tan, sound design Colin Black, instrument builder Steve Langton, visual artist Craig Walsh; Lismore CBD, April 8-10
RealTime issue #61 June-July 2004 pg. 55
© Keith Gallasch; for permission to reproduce apply to realtime@realtimearts.net