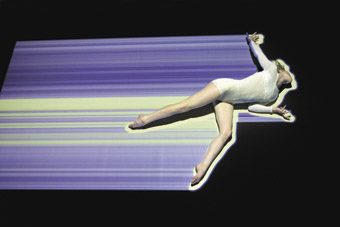 Kristy Ayre, glow, Chunky Move
THEATRE LIGHTING ELUCIDATES MOVEMENT AND GENERATES MOOD. DESIGNER MAGICIANS SEDUCE YOU INTO BELIEVING THAT LIGHT EMANATES FROM THEIR SUBJECTS OR THAT DANCERS MOVE AND SHAPE THE LIGHT ABOUT THEM.
In Chunky Move's Glow we are moved onto another stage in illusion-making: the dancer really does determine the extent and patterning of the light field.
We're positioned around and above the dancer, her floor is the screen. That which lights her—video projections doubling as light source—is also moved by her. The machinery responds intelligently. Light trails behind her in painterly sweeps as she drags herself across the floor, shoots out grids around her supple frame from moments of tiny movement, and forms shadows from which, remarkably, she walks away.
We've seen performers trigger sound and light before, but not like this. As with such demonstration model stuff, you need a bit of sturm and drang to show it off. Glow offers just that in its dynamically immersive 26 minutes. The emergent art tool is at one with the dancer's body in an account of an emergent organism, a huddled in-human shape inching across the screen-floor pulsing out colour and light and gradually assuming human proportion as it stretches and unfurls. The imagery it generates is initially a clean geometry but, once the evolved woman stands and walks, the floor blooms into dark shapes beneath her. These are the shadows she leaves behind. But she is no longer alone as they threateningly glide up to her. No longer the sole generator of light and life, fangs bared, she unleashes a guttural primeval cry. Evolution is suddenly more complex, as frightening as it is beautiful.
Glow, created for Chunky Move by artistic director Gideon Obarzanek and German interactive software creator Frieder Weiss, and with an engrossing score from composer Luke Smiles, was performed nightly by three dancers in turn (Kristy Ayre, Sara Black, Bonnie Paskas) for the Sydney season. The demanding choreography is at its best in the early stages of creature emergence where every nuanced movement of limb, torso or hand yields subtle transformations in the world around the dancer, the very world she is also creating.
–
Chunky Move, Glow, The Studio, Sydney Opera House, March 21-25
RealTime issue #78 April-May 2007 pg. 34
© Keith Gallasch; for permission to reproduce apply to realtime@realtimearts.net