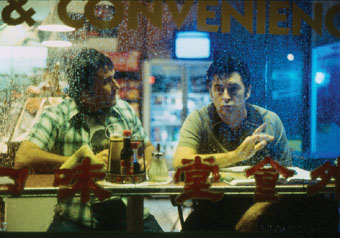 Roy Hollsdotter Live
It's been a satisfying year for Melbourne's emerging film talent, particularly in short film. Harvie Krumpet won top animation prizes worldwide. Roy Hollsdotter Live bagged major awards for script, cinematography and editing. Excursion gained a passport to the world's key film festivals. Cracker Bag wowed them at Cannes. Melbourne filmmakers are visible, and it's tempting to whip out the old "tale of 2 cities" cliché. Let's stick the middle finger up at big, bad Sydney with its Fox Studios and big-budget Hollywood productions. Why not champion Melbourne and its risk-taking, commercially unsound shorts?
A look at this crop might even suggest that Melbourne will underwrite the next wave of Australian feature-film makers. But whether any of the principals make a feature depends upon many inflexible factors, a few illogical ones, and many frustrating hurdles that, in cash-strapped times, no amount of success or community pride can seem to overcome. Some points to consider then: Is Melbourne's status as a centre of short film renaissance by accident or design? What's so good about short film? Can you define a 'Melbourne film', or even a Melbourne film community (and why would you bother)?
Nick Feik, Melbourne International Film Festival's short film coordinator, agrees that it's been a great time for some Melbourne films. But he's not sure "if it's anything more than chance that they came out of Melbourne in the same year. Those successful filmmakers have ideas that are in some ways atypical even in Melbourne, and each has been working hard making films since at least the middle of last decade." Still, he notes, "the filmmaking community in Melbourne is a supportive one in which success is applauded rather than a cause of jealousy."
That support is appreciated by Melanie Coombs, Harvie Krumpet's producer. Originally from Sydney, Coombs chose Melbourne to launch her producing career. Her Melodrama Pictures office is in a Fitzroy building that's home to a gaggle of production companies, including Sue Maslin's Gecko Films (Japanese Story), Trevor Blainey's Retro Active Films (Roy Hollsdotter Live), and Richard Keddie and Andrew Wiseman's Apollo Films. According to Coombs, "In this building we're competing for the same funding and that can be hard, but we choose to work as a community. That doesn't exist in Sydney."
Coombs is wary of making broad generalisations but she does say Melbourne's communal aspect is perhaps due to "second-city syndrome, because all those Sydney people are out there being amazing. Maybe it's the weather…I don't really know. But there's no way I'd work in Sydney now. Here, people are more generous, more experimental. The commercial imperative is a big factor in Sydney."
Melbourne is undeniably strong in short film, but Coombs says you could turn that on its head and posit a crisis in feature film making in Melbourne. The point was made in RT 57 (p15) that while the AFC/SBSi/Film Victoria-funded 50 Minutes from Home scheme provides a valuable chance for new directors to make a so-called short feature, it's a bit pointless when there's no equivalent scheme for feature films. Sadly, a high profile in short film doesn't guarantee anything about your next project.
It seems that a generation of filmmakers is being held back from making feature films (and that's not just a Melbourne thing). The names attached to current Australian features—like The Wannabes—have a depressing sameness. Funding structures appear to protect those already securely making films. Trevor Blainey worked on 30 feature films as a production accountant before deciding to produce. He formed Retro Active in 1994 and it's taken him 8 years to get his first film up—Matthew Saville's Roy Hollsdotter Live. But even Hollsdotter's success, aligned with Blainey's extensive experience in the industry, won't open many doors when it comes to funding.
According to Blainey, everyone wants to make films and resources are undeniably thin, so the funding bodies try to raise the bar. "Both the AFC and Film Victoria are now saying that producers can't access development funds unless they've produced 2 hours of television drama or feature film. Even though Matthew and I just made a film which has been widely praised and nominated for everything it could have been, because it's only 53 minutes long it doesn't fulfil that criteria."
But Blainey pushes on and, like Coombs, is grateful to be part of that tight-knit Melbourne film world. "The sharing of resources is useful to us all. If things are going to be awkward financially you might as well be in it together, rather than working from the second bedroom at home—which is what most people are forced to do."
For Blainey, scraping for resources does impart a particular feel to the films that get made in Melbourne—Roy Hollsdotter Live was originally touted as one of the AFC's "million dollars movies", but was retooled for 50 Minutes From Home when funding ran out. He, too, can't resist jokes about the weather playing a part. "Perhaps the crummy environment—downtrodden, wet and grey—has something to do with it. But it could be this: if you want to go and make one of the major TV programs or work on a high-budget American picture, then you're going to go to Sydney because that's where the studios are. What that leaves Melbourne to be good at is lower-budget, gritty urban dramas. I guess we gravitate to what the economic possibilities are. I'd like to think it's a state of mind. I'd like to think it's the talent base. But it's probably not."
Melbourne's weather has also made an impression on Cracker Bag's writer/director Glendyn Ivin, who moved to the city a decade ago due to "some kind of romantic notion that it was more conducive to making films. I'm not sure if that's true or not. There is a smaller community here and that's probably good. Maybe working in Sydney or Melbourne depends on whether you want an overcast or sunny backdrop to your films. Give me overcast any day!"
Naturally, Ivin aspires to be a fulltime feature film director, but he doesn't think that's possible in Australia, let alone Melbourne. Like Adam Elliot, he hasn't been pushed into a rarefied atmosphere by Cracker Bag's Cannes hype. The only change he's experienced is that "people are more likely to take your calls and meet with you. Before, that wouldn't have happened."
Ultimately, then, there are 3 things that we can assert about Melbourne: its environment affects those who make films there; those who make films there are really good at making shorts; and being really good at making shorts doesn't necessarily mean you will be "promoted" to making features. Actually, being really good at making shorts won't even guarantee that those shorts will be seen. As Ivin notes, "Short filmmaking in Australia is seen as something students do or as a way to get attention from ad agencies. It's not seen as a stand-alone art form like in other parts of the world. When I was making Cracker Bag, people would say, 'How will I see it?' and my honest response was, 'Well, you may not!'"
Adam Elliot knows why that might be. He recently attended a meeting with some Federal MPs who wondered why shorts aren't shown before feature films. "[I] said, 'Why don't you pass a law that there have to be shorts before features?' And they said, 'That can quite easily be done.' But at the end of the day you're up against advertisers—and a Coca Cola ad makes more money."
RealTime issue #58 Dec-Jan 2003 pg. 22
© Simon Sellars; for permission to reproduce apply to realtime@realtimearts.net