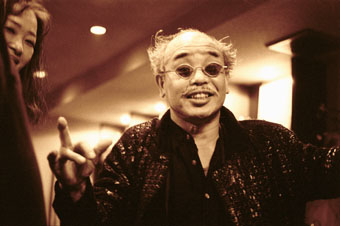 Tokyo Noise
Although documentary film is increasing in popularity, it's still fairly rare to see it on the big screen. More feature length documentaries are achieving commercial release; Spellbound, Capturing the Friedmans and The Fog of War, all American, are currently screening in Australia. However, the scale of the field is vast (see Tom Zubrycki's account of The International Documentary Festival of Amsterdam on page 15), and we encounter little of it here. Thankfully, REAL: Life on Film documentary festival is touring 5 Australian cities this year, giving audiences around the country a substantial experience of the latest in local and international documentary film in a cinema setting.
REAL: Life on Film aims to stimulate, celebrate and educate through the documentary form. This year's festival has a strong focus on the political, religious and social divisions running through Australian society and the broader global community. All the Ladies (director Mary Quinsacara) looks at the burgeoning culture of female hip hop MCs in Australia, while Trevor Graham's Lonely Boy Richard (RT58, p17) tells the wrenching tale of Richard Wanambi from north east Arnhem Land, who spends most of his life drinking alone and then imprisoned to escape the trauma of a community torn apart by violence and alcohol. Australian refugee policy is the focus of the opening-night short It's Like That (Southern Ladies Animation Group), while Pip Starr's short Through the Wire provides a revealing view of the Woomera break-out.
Many international titles will have their Australian premiere at the festival, including the opening-night feature Angels of Brooklyn (Camilla Hjelm, Martin Zandvliet). Against a sultry jazz score, Angels is an intimate portrait of 3 Puerto Rican girls living in one of New York's most impoverished areas. Tokyo Noise (Kristian Petri, Jan Roed and Johan Soderberg) looks at life in the ultra-modern Japanese metropolis, while in contrast, Riles: Life on the Tracks (Ditsi Carolino) take us into the distinctly un-modern slums of Manila.
The festival's wide selection of shorts and features will also include filmmaker, writer and curator Ross Gibson presenting a very different approach to documentary, the interactive work Life After Wartime (Gibson, Kate Richards), comprising an intriguing mix of crime scene photographs from 1945 to 1950, haiku-like text and a haunting soundtrack.
REAL: Life on Film provides a big screen window on the world through documentaries that are investigative, poetic and innovative, many of which we will never encounter on our television screens. RT
REAL: Life on Film , Australian Centre for the Moving Image, Melbourne, April 29-May 5, other states to follow; details at www.acmi.net.au/reallifeonfilm.jsp
RealTime issue #60 April-May 2004 pg. 16
© RealTime ; for permission to reproduce apply to realtime@realtimearts.net