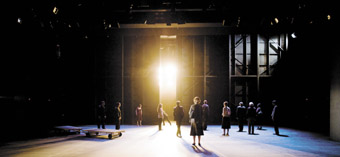 photo Brett Boardman
The Serpent's Teeth
THERE ARE THOSE MOMENTS IN THE THEATRE WHEN YOU FIND YOURSELF SUDDENLY DISTANCED FROM THE PLAYING, SENSING SOMETHING WRONG, YOUR OWN LACK OF ATTENTIVENESS PERHAPS, A SUDDEN DISTRACTION (AN INCREASINGLY COMMON MOBILE PHONE GLOW A FEW ROWS AWAY)…BUT IT'S NONE OF THESE. THE DISCONNECT FOR ME WHILE WATCHING SEVERAL PRODUCTIONS IN SYDNEY RECENTLY WAS A MATTER OF SPACE, SPECIFICALLY WHAT KIND OF WORLD THE DIRECTOR AND DESIGNER (SET, COSTUME, LIGHT, SOUND) HAD BUILT FOR PERFORMERS AND AUDIENCE TO INHABIT.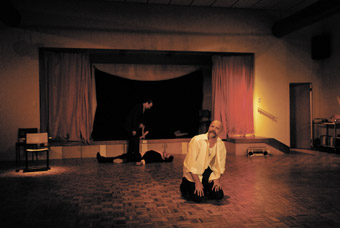 photo Heidrun Löhr
Antigone
antigone
Chris Kohn's Antigone for Company B at Belvoir Street Theatre attracted some reviewer ire for its contemporary community hall setting for a Greek classic. The complaint wasn't quite the usual one that the director had willy-nilly displaced the play from its original period to some inappropriate other (all those Shakespeares in tightless, ruffless gangsterland, fascist states and corporate sectors) but rather that having so meticulously established a humble community hall with designer Dale Ferguson he did little with it. Kohn writes in his program notes:
…I settled on the idea of a civic centre, a liminal space, home to no individual but which provides a temporary home for the thoughts, energies and interactions of a diverse range of people…I was interested in placing Antigone in this frame, as it is a drama in which private feelings are played out in a public arena, with very public consequences. The community centre offered the possibility of existing 'doubly'—as a room inhabited by a lonely troubled person in contemporary Australia, and as a refuge for modern Thebans, displaced by war and violence. The introduction of such a conceit has doubled the demands on the cast and creative team…
Liminal spaces, like the brilliant creations of Anna Viebrock for Christoph Marthaler, are increasingly de rigeur, as noted in these pages in recent issues. But as with any set design liminal spaces are only effective when they move beyond conceit to metaphor to active embodiment. Certainly there was a strong sense in Kohn's Antigone of "private feelings…played out in a public arena", not least because of Seamus Heaney's version of the play, a sublime, conversational melding of ordinary idioms and striking images, and because of the ease with which most of the cast dealt with the writing. That's where this ancient world felt most modern with Heaney playing up King Creon's anti-terror program ("everyone is an agent of the law", he tells his people), including his deployment of "anti-Theban" (grimly recalling "un-Australian"). It works too in Creon's son Haemon's scathing analysis of his father's rationalism that puts the law above justice, compassion and ritual observance (Antigone is to die for burying her brother, a traitor to Thebes in the war that Creon has just won).
But for a director who worked design so adroitly in The Black Swan of Trespass and Eisteddfod for his own company, Stuck Pigs Squealing, the everydayness of the setting for Antigone is not exploited. There is no sense of this hall being lived in, unlike, say Viebrock's design for Seemanslieder, other than citizens crawling like refugees with blankets out of cupboards below the stage in the play's opening moments. Likewise, the choreographing of movement is largely formal, carefully shaped in circles and straight lines as if transposed from ancient ceremonial theatre. While this might have made up for the considerable difficulty of evoking the power of the state in a community hall, it did nothing to render the design conceit meaningful. The formal and the informal simply didn't meet. That doesn't mean the conceit is without potential—it's not hard to imagine a more dangerous version of this Antigone, one in which the community hall is a living organism, with its own power plays and props, not simply a refuge or as it often appears, too temporary a space for all its palpable detailing. This is not a space that determines or resonates with action.
All of that said, I was engaged by much of this production, not least because of Heaney's text, Deborah Mailman's tragically obdurate Antigone, Hazem Shammas' Haemon (he best provokes Boris' Radmilovich's otherwise restrained Creon into naked anger) and Paul Blackwell's earnest and often rightly confused everyman Chorus. Gillian Jones as the blind seer Tiresias is a powerful presence, her terse staccato delivery has a curiously eerie touch of Aboriginal elder. Lighting designer Luiz Pampohla makes the most of limited opportunities, not least with a storm of flickering fluoros. Composer Jethro Woodward's score has a melancholy cool jazz feel, and turns tense and aptly martial. Even the calculated banality of Ferguson's design almost pays off because the issues writ so large—justice, faith, tradition, respect—are subjugated to the banality of political power that can only deal in absolutes.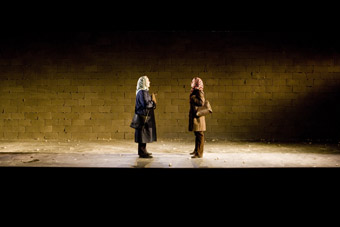 photo Brett Boardman
The Serpent's Teeth
the serpent's teeth
In The Serpent's Teeth, the STC Actors Company performs a complementary pair of Daniel Keene plays, War and Soldiers, using highly contrasting spaces. In Citizens, a Besser brick wall (a palpable but not literal evocation of the Israeli locking off and taking of Palestinian land) fills the width of the foreground of the Sydney Opera House's Drama Theatre stage, leaving a small, narrow pathway between wall and audience. People come and go, largely in pairs or meet in chance encounters, humiliated by deprivation and its compromises but ever helpful and quietly optimistic. The writing is spare, the mood essentially sad and, as ever with Keene, small pearls of wisdom are let drop for the taking scene to scene. Things are at their most interesting when he brushstrokes small irritations that become quietly consequential (our growing awareness from just two brief scenes that the brilliant Peter Carroll's begrudgingly affectionate but irascible old man is coming to grips with death) or larger tensions that remain unspoken—Pamela Rabe's direction heightens the awkwardness of two female friends exchanging favours they would rather not seek and which indicate subtle differences in status and fate.
There's a deliberateness in Keene's writing that design and direction match, Rabe pacing the intervals between arrivals very slowly to emphasise time, distance and curfew danger with lighting designer Nick Schlieper painting the wall in between encounters with the passage of sun, moon and shadow and sound designer Paul Charlier subtly texturing our listening with distant ominous noise. The play ends, without actors, with a massive helicopter take-off from immediately behind the wall, its spotlights and machine roar reaching out to subsume us all. Citizens remains quietly memorable, the stark design aptly evoking the fabulist Keene's everywhere-if-not-quite-anywhere world, like Palestine but not, like Beckett land but just that little more everday. The very real looking wall in Wall works, even if the timing of the comings and goings and the intervals in between feel too regular, too laboured.
At intermission that all too solid wall is flown out and the rubble at its base, so ever carefully negotiated by the travellers in Wall, swept away to reveal an enormous empty space like an aircraft hanger in which Soldiers will bring together the families of the dead from the likes of Iraq and Afghanistan. They anxiously await the arrival of the bodies of their sons, husbands, fathers and lovers and for the accompanying ceremony. They are variously in favour of or opposed to war, tangled in conflicting loyalties, jealousies and generational tensions. It's potent material, but with the large number of protagonists, numerous encounters and the play's short time span, the effect is soap opera-ish. We see rapidly melting tips of emotional icebergs—outbursts, clashes, quizzings, confessions—and guess at what's beneath. Some attain meaningful continuity, like an increasingly bewildered father (John Gaden) and a brother (Luke Mullins) whose antagonism grows as he feels ever less certain about why he's at this ceremony. Others, too many, float by, glimpsed too briefly, if too intensely.
This emptiness is amplified not just by the design space itself, which has great power, but by director Tim Maddock's deployment of it. He admirably emphasises the horrible emotional void these people face by exaggerating the physical distances between them (severely stretching the naturalistic envelope) and their relationship with the vast upstage sliding hangar doors, symbolic of the machines of war and euphemistic ceremony behind them. Maddock distributes his players neatly around the space in a nice choreography of existentially isolated souls but with little sense of the awkardness of being flung together with strangers, with hostile relatives and tense partners. Everyone projects furiously, as if at home in a vast, initimidating open space or imagine themselves somewhere else. Where is the desire for privacy, the fear of being overheard, the need to whisper, the discomfort of finding oneself, alone in grief, in a large crowd? Maddock mostly keeps his crowd thin (or set out like a spacious tableaux late in the play) instead of generating congestion—claustrophobia in an agoraphobic space. Perhaps that would have served Keene better, undercutting his rhetorical mode rather than simply amplifying it, reducing the melodramatic effect.
Finally, the aeroplane carrying the dead soldiers arrives like the 'copter at the end of Wall, but here instead of rising it's a vast decending light that likewise reaches out to grimly bathe all of us in its power and implicit misery. The design for The Serpent's Teeth was extensively realised from conceit to metaphor to embodiment, but the playing and the choreographing of actor movement corresponded too literally with the writing, becoming essentially illustrative and amplificatory, the last thing a Keene script needs.
rock 'n' roll
An altogether less fascinating experience was the MTC production of Tom Stoppard's Rock 'n' Roll for the STC. Here was a big conceit, the performance framed by a rock concert stage—huge speakers and scaffolding and a giant screen.
An inadvertant and uncomfortable dissident in Czechoslovoakia is educated in a leading English university and endures the various aftermaths of oppression, betrayals and unfulfilled love played out from the 1960s to more recent times. The Sydney Time Out reviewer blamed the show's failings on crude didacticism, inept history telling and the self-congratulatory tone of Stoppard's baby boomer mentality. I can assure him that not a few of that generation found Rock 'n' Roll witless (surprising for Stoppard), characterless (none of the power and passion of the music of the 60s and beyond, let alone anything of the Czech band that alledgedly inspired the play) and cliched (the indiscriminate Stoppard selection of songs and its accompanying film and video footage).
Why the concert stage design (from one of Australia's best designers, Stephen Curtis), cavernously framing conventional domestic scenes? There is a sentimental payoff when the surviving principals link hands across the stage at play's end to the roar of crowd and guitars. The awkward design for Rock 'n' Roll is another unlived-in space, an essentially empty concert stage for an empty play and as uncertain as Matthew Newton's accent (he's the naive protagonist, and oddly more British in temperament than Czech)—oscillating between Czech-inflected English and broad Australian as the intensity of the dramatic moment required.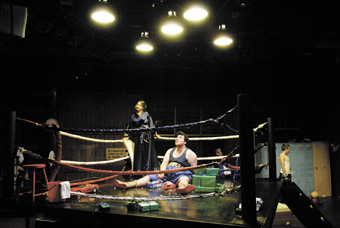 photo Heidrun Löhr
Phaedra's Love
phaedra's love
In infinitely more intimate surroundings—the Australian Theatre for Young People Studio One—director Kate Gaul, designer Alice Morgan and lighting designer Verity Hampson create a boxing gymnasium—replete with ring, lockers and plenty of bags for pummelling—for Sarah Kane's Phaedra's Love, her adaptation of Seneca's Phaedra. The creative team take the boxing conceit and run with it: prince Hippolytus inhabits the ring where he will eventually be defeated, individual scenes are treated like bouts (numbers held aloft) and members of the court hang sullenly about, exercising, shadow boxing, clambering in and out of lockers, eyes on the main action in the ring. Visitors—clergy, cops—come and go, and the audience are packed in closely and steeply around the action.
While the boxing gym conceit is hardly subtle, it matches the combative drive of Kane's writing, the organised violence of an extreme sport parallelling the structured power of the state and the capacity for both to go beyond their limits (as we increasingly experience in our own time). It also allows Gaul to give more young performers valuable experience of stage time, later coming into their own as a furious, vocal populace, while generating a sense of things overheard and turned a very blind eye to in Hippolytus' corrupt court.
Centre-ring, Hippolytus gorges on snacks and video entertainments and masturbates into a sock. His stepmother Phaedra makes incestuous advances, a game she cannot win—the surfeited Hippolytus feels little in the way of desire, making death an attractive option. Michael Cutrupi as Hippolytus and Emily Ayoub as Phaedra both make the most of their physical (if not vocal) investment in their roles—his slow weight belying the capacity for verbal and physical attack, her stuttering, dystrophied movements suggesting deep-seated involuntary drives. Gaul drives the show fast, her performers delivering Kane's acerbic dialogue—with its rapid, punchy alternations—briskly and without too much nuance, although Bjorn Stewart in particular, as King Theseus, manages to rise to the demands of Kane's dark poetry in his brief appearance. Phaedra's Love is often grossly and gorily comic (there's plenty of blood and guts in the murder and castration of Hippolytus), but, for all its blunt pugilism, the production manages to convey the despair underlying both Hippolytus' condition and the state he ruinously governs in his father's absence.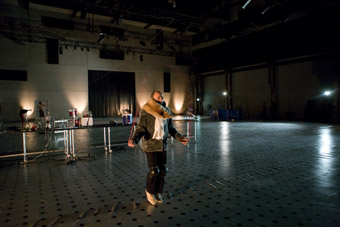 photo Brett Boardman
Salome In Cogito Volume III
new design directions
Most theatre reviewing focuses on plot, character and theme and secondarily on the various aspects of design. But with a new generation of designers under the influence of Wilson, Castelluci, Viebrock and contemporary art, architecture and new media, set design increasingly calls attention to itself as a major part of the dynamic of realising a vision, and is more than simply illustrative or symbolic. New performance spaces, like the main theatre in Sydney's CarriageWorks and elsewhere around the world [RT84, p16], allow for monumental, sculptural and multimedia stagings and new ways of placing audiences. Elsewhere, the new meticulousness in the visual arts resonates with a design realism that is almost surreal—the complete house on a revolve in Benedict Andrews' production for the STC of Patrick White's The Season at Sarsparilla (designer Robert Cousins) or the Kohn-Ferguson faithful reproduction for Antigone of the interior of a community hall that the director had once worked in.
After seeing Antigone and Phaedra's Love, it seemed only right to take in The Rabble's Salome, In Cogito Volume III (read the review on page 37), not least because a young company was tackling the huge CarriageWorks theatre space. The mix of aged interior (left largely untouched by the architects) and modern fittings meant that the theatre itself did much of the design work, various props and other items shaping it: a perspex box for John the Baptist's cage; a table of chemistry lab equipment for a modern manipulative Salome; a bright blue above-ground pool for her baptism. Above all the space was made coherent by lighting (on a row of old metal columns, in a line of fluoros) and particularly by the carefully mapped trajectories of the performers in their obsessive travellings
Although derivative of the work of Romeo Castellucci from title to lighting, to the presentation of compulsive and obsessive states of being and damaged bodies, and although unable to match the way Castelluci builds an image or seizes the moment to confound us, this young, inherently more conventional theatrical company showed courage in working an uncompromising space (direction, design, lighting Emma Valente, design Kate Davis). It's a pity that companies like The Rabble and those working the smaller but also capacious second theatre (the one home to the Performance Space program) in CarriageWorks, rarely have the production funds and resources to make the very best of their visions. Much of the responsibility for realising a design concept now falls to lighting and sound designers and to sets and walls that double as screens, since video projection, while stretching director and designer inventiveness, is often an effective and less expensive way to transform a space.
Company B, Antigone, writer Seamus Heaney from Sophocles, director Chris Kohn, performers Katie Fitchett, Gillian Jones, Deborah Mailman, Pacharo Mzembe, Boris Radmilovich, James Saunders, Hazem Shammas, Paul Blackwell, designer Dale Ferguson, lighting Luiz Pampolha, composer & sound designer Jethro Woodward; Belvoir St Theatre, Sydney, April 5-25; Sydney Theatre Company, The Serpent's Teeth, writer Daniel Keene, director Pamela Rabe (Citizens), Tim Maddock (Soldiers), performers STC Actors Company, designer Robert Cousins, costumes Tess Schofield, lighting Nick Schlieper, composer & Sound designer Paul Charlier; Drama Theatre, Sydney Opera House, April 24-May 17; Melbourne Theatre Company, Rock 'n' Roll, writer Tom Stoppard, director Simon Phillips, designer Stephen Curtis; Sydney Theatre, April 11-May 17; Australian Theatre for Young People, Phaedra's Love, writer Sarah Kane, director Kate Gaul, performers ATYP members, designer Alice Morgan, composer & sound designer Daryl Wallis, lighting Verity Hampson; ATYP Studio One,The Wharf, Sydney, April 1-12
RealTime issue #85 June-July 2008 pg. 40,41
© Keith Gallasch; for permission to reproduce apply to realtime@realtimearts.net