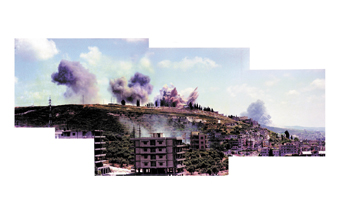 Akram Zaatari, Saida, June 6th 1982, courtesy of artist and Sfeir Semler Gallery, Hamburg/Beirut
David Cranswick, director of Sydney's dLux media arts, sounds both exhausted and exhilarated as we speak on the phone about the organisation's coming D>Art 06 Digital Media Arts Festival at the Sydney Opera House. The weariness comes from just having relocated dLux from Paddington Town Hall to Day Street, Sydney, once the home of its antecedent, SIN (Sydney Intermedia Network). Coincidentally, part of the 2006 D>Art program is Matinaze Re>Mixed, a retrospective of experimental films and video originally screened by SIN from 1990 to 1997. Cranswick sees this "not as a 'best of' program but a record of a transition from film to video to digital and with new effects coming into play." Keeping in touch with experimental screen history, he says, will be easier come October when dLux launches its online database of film and video-titles, stills and, where possible, how to access the work.
Cranswick's exhilaration is at having landed a much needed new office for dLux and having D>Art 06 ready to go at the Sydney Opera House where D>Art 05's exhibition of web, mobile phone and sound art attracted large numbers.
Adding to the appeal of D>Art's screening program in 2006 is the inclusion of a stronger than ever international component with a focus on Middle-Eastern film and video makers, whether living in the region or part of a culturally active diaspora. Tim Welfare, who has curated programs of Middle-Eastern and Australian art here and in Lebanon, has assembled a substantial program that Cranswick hopes will allow audiences "to look at people and politics, through video, for another view of Middle-Eastern life and politics." Welfare has drolly titled his program middleasterntalentime.
Welfare has also arranged for the visit to Australia of Lebanese filmmaker Akram Zaatari, who is coincidentally one of a number of Middle-Eastern artists included in the 2006 Biennale of Sydney (see p46). Zaatari works in Beirut where he is also a curator and co-founder of the Arab Image Foundation through which he has explored the photographic history of the Middle East. D>Art.06 will screen Zaatari's 81-minute film This Day (2003) which muses over archival photographs, reflecting on the 'truth' of images that range from "idyllic rural past" to "the strife-ridden present of propaganda and alienation." Other filmmakers in the program grapple with the representation of the Middle East in Western culture eg Jacqueline Salloum's Planet of the Apes (2003, 9 minutes), a telling compilation of images of Middle Eastern peoples in Hollywood film from 1896 to 2000. As well as overt political explorations and provocations, there are also films and videos that explore music, urban space and notions of beauty.
D>Art Screen will draw from submitted works, over 200 this year, for its program of new international experimental video: prominent curator and theorist Ross Gibson has selected 17 works for screening. D>Art.06 Imports will feature compilations from the Signes de Nuit Paris annual festival and Video Brasil Sao Paulo. The interest in Australian video is high in South America, and in fact everywhere, says Cranswick, but little South American work is seen here. He is of the opinion that reciprocity is vital: D>Art.06 Imports enacts it.
D>Art.06 Exhibition will also show recent international work in its videotheque with programs from Hong Kong's videotage and Spain's La Sala Naranja which presents a range of recent European work. In the same show you can browse the latest in web work, a strong program says Cranswick, indicative of cross platform and multi-platform developments. Increasingly works can be experienced on monitors or computers or mobile phones in what he describes as "a blurring of delivery platforms", all of them especially suitable for short animations and interactive works. A number of the works, he says, simply involve the downloading of Flash movies. Mobile phone art will be represented by the work of 4 artists. The future of and relationship between delivery platforms from established media channels to new, networked, mobile and personal technologies will be the subject of the D>Art.06 Industry Forum. This 'update' will include Mark Pesche's account of developments in locative media and the role of devices in mapping and tracking social networks.
The forum will discuss the 'Digital Industries-Creative Industries Future' paper commissioned by the Department of Communications, Information Technology and the Arts with representatives speaking on behalf of DOCITA, the Australian Film Commission and the Australia Council. David Cranswick hopes that the exchange will "link policy makers and curators, and look at how macro-policy affects the Australia Council and the AFC" and, in turn, the work being produced by artists." He is eager that what comes out of D>Art.06 Industry Forum. "be taken into account before the paper goes to Cabinet." D>Art.06 will not only update audiences on the latest developments in experimental film, video, web and phone art, but will also encourage artists, curators, producers and government agencies to share a vision of the future. RT
D>Art.06-Digital Media Arts Festival; Sydney Opera House, April 10-May 6; for program see www.dlux.org.au/dart06
RealTime issue #72 April-May 2006 pg. 26
© RealTime ; for permission to reproduce apply to realtime@realtimearts.net