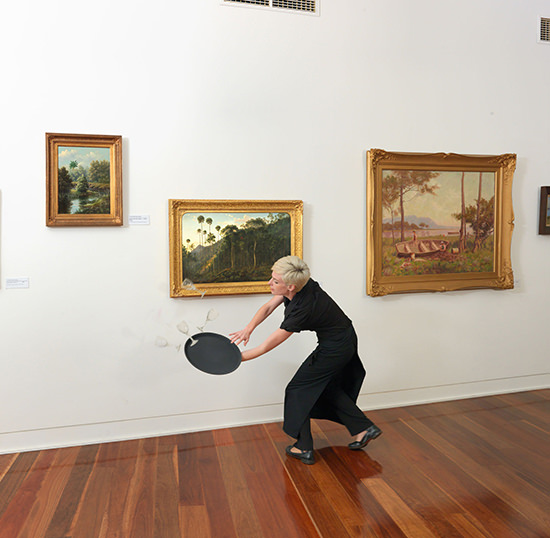 image courtesy the artist
Many a slip… from the series Accident & Process, 2012
In "Never turn your back on the sea," her review of Derek Kreckler: Accident & Process, Laetitia Wilson writes of one of the show's works, Wet Dream,
"Here [Kreckler] lies, partially submerged within a moment of abandonment, the water streaming over and around his body. There is an element of chance here, of the accident, the flight of fancy, while at the same time the work is highly constructed and follows a predetermined process leading to its realisation."
Wilson embraces the range and depth of Kreckler's output: "As an oeuvre focused on experimental, conceptual and post-minimalist arts practice across a diversity of media, it is propelled by a perceptive vision engaged in issues across art history, the environment and Indigenous and non-Indigenous politics."
This is the first survey exhibition of this leading Australian conceptual artist. Curated by Hannah Matthews it opened at PICA in August 2015.
Kreckler and Matthews speak lucidly about the artist's work in an engaging film by Peter Cheng made for PICA which also features illuminating footage from the exhibition.
Derek Kreckler: Accident & Process, touring 2016-17
2016
Bunbury Regional Art Gallery: 5 March-10 April
Geraldton Regional Art Gallery: 23 April-25 June
SASA Gallery, Uni SA: 15 July-10 August
Horsham Regional Art Gallery: 9 Sept-6 Nov 6
2017
Contemporary Art Tasmania: 13 Jan-4 March
Plimsoll Art Gallery Tasmania: 13 Jan-4 March
Bathurst Regional Art Gallery; 31 March-28 May
Maitland Regional Art Gallery: 24 June-3 Sept
Wollongong Art Gallery: 14 Oct- 26 Nov
Monograph: Derek Kreckler: Accident & Process
112 pages, 21.6 x 26 cm, hardcover
ISBN: 978-0-9943883-0-8
Perimeter Editions, $49
RealTime issue #132 April-May 2016