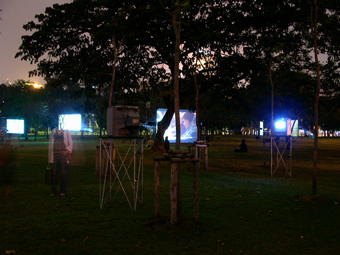 photo Jibby Yunibandhu
installation view of Bangkok Democrazy in Lumpini Park
The cinema has long been a potent force in Thai culture. By the 1980s the local industry was generating almost a hundred feature films per year, from teen, horror and action flicks to big-budget epics glorifying national history and mythology. While production slowed in the 90s, more recently, innovative directors like Apichatpong Weerasethakul (The Adventures of Iron Pussy) and Pen-Ek Ratanaruang (Last Life in the Universe) have made waves at international festivals, stimulating much activity at the smarter end of the film spectrum.
Since its first outing in 1997, the Bangkok Experimental Film Festival (BEFF) has become a fixture of the city's cultural calendar. This year marked a departure from the typical film-fest format: a broad program reached beyond the auteurism cultivated by mainstream festivals (of which Bangkok has 3!). While it gathered work from all over the world, BEFF4 was not built around celebrity imports—it was refreshingly focused on local and regional talent.
The program showcased artists' films, animation and music videos alongside the work of experimental and independent filmmakers. Not only did the directors invite and encourage contributions from non-artists, novice and emerging filmmakers, they also staged seminars and filmmaking workshops offering a hands-on introduction to experimental film production. Newcomers to the director's chair included a 7 year-old boy, a team of Buddhist monks, and an outspoken senator, whose contribution was a wistful slideshow of Bangkok with the city's gargantuan billboards edited out one by one.
In keeping with BEFF's theme, 'Democrazy', the directors accepted, and screened, all of the 300+ submissions. The open-air venue—Bangkok's central Lumpini Park—had itself become charged political turf as the site of a weekly public broadcast (and rally) by anti-government talk-back host Sondhi Limthongkul. As the protests boiled over into a spectacular political crisis, I talked to festival co-director, Gridthiya Gaweewong, about BEFF's own 'democratic' experiment.
This year's BEFF was itself an experimental format. How would you describe the results?
It was such an overwhelming experience for all parties involved—for us as organisers, participants and audience. One viewer wrote on our web-board that "we turned Lumpini Park into a paradise" for him. I found this very rewarding, after all those sleepless nights. So for the audience, especially the arts/film community, this festival is the major buffet of experimental work for them to taste. This might be an extreme way to deal with democracy and alternatives.
The idea of 'Democrazy' actually came from [co-director and filmmaker] Apichatpong who sees video and filmmaking as the most democratic medium today to express one's perspective, for artists and non-artists alike. The accessibility of technology allows young artists and filmmakers to produce their works much easier than before. As homemade digital video has become acceptable in the mainstream film industry, you don't need a major studio to back you up as before.
The movie industry is bored by its blockbusters; perhaps it's looking to the artworld for something new and interesting. But is there a danger that it'll also get bored by artists, and move on to something else?
The movie industry now simply lacks imagination. They'll always find something new to attract audiences. They will get bored of artists someday, for sure. But in the realm of art, there's still more freedom to explore and experiment with new ideas, and find something exciting.
There's a lot of energy at the intersection between film and contemporary art. Does this have an impact on Thai art? And do artists have any impact on the film industry?
The Anna Sanders films play quite an interesting role in this change [the French Anna Sanders company produces films by visual artists, has a strong Asian focus, and was part of BEFF's Bangkok Utopia program. www.annasandersfilms.com]. Maybe the international art and film worlds have begun to blur, but not in Thailand. The demand for Asian films has risen quite dramatically—witness the success of Apichatpong at the Cannes Film Festival [for Sud Palad (Tropical Malady, 2004)]. But this doesn't necessarily mean that artists and filmmakers like him—Tsai Ming-Liang (from Taiwan), or Vimukti (from Sri Lanka)—will be super-popular in their own country.
This is an interesting thing about artists here: some feel like their audience is only outside of Thailand. Some, like installation artist Rirkrit Tiravanija, for example, achieve big-time international success but are not well-known at home. Is this situation changing?
It's still the same. With the accessibility of information through the net and media, they're known in their country, but only to a small art community. But we tended to underestimate local audiences for so long, that we almost gave up on them. Our problem is a lack of showcases for the works—no infrastructure. Neither Rirkrit nor Apichatpong do solo shows in Bangkok. No institutions can accommodate such works. There are neither cinematheques nor arthouses; commercial cinemas don't have the guts to do it. It's the same situation for Rirkrit: Bangkok has no art museums that could accommodate his retrospective. The situation will change if there are platforms for them to show their work. Most of the local audience simply has no chance to experience it. They hear from the media how great it is, but just never see it.
However, these artists are very influential and important, as catalysts, and as an inspiration for the younger generation. In Thailand's case, the mainstream film industry is quite separate from the art world. But independent filmmakers and the art world in general are closer than before. There are close ties between some art and film organizations, like Project 304 and Kick the Machine (Apichatpong's company), which together founded BEFF. And the Thai Film Foundation is working with non-profit art galleries like Project 304, Tadu and About Café. But there's interest in film amongst artists in general.
How about other media gadgets like digital cameras, mobile phones and the web, which are very popular in Thailand?
We must admit that there are specific classes in this society who can afford and have access to those IT gadgets. They're quite popular in Thailand, but only in the mainstream new media and screen media. If you turn on the TV (both free TV or cable), screens are divided into so many sections, allowing audiences to interact, vote, send SMS, etc. It's become part of today's cultural DNA, especially for the younger generation, who rely so much on blogs and web-board culture. Some video and new media artists incorporate images and texts from the web into their works, but it's not at the level of a critical analysis of the system yet.
How important was BEFF's venue, in Lumpini Park? Could you comment on the relation in Thailand between art and public space?
BEFF is a non-mainstream festival. It didn't even associate with the notion 'indie', which in the Thai sense means super-mainstream. We targeted the local art and non-mainstream film community. But we still hoped that more people, the regular park-goers, would come. That's why we work in public space. But there's no concept of public space here. The park closes at 9pm, and on the last night of the festival, the guard came and blew a whistle at the audience. It certainly enriched the concept of 'Bangkok Democrazy.' People left with mixed feelings, asking themselves: is there real democracy in this land?A program of selections from BEFF4 will be screening at this year's Electrofringe festival in Newcastle, and at Sydney's Camera Obscura, September 4.
Gridthiya Gaweewong is an independent curator based in Bangkok. Currently she is working as a co-curator with Rirkrit Tiravanija on Saigon Open City, a two-year art event in Ho Chi Minh City, Vietnam.
Bangkok Democrazy—The 4th Bangkok Experimental Film Festival (BEFF4); Lumpini Park, Bangkok, Dec 23-25, 2005
RealTime issue #72 April-May 2006 pg. 22
© David Teh; for permission to reproduce apply to realtime@realtimearts.net