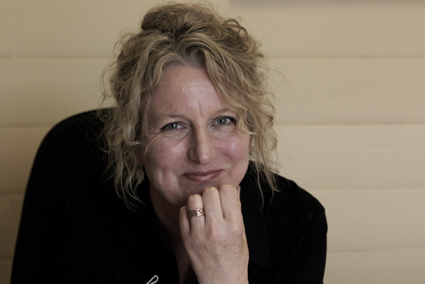 photo William Yang
Deborah Ely
Individual artists of all kinds, cross-artform collaborators, dance groups, theatre companies and orchestras: all have enjoyed the beneficence of Arthur and Yvonne Boyd's legacy to the nation, their one-time property—1,100 hectares of bushland two and a half hours south of Sydney—on the Shoalhaven River. Artists can escape everyday pressures to concentrate solely on creation in incredibly beautiful and isolated surrounds. A composer friend once described sitting by the river that Boyd so often painted and feeling the joy of the emergence of a new composition.
The range of artists and their points of origin, from the local to the international, is astonishing and testimonials to the importance of the Bundanon experience for generating new work are uniformly inspired and deeply grateful.
Deborah Ely, the CEO of the Bundanon Trust is an artist and art historian. She was formerly the Visual Arts and Craft Program Manager for Arts NSW and has been Director of Australian Centre for Photography in Sydney, the Centre for Contemporary Photography in Melbourne, EXPERIMENTA and Watershed Media Centre in Bristol. Ely is an utterly dedicated CEO with an inspiring vision for the Trust, its relationship with the people of the Shoalhaven region and beyond and with Australian artists of the highest calibre, emerging and established, innovative and committed to hybrid art explorations.
The evolution of a vision
I spoke by phone with Ely and asked her about the evolution of her vision, which she saw as "enlarging the already significant cultural capital of the estate"—the Boyd studio, the art collection and the residency program. She says that she became aware of three key issues. "First we are 22km from the nearest town which is economically challenged. Secondly we have Arthur Boyd's home, his studio and the collection, which is very attractive to a particular demographic and age group, but is not really a strong drawcard for young people or people with families. So we wanted to work out how to engage with different parts of the local population. Thirdly, I had noticed that the main component of cultural diversity in this region is Indigenous. These were the things that struck me and in many ways they have taken us on a very particular trajectory. We've done a lot to address these three things. It's funny that where you start is often where you stay."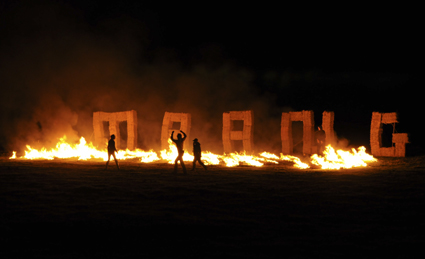 photo Heidrun Löhr
r e a, MAANG, SITEWORKS 2010
Attracting the locals
Underpinning the capacity to respond to these needs "was the incredible resource of artists coming here from all over the country and all over the world doing amazing things and finding different ways of sharing them with this regional community." Initially Bundanon staged concerts and like events—and people came—and then, "we worked with some really great creative producers who analysed what we wanted, who was out there and who we wanted to reach. We produced a mini-festival format with lots of very surprising content for local audiences, pulling together artists as diverse as Kate Miller-Heidke and Jimmy Little—who had a very deep local connection—as well as circus and hip-hop which related strongly to young people and local Koori kids. They drew people out to the properties and we made the events mostly free or really low cost. That was critical because the extent to which people in the region are unable to pay is actually quite shocking to people who live in Sydney. But they do come in large numbers."
Arts schooling
"Secondly, we decided to build on our own unique, all practice-based, residential schools program, whereby children come from all over the country for up to a week at a time to engage with creative arts activity. We thought why don't we have more programs for children who actually live here, and that is now huge.
"The umbrella title for the program is 'Bundanon Local.' It's enormously diverse. We're delivering poetry programs with Sydney's The Red Room Company and Transmit—with choreographers from NAISDA [National Aboriginal Islander Skills Development Association] and didjeridu artist William Barton, who's been working with us for several years, [performance artist and poet] Candy Royale who does performance poetry with the kids, and local musicians. We've got Song Company working with East Nowra, which is one of the most disadvantaged schools imaginable and with a very substantial Indigenous population.
"We're in the fifth year of a program with the Australian Ballet, which is a kinaesthetic, not a ballet program for young Primary School children. A really significant program for us is Touched by the Earth, a year-long arts and science SITEWORKS program with five schools, starting with Indigenous cultural education with local elders and scientists looking at flora and fauna and with artists doing sonic and visual workshops."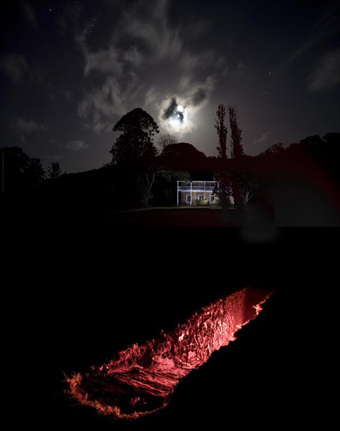 photo Doug Spowart
Ten Trenches Project, Bundanon
Across borders
"Choreographer Philip Channells has been developing his own work in-residence at Bundanon as well as working with a number of integrated [mixed ability] dance ensembles here for several years. When we decided to bring him into the Bundanon Local frame he was based in Adelaide [with Restless Dance]—how could he develop an ensemble at that distance? We decided to work with film, with Philip making solo and very small ensemble performances. So he's back and forth now making that work with video artist Sam James. I watched some footage today of solo performers working with green screen made in our dance studio. They're making intimate performances in the Shoalhaven landscape.
"We decided to penetrate the community through a range of structures—the formal education system, the prison—the Sydney Symphony Orchestra Fellows were here last week working in the maximum-security gaol, the third time they've worked with us—the Drug and Alcohol Rehabilitation Centre in town and agencies that deal with disability and disadvantage. We can't say to kids, "Come on out here after school and do something." It's just too far. A lot of people here don't have cars or they can't afford the petrol. So we really have to work out how to make the connection meaningful, how to share the artists who come here.
"We make no concessions [about the quality of art]. We are skilling people up physically but also intellectually about what they understand can be delivered by the arts. It's completely in counterpoint to the expectation that it's just about art workshops for the community."
Artist investment
"Almost always, an artist will come here to do one thing to do with their own development, but in conversation they might suggest that there's something they'd like to do for the locals. William Barton came to us as a performer, then as a resident and now a repeat resident. We asked him if he'd do something with the local kids. Now he flies back between international gigs to do four days with them. He's devoted to the place. People are so generous.
"One of the most amazing examples is the Chooky Dancers [now Mala Djuki], who developed Wrong Skin here (RT99). We organised some special interaction with the local community [after which] the Chooky Dancers did a performance for 500 Indigenous kids for free at Bomaderry High School."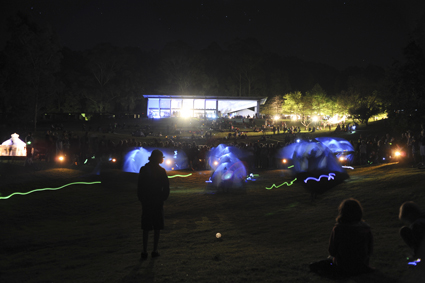 photo Heidrun Löhr
Niteworks
SITEWORKS
"SITEWORKS is quite the opposite of an intentional local engagement: it doesn't really matter how many people come, this is really about the depth of conversation. I draw SITEWORKS as a coil, like a mosquito coil—an intense core and more and more outer circles of participation. It emerged from a conversation between two brothers, a scientist Tim Cohen and creative producer Michael Cohen. The core remains fairly constant so there's always a lot of continuity in the people involved. It didn't start out as a big art and science thing. Michael and Tim asked us if we could support the scientific research on the property and if we'd allow the artists to mess around with it, and we said, "Sure." It was fascinating because the science was around research into climate change and suggested that our property was at a real tipping point for important measurements.
"I decided we should own SITEWORKS because it was about our place and because it gave us special information that we couldn't afford to pay for. From that initial interaction—about 70 people at the first showing—there are a lot of other scientists and artists who contribute to SITEWORKS through research and commissions. And we now have a significant partnership with the University of Wollongong across arts and science faculties. I see SITEWORKS as very porous: we might be doing something about archaeology and memory in 2015—we've got a lot of farmers' diaries and Indigenous history. Last year we focused on astronomy and the night sky and it was pretty sensational—1,000 people came. This year we're looking at biodiversity. The thematic will often come from outside: scientists in the region came to us a couple of years ago and said food security is an enormous issue, can you use SITEWORKS to talk about it?" [See RT112]
Sharing the labour
Awed by their scope, I ask Ely how she manages such comprehensive, labour-intensive programs: "We have a really amazing staff. They're very hard won. When we recruit it's a very slow and painful process. We have an incredible skill set both in the arts and education staff, with huge experience, and our property and housekeeping staff are really beloved by our artists and visitors."
Thinking about the future
"We'd like to share with the world the significant work developed at Bundanon. We are building a new digital platform because we know most people won't necessarily come here, so we have to work out a way to allow people to engage with the conversations we're having"—and develop "thought leadership given we're the kind of place where ideas are hatched and shared, where ideas are jumping the fence all the time—because we've got a strong environmental platform as well as an arts and cultural and historical one. We also have plans for more built infrastructure to support the activity and the level of interest and to create opportunities for more people to stay here."
Go deep
Staying at Bundanon is what Ely calls a "go deep experience. It's not just a day visit. There's something quite unusual about the landscape. Bundanon means 'deep gully' in language. So it may be something in the landscape itself.
"What is genuinely happening here is that Bundanon's become a really important engine room as a resource for and across a lot of contemporary practice. I think the industry values it. People are relying on it. Australia's very lucky to have it."
Bundanon Trust, 170 Riversdale Road, Illaroo NSW 2540, www.bundanon.com.au
RealTime issue #121 June-July 2014 pg. 26-26
© Keith Gallasch; for permission to reproduce apply to realtime@realtimearts.net